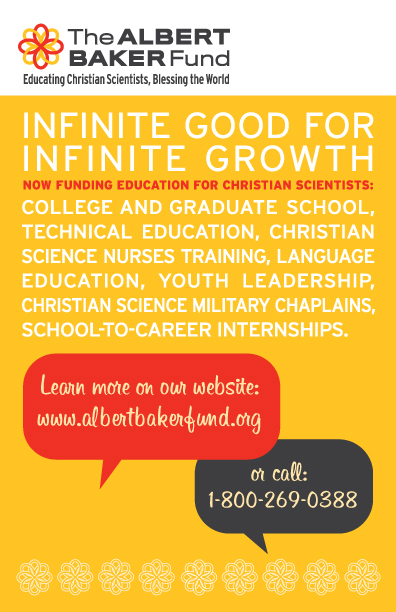 Many in the Christian Science Field know The Albert Baker Fund as the organization that has, since 1964, loaned money to Christian Scientists pursuing higher education.
This continues to be our core mission.  However, today there is more we are doing to support the growth of Christian Scientists as you see from the poster we recently sent to churches around the country.
You might imagine that in the course of our work we come into daily contact with many young people who are just emerging as active, dedicated Christian Scientists.  We feel privileged to support them as they promise to "pay forward" the countless spiritual blessings they receive while in school.
Recently we have asked ourselves, how can we build on this relationship with our students to encourage their desire to unite with their church and make a profound difference in the world they live in?
We are inviting interested Christian Scientists to be a part of our discussion.

Invitation to host a meeting
If you, or members of your church community would like to meet with us to share ideas about how we can better align our work with your desire to support young Christian Scientists, please contact Alan Bashor at 1-800-269-0388, alan@albertbakerfund.org, or Dave Morse, Outreach Director, at 1-207-542-6000, david@albertbakerfund.org.