Labor Day Weekend is the time–and beautiful Cedars Camps in Missouri is the place–for a special gathering of high school, college students, and recent grads organized by TMC (The Mother Church) Youth, Friday, August 31 through Monday, September 3.
According to Maegan Brewer, an ABF student who helped plan the Summit while interning in Boston this summer, "A little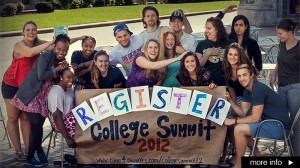 inspiration is just the way to kick off the new school year." (Or job search!)
The theme for the College Summit is Connection. Inspiration. Action. It's going to be an uplifting weekend full of great outdoor activities, music, inspirational discussions and talks, and good company!
When else do you get to talk to, learn from, and hang out with Christian Science lecturers, practitioners, the Board of Directors, musicians, and friends–interspersed with ziplining, cable watersports, archery and building a cardboard canoe?
Here's a schedule of activities, events, and speakers.
To find out more, and learn how to register, check out TMC Youth's website.