Sunday: It's gonna be a bright, BRIGHT, sun-shiny day!
by Ana Liuzzi*
"What's there to do at 6:00am on a Sunday morning in Lebanon, MO? There are rolling hills and gravel roads to run on! I ran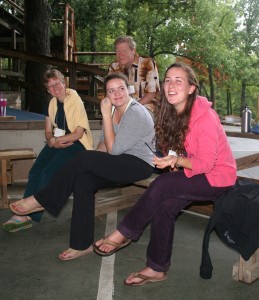 the same route every day this summer when I was a camp counselor there, so the herds of cows and sheep surrounding Cedars looked wonderfully familiar, although now I saw a new feature on the road: another Summit participant running in my direction! We delightedly waved to each other and ran our separate ways.
This same delighted energy permeated the atmosphere of the church service in the outdoor chapel on Sunday. The readers read with so much expressiveness, that their joy was contagious and smiles could be seen everywhere! The final hymn from the supplement was Siyahamba, and we were all given plastic Easter eggs with M&Ms inside to use as shakers. How fun is that?! The chapel erupted with noise as we all belted the words, 'we are all God's children, expressions of one Mind!' And of course, we got to eat our M&Ms after the Scientific Statement of Being! While we were still sitting after the service, one of the awesome musicians at the Summit started playing 'I Can See Clearly Now, the Rain is Gone' on the piano and suddenly a group of people started singing the lyrics, a drummer and a beat boxer ran onstage, and the whole chapel was in the middle of an impromptu rendition of 'It's gonna be a bright, bright sun-shiny day!'* And the sun did come out – the camp was beautifully lit and warmed by the sun all afternoon, and there wasn't a raincoat to be seen.
Following church, we stayed in the chapel for a talk on sharing Christian Science with others and 'building bridges' in the world. I loved hearing how conversations about Christian Science ideas can be so open and filled with love. I also really liked the reminder that listening genuinely in my daily conversations is a real opportunity to love the other person. The heart of the discussion was simple: everyone is learning together! Isn't that great?! This talk on building bridges segued perfectly into a panel on ecumenism (connecting with other Christian denominations) and interfaith dialogue. I find it profoundly hopeful that there is ecumenical and interfaith dialogue going on in the Christian Science Movement! This topic matters a lot to me, as I have some good friends at my university who belong to other denominations, and many more that do not identify as religious at all. I love my friends at college so much, and have been frequently thinking about how we share deep connections despite our differences in religious background. I have been so surprised by how universal the language of love has been in my college experience.  Even if some of my friends don't know the particulars about my life as a Christian Scientist, our friendship still has a sweet authenticity which transcends religious identification. In other words, we just love each other and Love operates everywhere! Singing Siyahamba with everyone at the Summit really helped me to feel the power of the words, 'we are all God's children, expressions of one Mind,' and the discussions on building bridges helped me to see the hymn working in my friendships.
Sunday's overall theme seemed to be a sweet sense of togetherness that everyone at the Summit shared and cherished for the world. Our final dinner was a traditional Thanksgiving feast and afterwards we gathered, full of cranberry sauce and stuffing, in the chapel for a fruitage meeting. Person after person stood up and shared just how grateful they were for the weekend. There was a tangible sense of fellowship as we sat together and listened to one another. A deep orange moon rose above the trees in the distance as the last speakers shared their gratitude, and I felt a shared sense of wonder as we all collectively took in the sight.
Perhaps my favorite moment, though, was when a large group of us gathered on stage later to sing sang Hymn 447 from the supplement at the end of the evening's open mic session. I remember standing between two new friends and being a part of a massive tangle of limbs, as arms were draped across shoulders and we leaned on each other and swayed to the music. The hymn sounded lovely, partially because we were with so many of the talented singers who performed at the Summit, but I think the music also sounded so sweet because we were so wrapped up in the love that abounded at the College Summit this weekend. Mmmmm! I can feel it now!
*Lyrics by Johnny Nash from the "Harder They Come" movie soundtrack
I can see clearly now, the rain is gone.
I can see all obstacles in my way.
Gone are the dark clouds that had me blind.
It's gonna be a bright (bright), bright (bright)
Sun-Shiny day. (first verse)
*Note: ABF Student Ana Liuzzi is an English major at University of Puget Sound. "Connection. Inspiration. Action" was the theme for TMC Youth's 2012 College Summit which took place at Cedars Camps in Lebanon, Missouri, over Labor Day Weekend.