What do activism and caring deeply have to do with each other? Find out at the East Coast Spiritual Activist Summit taking place March 22-24! You're invited to Philadelphia's beautiful historic district, the City of Brotherly Love, for an inspiring weekend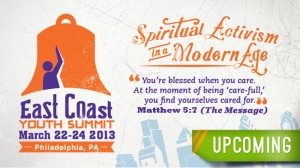 that will sharpen your skills and effort in caring for yourself, your community and the world. Open to ages 12-35.
TMC Youth has put together an outstanding, action-packed, music-filled program that includes timely workshops, talks by Christian Science lecturers, Q & A with the Christian Science Board of Directors, prayer time, hymn sings, great musicians, and open mic time for sharing your talents.
Here's a link to TMC Youth's East Coast Summit website.
Download the summit flyer.
Don't miss this great opportunity for inspiration, sharing and connecting with spiritual activists!