While welcoming students and their mentors at DiscoveryBound's annual NLC All Class Retreat at the A/U ranches in February, The Albert Baker Fund's CEO, Alan Bashor, shared an "aha" moment:  that Mary Baker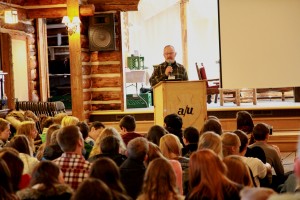 Eddy's brother, Albert, was most likely her first mentor.  Along with teaching her Latin, Greek, and philosophy, he taught her to write, to reason, and challenged her to be inquisitive, demanding and precise—qualities that no doubt helped shape her unrelenting quest for the truth.
If you'd like to hear the complete remarks just click the photo for a 10 minute video.
Highlights from Alan's message to the 2013 NLC graduates and classmates.
"Think Big. And know that the love and support that you need is going to be there for you to help you…fulfill your dreams…discover what rocks your world…and write, with God's help, your unique exciting adventure in serving Him.
You are why we exist. If it weren't for the dreams, the inspirations, aspirations, and perspirations of other young Christian Scientists, there wouldn't be an Albert Baker Fund. Why? Because no one would have needed it!
But back in 1964, almost 50 years ago, young Christian Scientists who needed help paying for college  contacted Joseph Heard, a Christian Science practitioner and teacher, who was the head of the College Organization division at The Mother Church. He contacted a few friends in California, they were delighted to help, and they all pooled their money together to create The Albert Baker Fund to make college loans to Christian Scientists. And that same love for young Christian Scientists, that originated The Albert Baker Fund is still what we are about today. So remember that, you are why we exist.
You truly are a blessing and you have a purpose that no one else can fill. You have something uniquely you to give. So don't hold back.  Take what you are learning and what you're gaining and share it. (At The Albert Baker Fund we like to call it Passing your Blessings Forward.) Keep the blessings flowing and you will be blessed all the more!"
The Albert Baker Fund is proud to be a financial sponsor of DiscoveryBound's National Leadership Council program for high school students.