The Albert Baker Fund (ABF) has selected Robin Glenn Jones to help develop The ABF Career Alliance, a new program that offers career services and connections to ABF alums and the greater family of Christian Scientists. A pilot program* will take place during the summer, and the full program will be available beginning in late 2014.
"We're thrilled to have Robin lead this important new initiative for The Albert Baker Fund," said CEO Alan Bashor.  "Robin has wonderful professional and personal experience that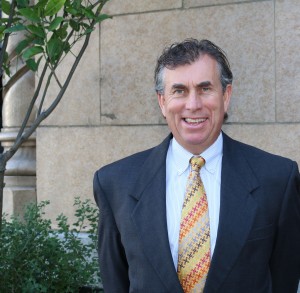 perfectly prepares him to coordinate our career services.  He's been a successful recruiter, coach, teacher, and mentor, to volunteers, student athletes, other coaches, and company executives, throughout his entire career.  He has an extensive network of relationships with young Christian Scientists all across the country.  And he has an unshakeable enthusiasm for sharing Christian Science."
Robin's professional background includes nine years in the public practice of Christian Science, owning and operating several businesses, and working as a recruiting coordinator, coach, and assistant coach for the Principia College Athletic Department.
"I feel that everything I love doing has prepared me to step in and help build this new program that will bring Christian Scientists together in a collaborative career community," says Robin. "With The ABF Career Alliance we have the opportunity not just to help the next generation of Christian Scientists advance their careers so that they can give back, but along the way, to nurture meaningful relationships and strengthen our connections to each other in our movement."
Robin and the implementation team, Harve Kaufmann, Director of Outreach; and Donna Fletcher, Manager of Marketing and Communications; are currently planning the pilot program which will be available this summer. The fully-designed Career Alliance is scheduled to launch before the end of the year.  Information about how to join will be available through the ABF website, our Facebook page, communications to churches, and through our partners and friends in the Christian Science movement.
"We are calling this service a career alliance to acknowledge the level of caring that each person will bring to it, and that, as a community we all have a stake in supporting the growth and progress of Christian Scientists," says Harve. "The good news is that we recognize this fact and we step up to help each other. ABF is providing the framework to bring people together, but the heart of The ABF Career Alliance is the willingness of individual 'career allies' to share their professional experience and insights with career seekers.
"With a 50 year track record of supporting the education of Christian Scientists, The Albert Baker Fund is uniquely positioned to deliver this program throughout the extended Christian Science family. We will need the support of our friends – to volunteer as career allies, to spread the word to career seekers, and as donors who will help us build the ABF Career Alliance. In the end, we will all benefit from the results," says Harve.
Sign up here  to receive updates on The ABF Career Alliance.
Make a gift to support development of The ABF Career Alliance.
*Development of this new program was approved by the ABF Board of Trustees with the provision that it be financially self-sustaining.  The Trustees and entire staff are grateful to the Isabel Foundation and several early supporters who have provided start-up funding for the ABF Career Alliance.