Why is educating Christian Scientists more important than ever?
Dear Friends,
At The Albert Baker Fund (ABF), we have always recognized the vital role education plays in the lives and careers of our alumni. However, over the last few years, we've increasingly come to see a cause-and-effect relationship between educating Christian Scientists and the impact these graduates are making—as Christian Scientists—around the world. As our recipients progress into careers, we realize more and more that by investing in the education of active Christian Scientists, we're also investing in growing the influence and scope of the Christian Science Movement!
The impact Christian Scientists bring to the classroom, workplace, and boardroom
Increasingly, careers in the 21st century require not only basic technical know-how, but an undergraduate and sometimes a graduate degree. Along with these critical requirements, employers seek applicants with highly developed "soft skills," such as critical thinking, communication skills, team-building, and leadership qualities. Equipped with these valuable tools, today's college graduates are positioned to move into decision-making and policy-making roles in business, academia, arts, law, and public service.
Approaching challenges with the leavening thought of the Christ
Think, then, of the impact Christian Scientists can bring to the classroom, workplace, and the boardroom. With their hard-earned degrees, their technical and communication skills—and the spiritual growth they've gained in meeting challenges all along the way—Christian Scientists are equipped to approach challenges with the leavening thought of the Christ Science. And when these spiritual thinkers let their light shine, their uplifted thought radiates outward in ripples of thought and action.
OUR RECIPIENTS ARE STUDYING SUBJECTS AS DIVERSE AS ART AND ENGINEERING!
Last year in the US alone, ABF recipients pursued undergraduate and graduate degrees across a wide span of majors, including Art, Biblical Studies, Business, Design, Education, Entrepreneurship, Filmmaking, Forestry, Journalism, Law, Theological Studies, Engineering, Physics, Social Enterprise, and Theatre.
Imagine the impact these Christian Scientists will make in these fields!
We recently asked three ABF recipients why education is important to them—specifically as Christian Scientists. Susan Backus Wright, in mid-career, made a dramatic change after 17 years in publishing. Drawn to the issues of sustainability and climate change, she now works in the environmental field. After starting her job, she soon realized that in her field she would need a graduate degree to advance to a decision-making role. She is currently earning a master's in public administration.
An uplifted, spiritual perspective in the most key places
In answer to our question, Susan said, "Education enables you to be more impactful whatever you're doing, so having Christian Scientists in the most impactful places means you're expressing an uplifted, spiritual perspective in the most key places." She sees this as crucial in her own field: "You can approach climate change from a positive or a depressed attitude. It's a field that is so important for thinking outside the box." And how does Christian Science play a role? "That new thought is gained by tuning in to Mind and thereby connecting with people in new ways."
ABF FUNDS THESE PROGRAMS FOR CHRISTIAN SCIENTISTS. PLEASE SHARE WITH FRIENDS AND FAMILY!
College, graduate, and vocational education
Christian Science nurses education and professional development
Christian Science US Military Chaplain seminary education
Student internships at The Mother Church, Longyear Foundation, and Christian Science camps
ABF Career Alliance events and career support
National Leadership Council in partnership with DiscoveryBound
Learn more and apply for funding at www.albertbakerfund.org
Expressing a different way of thinking or acting
A recent graduate from Savannah College of Art and Design, Oliver Zachary "Zach" Selby now works as a full-time women's wear designer at Tommy Hilfiger in New York City (NYC). Before landing his "dream job," Zach spent two years navigating the NYC job market, first landing an internship at a high-end women's wear label, Wes Gordon. He later found freelance positions at various design houses and several short-term gigs, some that lasted only a few days!
Zach said that during this rocky period, he relied heavily on Christian Science for guidance and comfort. In answer to our question, he noted the impact he has made—that anyone can make—even if you're the only Christian Scientist at your college (as he was) or in your workplace: "People really notice how you react or handle things," he said. "As a Christian Scientist, you're expressing a different way of thinking or acting. And people notice, people are attracted." Zach continues, "Outside the Christian Science environment, you can become even stronger as a Christian Scientist."
As Zach's experience shows, his education helped him develop the ability to share ideas clearly and to easily connect with people. Zach said, "Even if you don't talk about Christian Science specifically, just your presence and your spiritual thought can make a difference."
Daily spiritual study prepares the way
John Monday, an ABF recipient in his junior year, attends St. John's College, in Annapolis, Maryland. St. John's doesn't offer traditional majors, but the school's rigorous coursework centers on the original texts of the world's great writers and thinkers. He talked to us about his college experience as a Christian Scientist.
John values his own spiritual study every morning to prepare him for the day's seminars and discussions. To stay on track, he also regularly attends Sunday School and the nearby Christian Science Organization at the US Naval Academy. On a very practical note, he points out that as a movement, we need educated Christian Scientists to staff and run The Mother Church (TMC) as it reaches to countries around the world. He notes that we also need educated editors and writers for the Christian Science periodicals.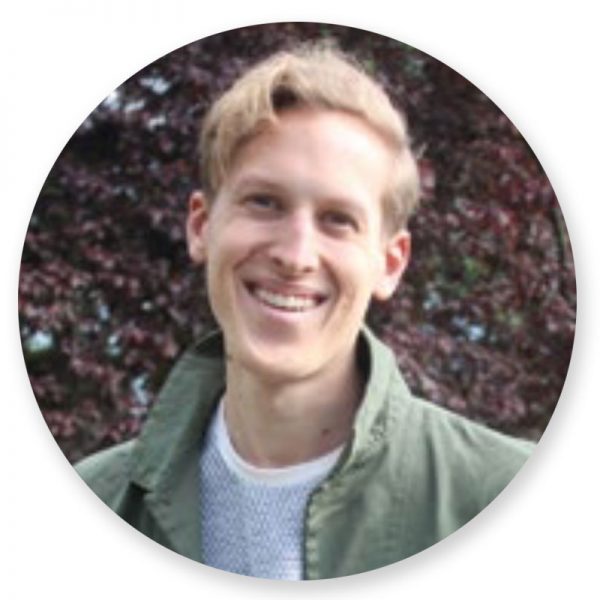 OLIVER ZACHARY SELBY
Assistant Outerwear Designer, Tommy Hilfiger, New York City
Aspiration:
To start and run his own design company
Awards:
Two-time winner of YMA Fashion Scholarship Fund Scholar
Notable:
Loves to design outerwear:
"It is the last piece you put on and it finishes the whole look."
Quotable:
"Christian Science has given me guidance and support throughout my education and career, allowing me to develop into the person and fashion designer I am today!"
Presenting ideas from different perspectives
As John is finding daily, a college education helps develop the skills to present ideas from different perspectives. And the college experience itself also provides many situations for students to broaden their horizons. Besides his academic studies and Christian Science practice, John takes part in a wide array of extra-curricular activities. For example, he is a member of the college sailing and crew teams, is co-president of the tennis club, fences, swing dances, and volunteers tutoring students in piano through a campus community group. However, as he said, "All that I do is not me, John. I acknowledge that God is the source of my energy and of all the good qualities I want to express."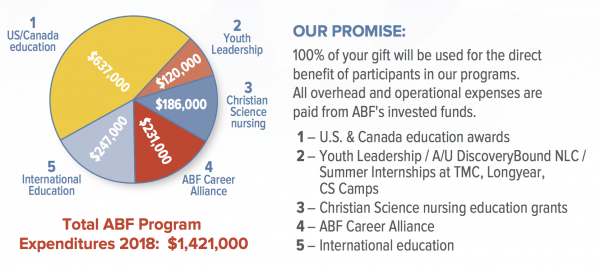 Help ensure that Christian Scientists can take their place at the table
This coming year, The Albert Baker Fund will help more than 800 Christian Scientists as they achieve their educational and career goals. These dedicated students come from the US, Canada, Europe, the UK, the Philippines, and 12 countries in Africa.
We hope that like these ABF beneficiaries, you see the value of educating and developing Christian Scientists. With ABF's help, these students are pursuing undergraduate and graduate degrees, technical certifications, Christian Science nursing education, and summer internships at The Mother Church and at other Christian Science organizations. As well, these recipients are moving forward in their careers through support from the ABF Career Alliance.
Our students are becoming tomorrow's thought leaders and changemakers. With the advantage of their education, they will be prepared to enter every level of the public and private sectors, including business, politics, academia, sciences, and the arts. We ask that you join us to help them prepare for their unique "place at the table."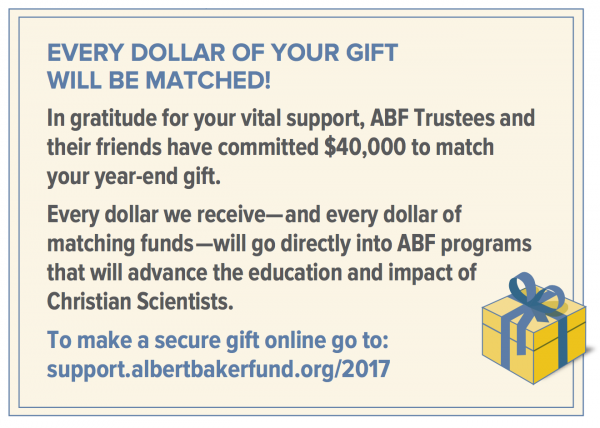 Your gift will help increase the influence of Christian Science around the world
Please give generously. Your gift to The Albert Baker Fund comes at a truly important moment. Helping these Christian Scientists as they enter college, and ultimately the workplace, your contribution will bless not only them, individually, but the entire Christian Science Movement.
With your help, our students will take their place at the table and bring their inspired Christian Science thought to "the most impactful places."
With gratitude,

Daniel Herbert
Chair, Board of Trustees

Alan R. Bashor
Chief Executive Officer

Harve Kaufmann
Director of Outreach
---
The Albert Baker Fund is a 501(c)(3) non-profit corporation for US federal income and estate tax purposes. Donations are tax deductible.
ABF is registered with each state, as required, to seek funding. State disclosure registrations (e.g. FL: #CH 46662) may be viewed at www.albertbakerfund.org/statedisclosures.