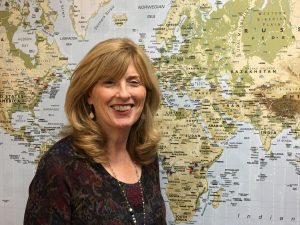 As many of you may know, our current Director of Programs, Marilyn Jones, will be leaving us at the end of February 2018. While we're sad to say good-bye to "MJ," we are truly pleased to announce that Jill Stucker of Dallas, Texas, has recently joined The Albert Baker Fund (ABF). Jill will be taking on Marilyn's position, with the title Manager of Grant and Loan Programs.
Jill brings impressive organizational and communication skills to her new position, along with great respect for ABF's mission and a deep appreciation for the way we strive to carry it out. Her love for the worldwide Christian Science Movement was fostered during the years she worked at The Mother Church for TMC Youth and The Christian Science Monitor.
Throughout her career, Jill's management and consulting experience has led to successes in leading and in supporting organizational change. We are truly blessed to have Jill on our team!
As Marilyn sets her sights on her next chapter, we are deeply grateful to her for the dedication she's brought to directing ABF programs since 2012. During Marilyn's time at ABF, she has lifted our spirits, honored every applicant's unique situation, facilitated creative thinking on our team, and demonstrated marvelous skills in her job. "Dr. Jones" reminds us every day of the importance of higher education to Christian Scientists all over the world. Her co-workers, our volunteers, program partners, and award recipients have all benefitted from their association and collaboration with Marilyn. She has raised us all up, and we will miss her dearly.
You can reach Jill at jill.stucker@albertbakerfund.org and in the Sacramento office at 916-594-9513 x102. Marilyn will continue training Jill through February 2018, and you can reach her at marilyn@albertbakerfund.org or her personal email at mcjtride@gmail.com.
We're looking forward to this smooth transition and know that all of you will hardly notice a blip on ABF's radar as we move forward!
~ Alan Bashor, CEO