The ABF 2018 $20,000 Matching Gift for Africa Challenge is OPEN!
Dear Friends,
We flew half way around the world
—more than 24,000 miles in total—and travelled across the middle of the African Continent to Uganda, Kenya, the Democratic Republic of Congo, Cameroon, Togo, and Ghana.Our purpose was clear—to reunite with our faithful Africa staff, Lamech Katamba and Jean Leonard Ngabo, and return to these countries to further assess the impact of The Albert Baker Fund's (ABF) education grants on the lives of our recipients.
Over the course of 23 very full days, we met with nearly 200 Christian Scientists, including grateful students and alumni, hopeful future applicants and their families, welcoming church members, and trusted in-country volunteers. We met wherever we could gather—in churches, hotels, homes, and villages.
Our interviews, meetings, reunions, and first-hand observations answered our deepest questions and filled our hearts with inspiration.
Inspired by one universal church family
One of the first things we noticed was the profound sense of family and fellowship that unites us as Christian Scientists. At every turn, we were faced with unfamiliar languages, customs, and climate. Yet in our personal encounters, we felt immediately connected by our love for Christian Science and our common commitment to spiritual growth and healing.
The impact of our students on entire church communities
Over and over, we saw the relationship between our ABF recipients and the development of churches. In every country we visited, we realized that it is often our ABF beneficiaries who eagerly share Christian Science with other students on campus and then start a Christian Science Organization. When these young Christian Scientists graduate and return to their communities, they often form groups that become Christian Science Societies. And eventually, these Societies evolve into churches, with ABF alumni mentoring others and taking a leadership role.
Why is The Albert Baker Fund in Africa?
All that we experienced on our journey led us to an important realization: Our main purpose for being in Africa is not so we can help people with limited resources fund their education. Rather, we're there to invest in the education of fellow Christian Scientists who are already living their faith and blessing humanity in deeply meaningful ways.
The spirit of "passing your blessings forward" is a core value of The Albert Baker Fund. We saw that this Christly spirit of loving our neighbors naturally permeates the motives of so many in Christian Science communities across Africa.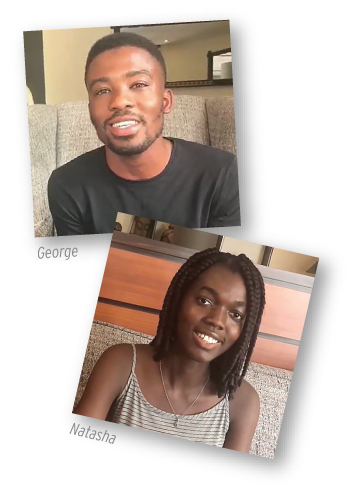 "Helping to make a better world"
George Sognon, a second-generation Christian Scientist, graduated with a bacholor's degree in finance and initially worked as an investment banker in Ghana. He is now pursuing a master's degree in development finance with ABF's help. He says, "With the practice of Christian Science, I've learned the importance of trusting in God in all that I do." His dream? To continue contributing across Africa, helping to improve the lives of African people. As he told us, "Thanks to ABF, we are making a better world."
"It's always been in my heart to help them"
Another Ghanaian, Natasha Nortey, is studying for her bachelor's degree in business administration, and she feels called to help educate children in her community. She says, "It's always been in my heart to help them. I've also brought home friends to assist me. I'm doing this work because I want to give back. And I let my friends and the children know that relying on Christian Science has brought me to where I am today."
Increasing the capacity of Christian Scientists in Africa
In Lome, Togo, Rodger Glokpor, a former ABF in-country representative, is now a Journal-listed Christian Science practitioner and Christian Science lecturer. He describes the impact of The Albert Baker Fund in Africa, "As individual Christian Scientists increase their capacity through education, along with increasing their Christian Science practice and church involvement, their growth naturally fuels the Christian Science movement and leavens the thought in Africa, bringing enlightenment and healing."
We've given you just a few glimpses into the inspiring lives of our students and alumni as they lead their vibrant, church-centered communities in Africa. We dearly wish you could have travelled with us to share the handshakes, hugs, and hymns that embraced us at every point!
Won't you take an active part in this fellowship that stretches beyond oceans and across continents? Along with these wonderful success stories, we also heard from other young Christian Scientists in Africa who need our help and are just as deserving as George and Natasha. And just as eager to make a difference.
Your gift of any size will be fully matched by a fund established by other donors who have already committed to support our growing family of Christian Scientists—and to help enable what our recipients can accomplish for our movement and the world!
With great gratitude,

Alan R. Bashor
Chief Executive Officer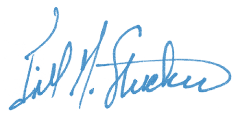 Jill Stucker
Manager, Grant and Loan Programs
---
The Albert Baker Fund is a 501(c)(3) non-profit corporation for US federal income and estate tax purposes. Donations are tax deductible.
ABF is registered with each state, as required, to seek funding. State disclosure registrations (e.g. FL: #CH 46662) may be viewed at www.albertbakerfund.org/statedisclosures.