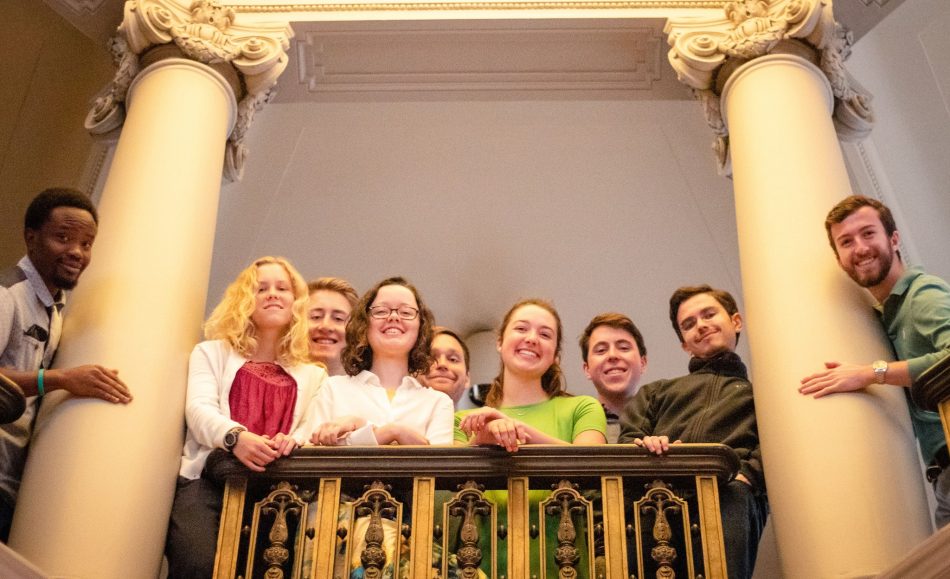 Follow along with us as we share the story of this summer's interns working at The Mother Church!
By the numbers — 25 interns from 13 different states, 9 different countries, and 10 different colleges, worked for 11 weeks in 18 departments at The Mother Church!
By the impact — "This summer was phenomenal across the board. It was clear from the start that we weren't 'just interns.' Every single one of us felt like we were part of a team and that we could make a tangible impact on the Christian Science Movement. The magnitude of that was not lost on any of us! So thank you for making this more than just a simple internship!" (from an intern)
Summer Interns on the Plaza!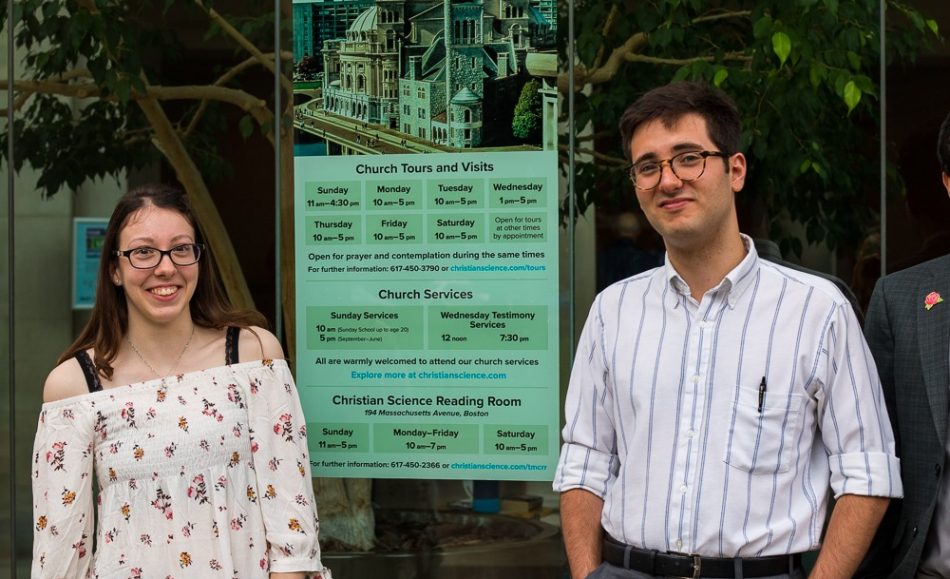 This summer's interns at The Mother Church had a rich and diverse 11-week work experience. Even though they had a full-time assignment in a specific department, and took advantage of all that Boston has to offer in their "off" time, they also made a place to volunteer on the church plaza or in the The Mother Church Reading Room.
Ready to give tours or direct passers-by are Wendy Wasserman, who worked in Records Management and attends State University of New York in New Paltz; and Rudolph Meyer, a Prin student from Brazil who worked in Church Activities.
How did you change this summer?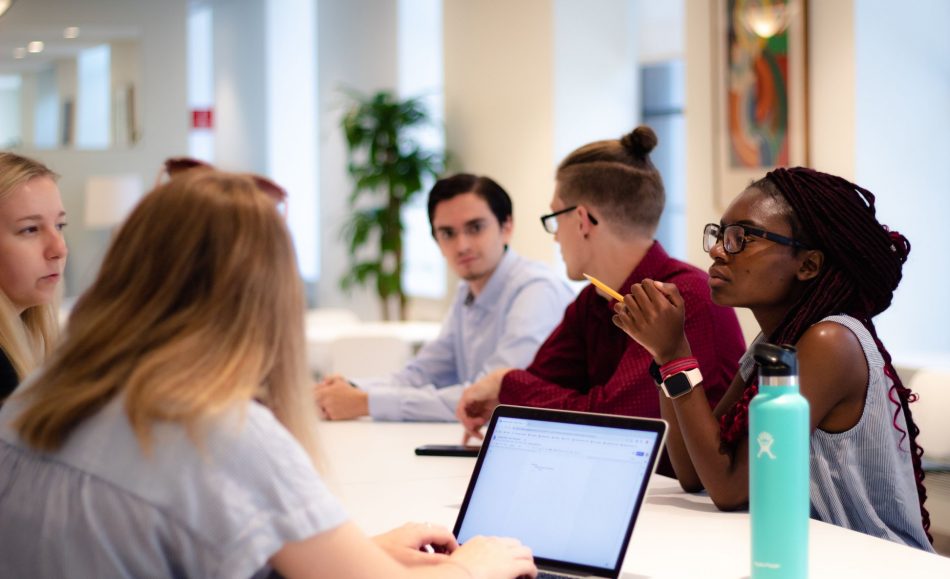 "I've gained more confidence and developed a higher sense of independence."
"I've learned more about who I really am and my identity as God's child. There's a sense of love here that you can't describe!"
"This internship is not just about going to work, it's an all-around experience. We all grew in many ways outside of our summer work experience."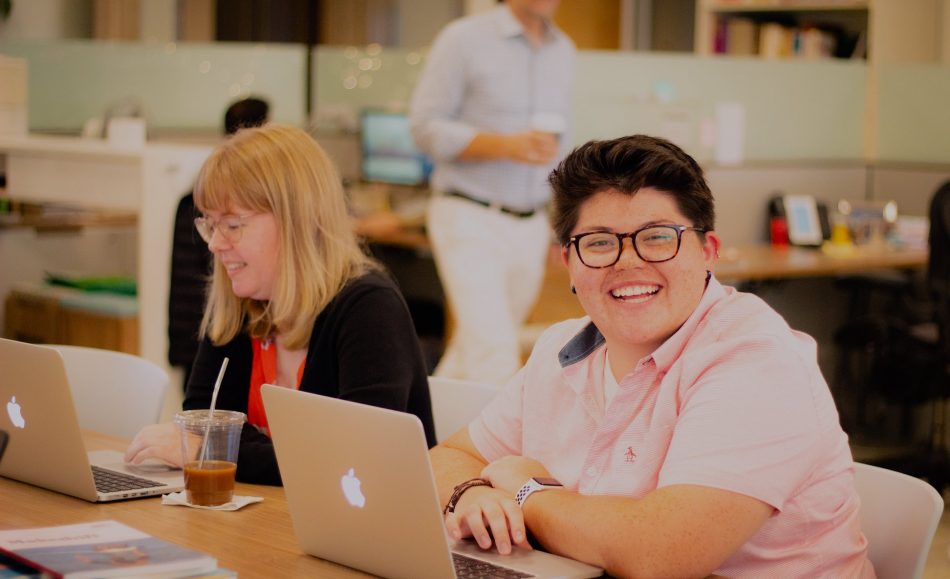 "From the minute I came here it was clear to me that all anyone expected of me was that I was here to give and learn. How incredible is that? That was my job. That was enough! Not a single person was high and mighty, not a single person questioned my ability, whether it was my spiritual ability or my ability to give to the team. Whatever was asked of me, it always came with the expectation I was able to do it, and that any questions I had, they'd be answered."
— Brooke Engel, graphic design Internship, Promotion and Design Services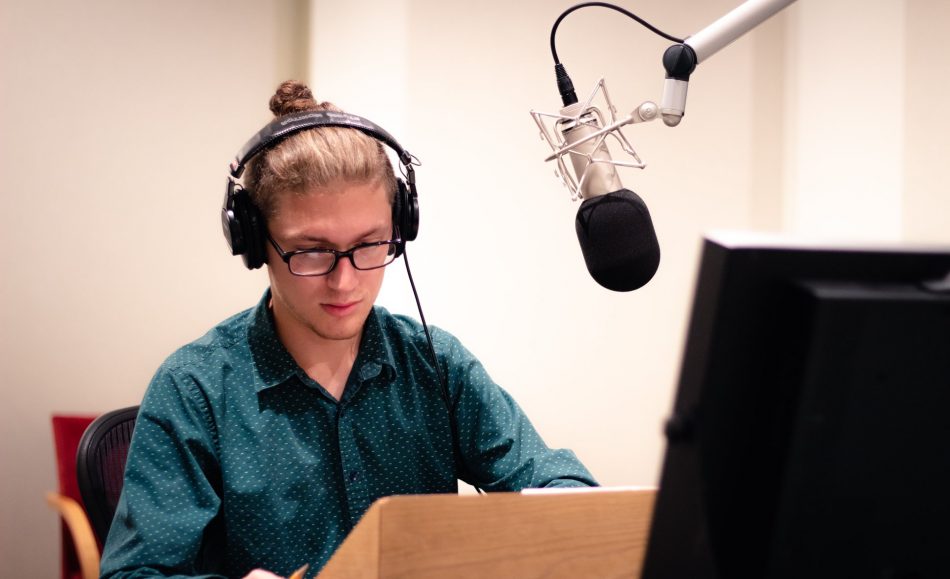 Sammy Keller, a Principia student from Germany, put his native German to good use in the Office of Language Services. He worked on the German website for the Mary Baker Eddy Library, read 6 Daily Lifts in German, and was one of two producers for the German live interpretation of the Annual Meeting of The Mother Church.
What makes a good internship?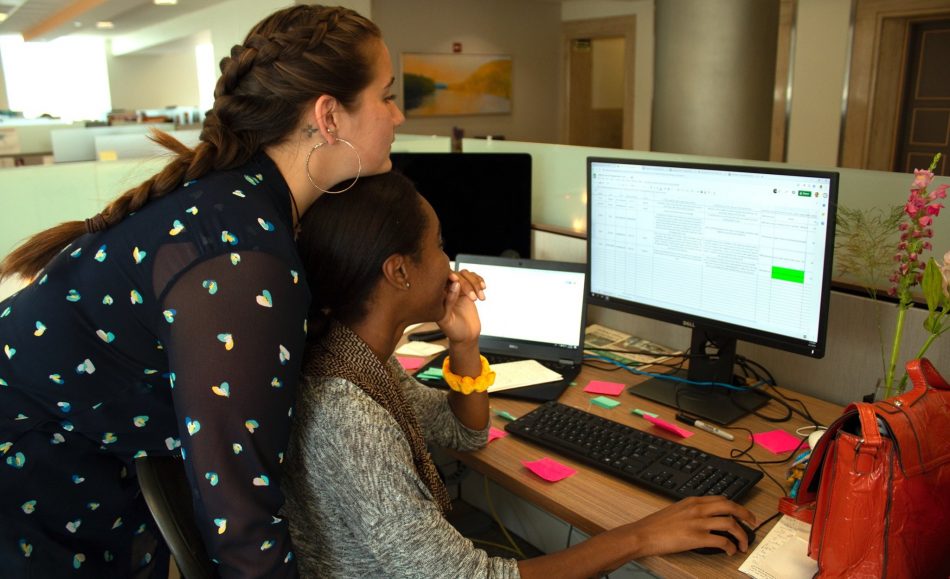 "From Day One, my co-workers asked for my opinion and that was so valuable. I never felt I was there to do a mundane task, but that I was a valuable member of the team. That was the mentality of my department. This work environment proved that we all have the same motive– to love and serve one another."
(photo: Hannah Hathaway and Aurora Muller, Church Activities Department)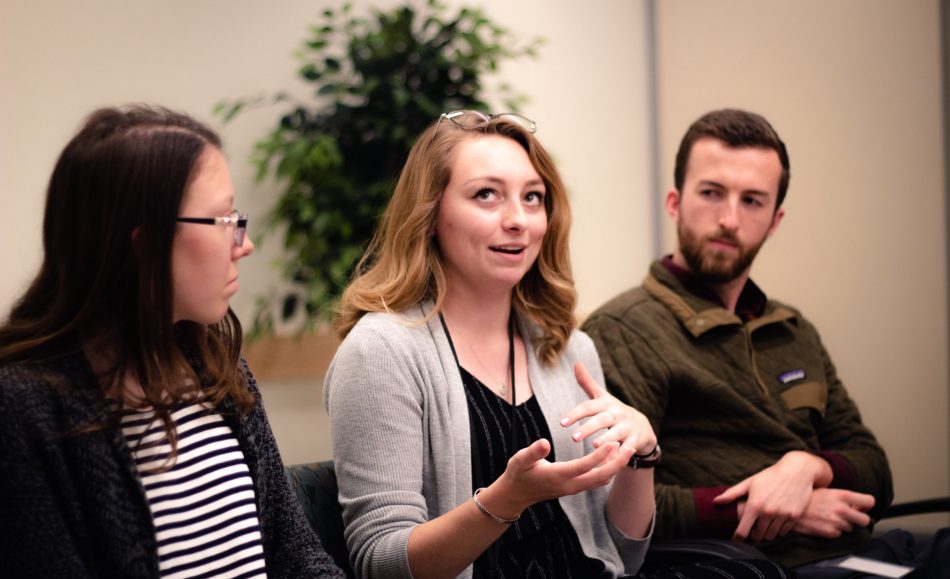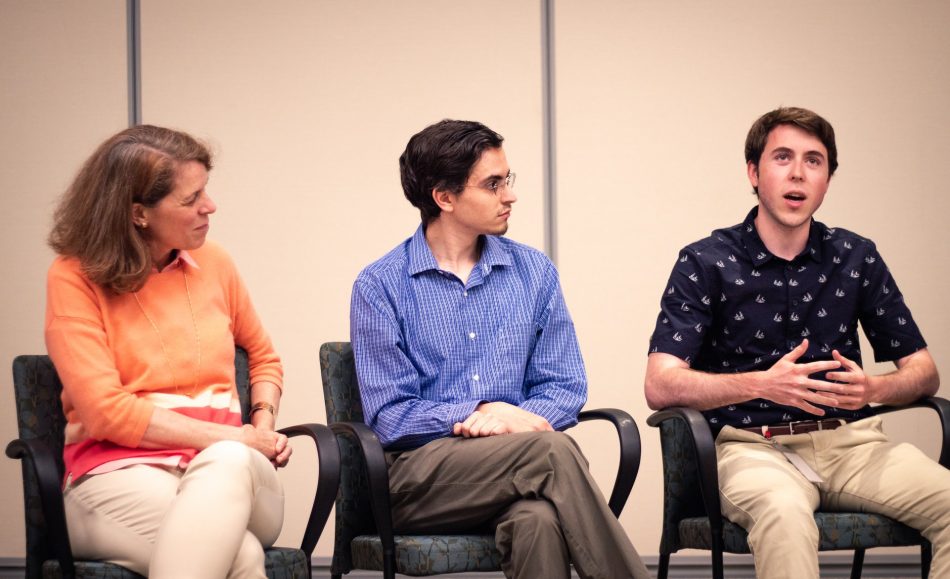 "Meeting with church officers and understanding how the church operates was really important. That made our individual work feel relevant. We're not handling the big tasks that the Directors do, but meeting with them showed us why our work matters in the big picture."
Interns also shared ideas from a survey they created on how The Mother Church could potentially reach 20- and 30-somethings better. "We wanted to make sure that while we were here during our 11 weeks we were as much of a resource as we possibly could be to the church, because we just wanted to give back."
(Photo: top, Wendy Wasserman, Mandy-Kay Johnson, Tyler Winterbottom. Photo: bottom, Robin Hoagland, Alan Freeman, Michael Glaser)
Have you ever thought to pray about misplaced commas? Well, this intern did!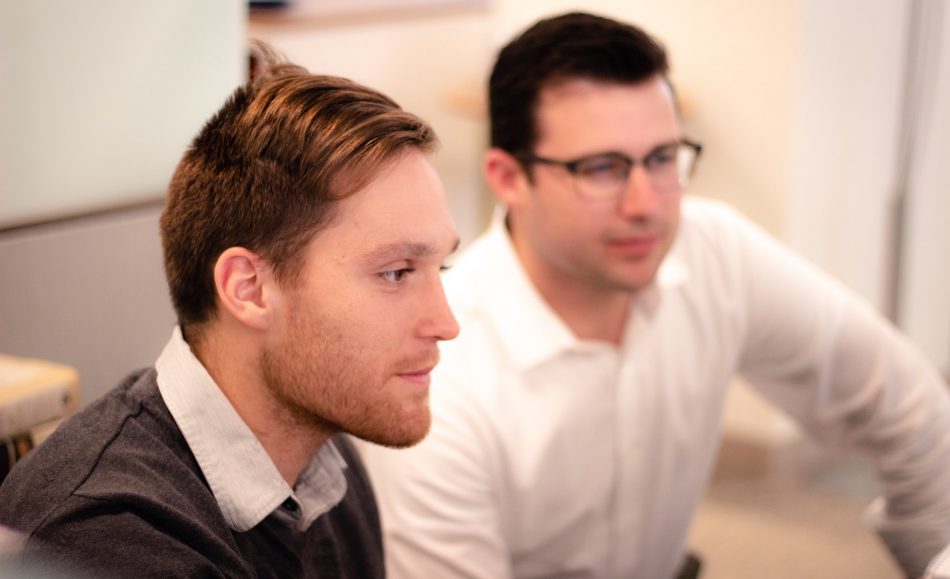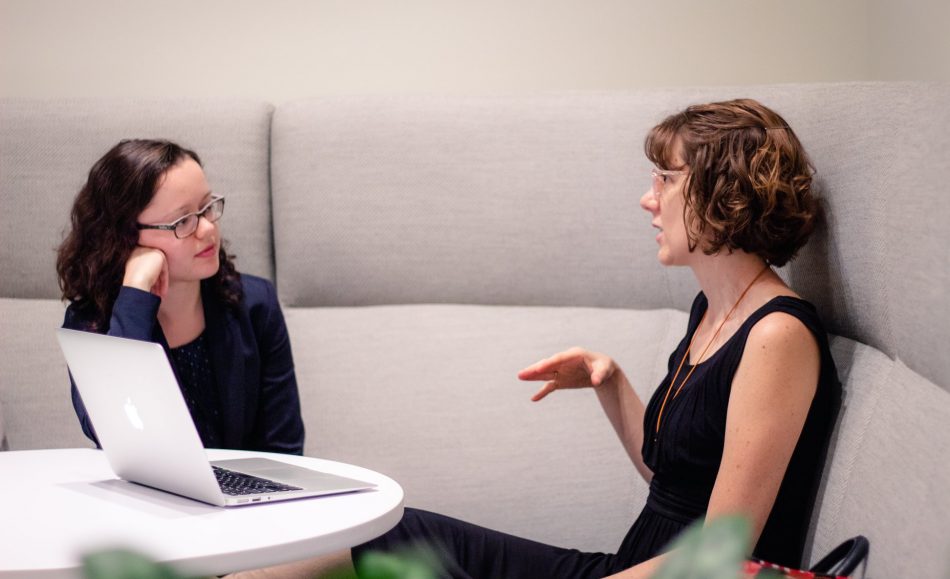 "When I was editing articles for JSH Online, I would pray all the time, you know–One Mind can help me make this article better, and find any misplaced commas, or any other grammatical mistake, because there is only one Mind. And when you're writing for any purpose, you're just trying to express Love, and express the Truth. That's what comes through. So I prayed about that all the time, and if I was ever having trouble editing an article, I'd try to calm my thought and just try to listen to what the author was trying to say through their writing."
(Photo: Intern Matthew Warrick with his supervisor William Pappas, Staff Editor for the Christian Science Journal; and Intern Emily Faulkner with Jenny Sawyer, Managing Editor of Youth Content.)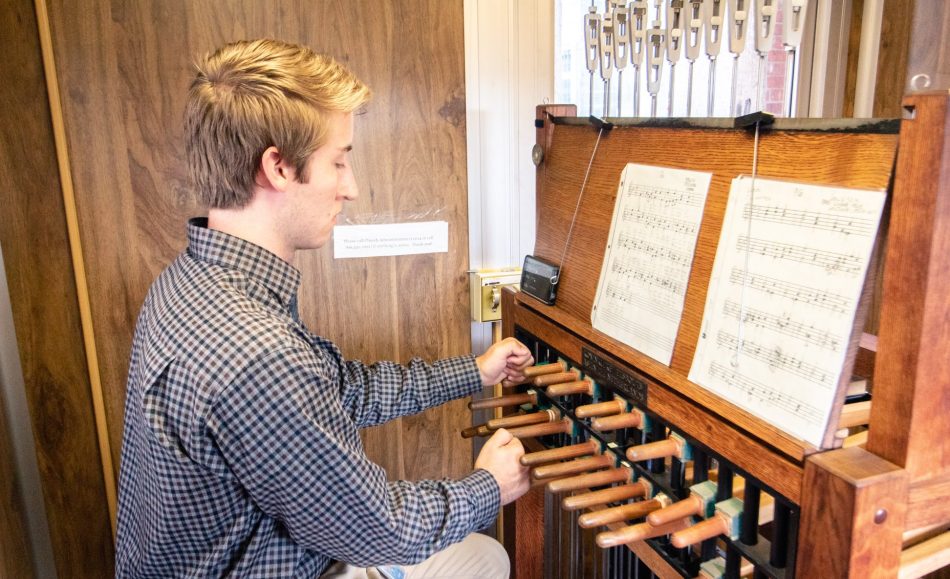 Playing the chimes in the bell tower at The Mother Church? Not part of your internship, but definitely one of the amazing things that happen to summer interns!
(Photo: Carter Van Fossen at the chimes, Intern in the General Publications Department and a student at Case Western Reserve University in Ohio.)
One of the best parts of being a summer intern?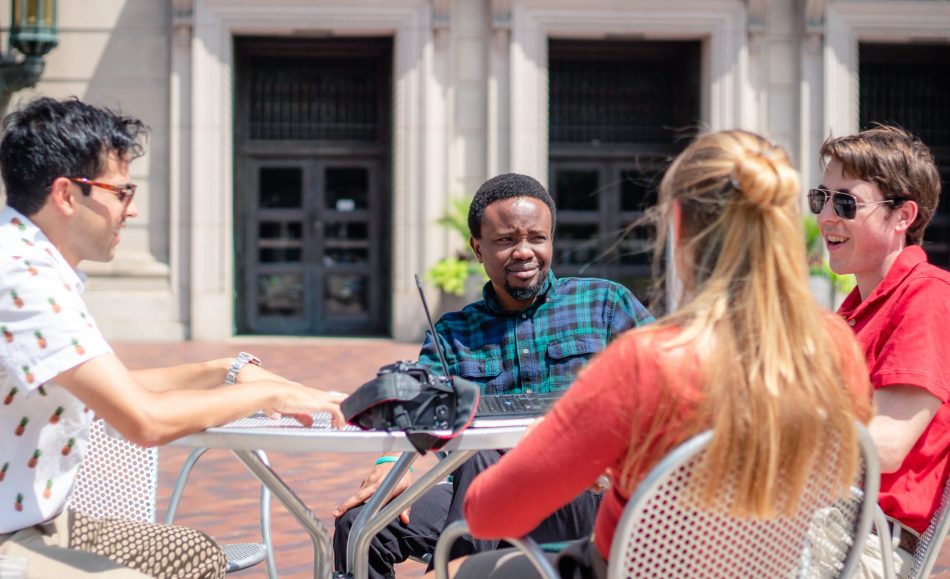 "Being in Boston and connecting with other Christian Scientists my age has been an amazing experience. Since realizing how important Christian Science is to me, I have felt led to share Christian Science with others. I'm so proud to be a part of this amazing religious community." (Photo: Nick de la Rosa, James Ajayi, Katie Penfield, and Michael Glaser)
What's the workplace culture like?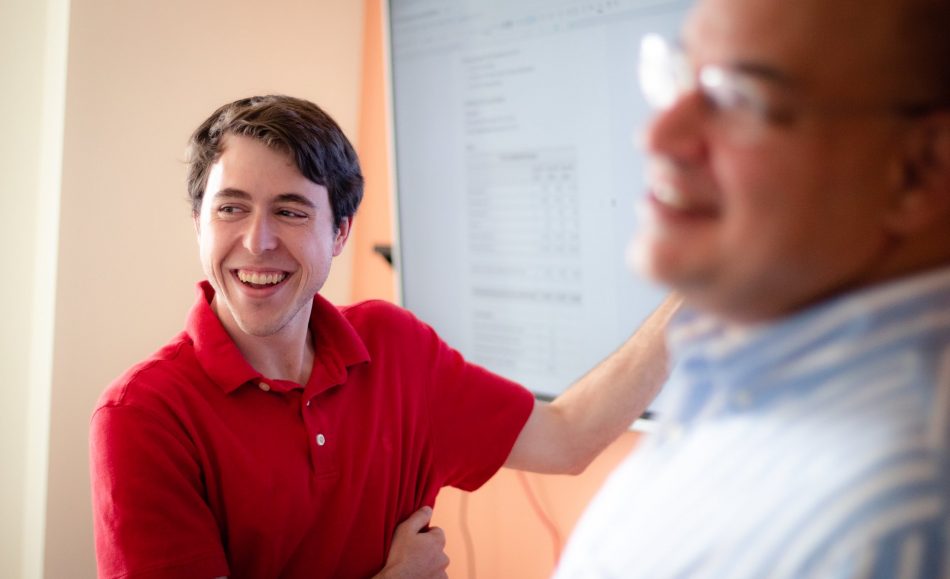 "There's definitely a very influential workplace culture here! And it's definitely helped me strengthen my foundation in Christian Science multiple times. I work in vendor management so a lot of what we do involves people that are not even aware that Christian Science exists. When we try to work with vendors we always heavily imply that we want to have a foundation in Christian Science. Business relationships don't have to be a lose-lose situation. We can always uplift our thought about the relationship or partnership." (Michael Glaser, student at University of Alabama, with his supervisor, Tony Veidelis, Vendor Manager for The Mother Church)
What are you taking away with you?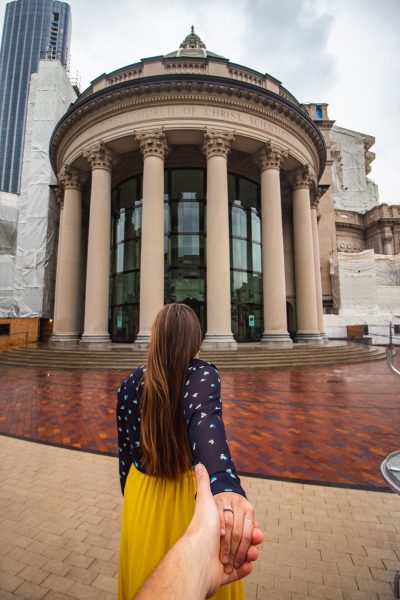 "I have a huge understanding of what it means to be a church worker and I get to go home and do that and move forward. And not just what it means to be a church worker, but a Christian Scientist!"
"Being open to sharing Christian Science was a huge point of growth for all of us. We gained a renewed confidence in what Christian Science means to us and what it means to share it with other people."
"What really clicked for me was understanding that church is an extension of unlimited, universal love…church is demonstrated daily as a sense of community, compassion, and many other qualities."
"It was inspiring and thought-provoking to see how others incorporated Christian Science into their daily lives. And how they created such a welcoming and loving environment no matter how far along they were on their Christian Science journey."
"Many of us felt we developed a deeper individual study of Christian Science and were able to able to make Christian Science more our own."
"I've gained more confidence and developed a higher sense of independence. This work experience has allowed me to refine my skills and grow as an individual."
"I learned that I am capable of being flexible in taking in projects and deadlines. It was truly a stretch for me. But the interesting thing is that I didn't feel the same sense of overwhelm."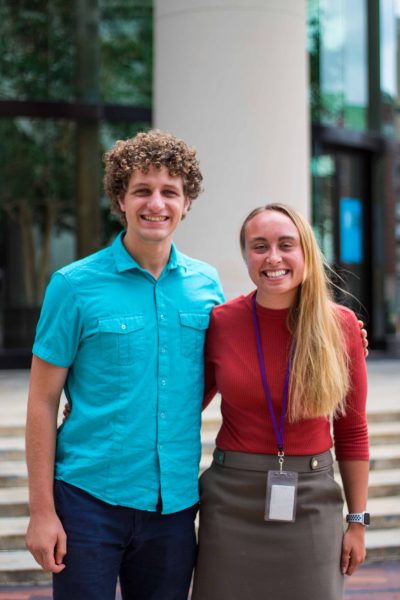 A huge thank you to Nathan Wood and Katie Penfield, Principia College students whose wonderful photos helped us tell the story of the summer internship program at The Mother Church! And a shout out to Chris Sheasley who planned the summer program and coordinates the interns and their activities!
Nathan was an intern in Broadcast & Media Production Services, and Katie was an intern at The Christian Science Monitor.
Each intern returning to school this fall received a $2,000 tuition grant funded by friends of ABF!