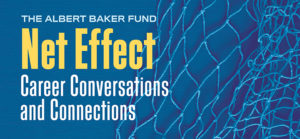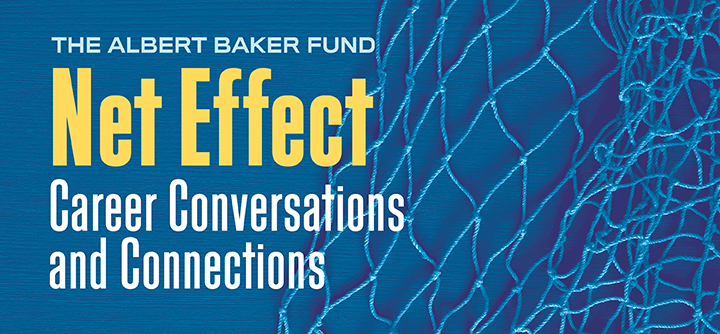 Each Friday, ABF Career Alliance is hosting conversations with valued members of our Career Alliance community. See guest and conversation topic for Friday, September 25, below. 
Three Questions and Three Take-aways Each Week
We are asking each guest three questions about their work, and framing three takeaways that you can apply to your career now. Events will be available live through Zoom at 3 p.m. PDT each Friday, lasting approximately 30-45 minutes, and will then be available for replay across our social media channels and the ABF Career Alliance site after that. (Note: If you've already registered for one Net Effect, you are registered for all future Net Effects!)
Conversations that Connect and Inspire!
Connection is key right now, and even with current practices around social distancing, we won't let that limit us from helping you move your career forward. We are excited to bring these conversations straight to you, to keep you inspired and driven!
Speakers and Topics
September 25, 2020 at 3 pm PDT – Marivic Mabanag, Executive Director, High Ridge House; Lifetime Social Activist
Topic: "Marivic's coming to America journey from the Philippines to study at Wellesley College,
the experiences that have shaped her as a social entrepreneur,
and what it has meant to her to find Christian Science and serve our movement."

About Our Speaker
Marivic has over 35 years of experience working for the nonprofit, public and private sectors, currently as Executive Director of High Ridge House, a Christian Science care facility for healing and renewal in The Bronx, New York.
Originally from the Philippines, Marivic Mabanag came to the U.S. when she received a scholarship to Wellesley College in Massachusetts. As a nationally recognized policy leader, activist and social entrepreneur, she has served on the staff of four mayors and served as the Chief Executive of the California State Domestic Violence Coalition. During her tenure, she helped pass several significant pieces of legislation to increase the protection of domestic violence victims and their children, most importantly, a law that protects domestic violence victims from being incarcerated for refusal to testify against their batterer. She was also appointed by Governor Schwarzenegger to the Human Trafficking Task Force, which helped implement The California Trafficking Victims Protection Act, which made human trafficking a felony in the State of California, the first such legislation in the U.S.
Working throughout California, she helped pass policies that reduced youth access to guns and alcohol and increase resources for prevention instead of incarceration. In another project, she developed the concept of using former gang members to become peacekeepers for their neighborhoods, garnering a $650,000 grant award from President Bill Clinton, one of 17 in the United States
Above all these experiences, what she says she is most grateful for is her experience in finding and practicing Christian Science. She has served as a Christian Science Prison Chaplain in both Massachusetts and California. She helped start Spanish services in her branch church, in a Reading Room near The Mother Church and in jails. She was the Keynote Speaker for the Oregon Institutional Committee and for Arc-en-ciel, a Christian Science camp in Switzerland. Her articles and videos may be found at www.christianscience.com.