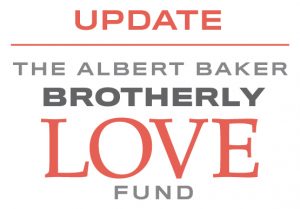 Gratitude.  This is what our students are expressing for their ABF Brotherly Love scholarships.
Seventeen students, who lost their job or family support, are being awarded a larger ABF scholarship so they can continue college this fall. The average scholarship award increased by $2,200.
Now that summer has arrived, we have begun receiving additional applications for fall term. We are expecting about 80   have been impacted by recent events and will each need between $250 and $4,500 in additional funding.
In order to respond to the needs of these 80 students, we are asking for your help again. If you are able to contribute, we will award 100% of your gift as a scholarship to these students so they can continue their education this fall.
Thank you for joining with us, once more, in this continuing expression of brotherly love.
Make a Gift to The Albert Baker Brotherly Love Fund
With deep gratitude,

Dr. Joseph M. Ritter, Chief Executive Officer
The Albert Baker Fund