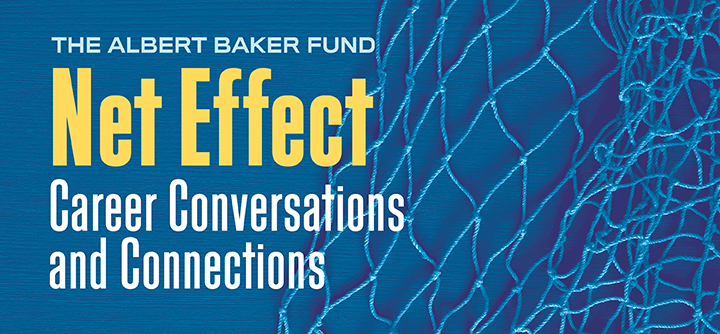 Every quarter, ABF Career Alliance is bringing you conversations with valued members of our community. In each session, our guests share impactful events from their own education and careers, and how they are in turn making a positive impact in the world. Through Net Effect conversations our guests offer insights that you can apply to your career right now. Scroll down to learn about our September 17 conversation with four ABF scholarship students who will share highlights from their summer internships working at The Mother Church this summer.
Events are available live, once a quarter, on Fridays at 3 p.m. PDT, through Zoom, and available for replay on our YouTube channel after that. Once you register you will receive notification of upcoming Net Effect dates.
We are excited to bring these conversations straight to you, to keep you inspired and driven. Since launching the Net Effect in April 2020, we've sat down with artists, activists, educators, philanthropists, entrepreneurs, executives, coaches, authors, and more.
We also offer direct access to our guests through the ABF Career Alliance, giving you the ability to connect one-to-one with questions that can help you with the next step in your career.
Net Effect Career Conversation is Friday, September 17 at 3 pm Pacific Time
We'll be talking with college students Paige Lesko, Caitlin Babcock, Julia Schuck, and Emmanuel Tekila.
About our Guests

Caitlin Babcock and Paige Lesko worked together in the Office of the Publisher's Agent, improving and re-organizing YouTube help videos for Concord, and creating a welcome trailer for newcomers. Caitlin is an International Relations major at Baylor University and Paige is a Mass Communications major at Principia College.
Julia Schuck helped edit articles for JSH-Online and even had the opportunity to write one for the Sentinel's Teen Connect feature. Says Julia, "I learned that there's a lot of prayer that goes into producing the periodicals!" Julia is studying Mass Communications at University of Maryland.
and Emmanuel Tekila interned in Church Activities where he helped plan the Mini-Summit for CSO's (Christian Science Organizations on college campuses) and mapped the locations of Christian Science Reading Rooms around the world. Emmanuel is an Economics major at the University of Kinshasa and will be zooming with us from the Democratic Republic of Congo!
Join us on Friday to hear how these students grew both professionally and spiritually during their 11-week Zoom internship "in" Boston!