Support the ABF Career Alliance!
Join us in this exciting outreach to Christian Scientists! Your gift of financial support represents a solid investment in the lives of individual Christian Scientists and the progress that comes from each of us "passing our blessings forward."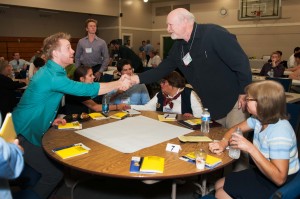 To Donate Online:
Make a secure one-time or recurring donation:
To Send a Check:
The Albert Baker Fund
111 Woodmere Road, Suite 210
Folsom, CA 95630
USA

The Albert Baker Fund is uniquely positioned to create a career network that helps advance the careers of Christian Scientists. The continuing support of our fellow Christian Scientists serves our mission as well deepens the relationships we've developed over a 50-year history of funding the pursuit of education.
To Make a Gift of Stock
Gifts of appreciated securities (stocks, bonds or mutual funds) may provide particular tax benefits for the donor. There is no obligation to pay capital gain taxes on the appreciated value; the total value of the stock upon transfer can be tax-deductible. Please call to inquire about a transfer of stock.
To Designate a Planned Gift
Planned gifts provide various ways to support the continuity of this important work. One way is to designate The Albert Baker Fund as a recipient in your will or revocable trust.
Sample Bequest Language
I give ( _______ dollars) or ( ______ percent of the residue of my estate) or (the following property ______ ) to The Albert Baker Fund of Folsom, California to be utilized for its general charitable purposes.
Making a planned gift can be that simple. And you can do it without any contact with Albert Baker Fund staff, although we would be pleased to answer your questions, share background on specific needs, and provide information on other aspects of support. And most of all we would like to be able to personally acknowledge our deep gratitude for your support.
Other Details for Donors
Legal Name: The Albert Baker Fund, a 501(c)(3) nonprofit organization incorporated under the laws of the State of California
Address: 111 Woodmere Road, Suite 210, Folsom, CA 95630, USA
Tax Identification Number (EIN): 94-1613751
Contact Person: Janee Shaw, Chief Development Officer
Email: janee.shaw@albertbakergund.org
Mobile: 619-488-7550
To Join The ABF Legacy Circle
Members of The Albert Baker Fund Legacy Circle invest in the sustainable future of ABF through their estate plans. Specific actions include:
A bequest in a will or trust (using the designation language above)
A beneficiary designation in a retirement plan or insurance policy
A charitable remainder trust (CRT) that benefits The Albert Baker Fund
To learn more about the Legacy Circle, please contact Janee Shaw at janee.shaw@albertbakerfund.org or 619-488-7550
To Discuss Other Options for Support
Perhaps your individual circumstances and interests suggest other ways you might choose to support the education of Christian Scientists. If so, please contact us so that we may work together to explore your questions and ideas.
Call Janee Shaw, Chief Development Officer, at 619-488-7550