Bruce E. G. Smith has been in Information Technology related businesses in sales, sales management, and executive sales positions for 50 years for major companies including IBM, Westinghouse and British Telecom as well as numerous software and business process outsourcing companies. He has had a successful sales consulting and sales coaching practice for almost 20 years acting as VP of Sales for software start-up and later stage companies doing business as Achieving Sales Results, LLC. The website is: www.achievingsalesresults.com.
In 2006, Mr. Smith also started a musical theater production company in Pittsburgh named Front Porch Theatricals that produces two professional productions each year using union actors, choreographers, musicians and local actors, directors and crew known as "Pittsburgh's Boutique Professional Musical Theater Company". The website is www.frontporchpgh.org. Mr. Smith has been a Regional Ambassador for the Albert Baker Foundation since 2006 having interviewed dozens of potential ABF grantees and is also an ABF Career Ally.
Part of our Net Effect Conversations series:
https://www.albertbakerfund.org/category/net-effect/
Subscribe to our YouTube channel here
---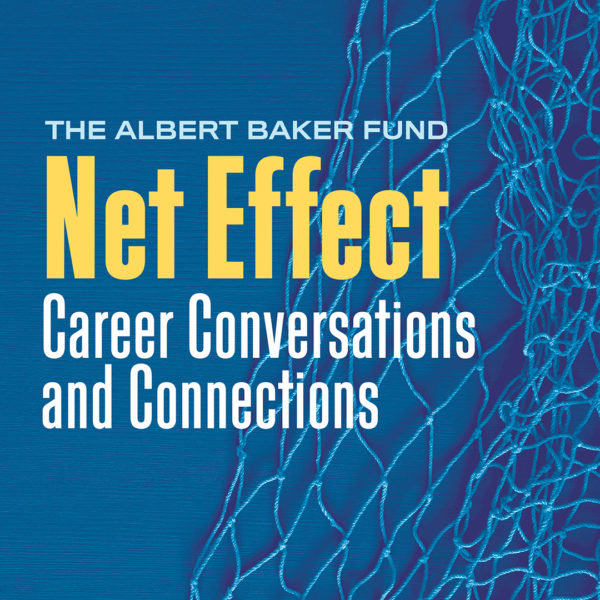 The replay of our September career conversation with Dan LaBar, innovative educator and community-builder, is now available in video, podcast, and transcript. Click "Watch Net Effect Replays" below!
---
Episode Transcript
Special thanks to DiscoveryBound NLC intern Brenna Erickson who volunteered to transcribe this episode.
Robin: "…Bruce we're so happy and we thank you so very much for all your work as a Regional Ambassador with the Albert Baker Fund. How long have you been an RA?"
Bruce: It's been about 14 years now. In fact, my good friend Dan Herbert, who was chairman of the board went to college, and, went to college together in eastern Pennsylvania, and he's the one that recruited me 14 years ago. So I've been doing interviews with college students for that long and it's so enjoyable and so inspirational really."
Robin: *asks his thoughts on what are some of those important issues that he's been thinking about in today's environment*
Bruce: Yeah, of course today's environment is very different than we've all been experiencing over our careers and so I've been thinking a lot about the metaphysical aspect of all this. And then of course, on the practical side, I've been working with how to do social distancing both at the church, and reopening the church, and also in theaters. We kind of feel like theaters will be probably the last to open up because social distancing can really be a challenge, there, but I'd like to give a quote from Mary Baker Eddy's Science and Health that really helped me. I recalled it just recently, but I've worked with this quote a number of times in the past. "If selfishness has given place to kindness, we shall regard our neighbor unselfishly, and bless them that curse us, but we shall never meet this great duty simply by asking that it may be done."(S&H 9:11)
And what's so important to me, is that … it's so important to actually get things done. I mean planning is so important, and the better and more that you plan, the better the outcome will be. But at some point, you just have to take action, and for any of our folks listening out there, taking action is an important step in your progression overall. So I really think that that's an important part of what I've been working with, and from a sales standpoint. [Start 6:41][End 7:54]
I've been a sales consultant for the last 15 years or so after having a long career in sales, and sales management, and executive sales with some major companies like IBM, British Telecom, and Westinghouse. But I've also worked for a lot of smaller organizations as well, software companies, hardware companies, outsourcing, and so forth. But I always felt that sales has to be a very principled activity. It's so important, when I was managing a small group of salespeople, that I really impressed upon them not just the ethics of sales, but telling the truth without over- embellishing, putting your product or service in the very best light of course. And quite often a sales rep would come back to me and say, you know, we got a problem with a delivery of this equipment or delivery of this software, what do you think we should tell our customer? And I would always say something as bland as, how about the truth? You know the truth really does work, and you know, don't try to make some excuse about something. Customers are smart, they'll look, they'll see right through it. But you will gain great respect from your customer by just telling them the out-and-out truth. So I always use that as an important management principle. And the in terms of tying in theater with sales management as well, treating your employees, and in the case of theater, your cast and your crew, treating them better than anyone else. It will pay huge dividends over time. [Start 8:22] [End 9:54] My theater company, Front-Porch Theatricals, it's in Pittsburgh, and we have a huge reputation about treating our cast really well. In fact, I was talking to an executive managing director from the Pittsburgh Public Theatre, a very large theater in Pittsburgh, and he even said to me, you know, you guys at Front Porch have a terrific reputation to treat actors so well, because they tell us when they act in our shows as well."
Robin: *asks if he believe success comes from treating people with integrity, honesty, and that "Christianly" way we are taught to do*
Bruce: Absolutely. I grew up in the Christian Science church. I had strong Bible and Science and Health training from some fabulous teachers, and so that basis is absolutely there, and it's the Christian ethic, of course. And so I practiced it and still do practice it in my dual careers. [Start 10:46] [End 11:07]
Robin: *asks how he stays motivated during these times with all of the things he's reading about on a daily basis*
Bruce: Yeah, sure. You know, my message in this slide is really more for others in looking for a job. But I get motivated by just doing a good job, certainly on the sales and sales consulting part of the job. In theater, I just love theater. I am jazzed by theater. I also had a musical career way back in high school and in college. I was in a rock band I play four instruments. In fact one of them you can see right here, my guitar, my piano, and so you know music motivates me. But when I talk to people who are looking for a job, especially during these times, I remind them that even though they need to talk to a lot of people in order to do that, a very important skill called networking, I remind them you really only need one job. And so in sales, it's important to have many customers. And so you have to prospect, and you need lots of people, lots of prospects or potential customers in your pipeline, so to speak. But in going out and finding a job, you only need that one job. And I have given the advice of asking people for their advice, other people in in a different lane, if you will. So if you have a resume that's all about sales, it's possible that you could pivot to another form of sales, maybe customer service, maybe hospitality. So there's other jobs that you might be able to get beyond just sales. That sales background is really important because basically you're already selling yourself, and that's so important and certainly from a religious standpoint listening closely to God for his plan, not just focusing on your plan. You have to take the human steps, yes that's true, but you really have to pray and listen for that 'still, small voice' that will tell you and advise you and motivate you to find the right path for your next job in your career." [Start ][End 14:20]
Robin: *asks if he agrees if now is a good time to develop some of those "soft skills"*
Bruce: Yeah, in fact, in my sales consulting I've done a lot of sales training, and the one principle that is so important in sales is listening. Listening to your customer. Any of you who go out and buy a car, buy a house, or buy a large appliance of some kind, you can tell if you have a good salesperson if they are listening very carefully for what your needs are. Because it's not about their product, it's about your needs. Listening carefully is so important, but you're right Robin, that skill is useful in so many parts of life–in relationships, in jobs, and careers. Whether the job be in sales or not, listening very carefully, spending time to really make sure that you are active listening and understanding what someone is telling you. [Start 14:48][End 15:44]
Robin: *asks if he recommends having conversations with professionals "outside your lane"*
Bruce: Yeah, learning what works for others is applicable to your own career pursuit, that's true. You know, anyone looking for a job has to create a resume. But I always used to say, as a hiring manager, I want to see your resume just so I get a sense of where you are, and what you're doing, and how you present yourself in a resume, but I'm not hiring a resume. And those people who are looking for jobs have to recognize that you're not going to get hired exclusively on your resume. I mean there's a lot of people I know that send out thousands of resumes. You're not going to get a job that way. People don't hire from resumes, but a resume is a ticket to get punched, that you can use to get to the next step, and that's to have a meeting, have an interview. That's really where you have an opportunity to pursue opportunities, perhaps outside of your lane. People tend to pigeonhole you into one particular thing, but once you get to an interview, you have an opportunity to present yourself as a person, and have the hiring manager see that value. But just a little tip here, having at least 5 meetings a week when you're out looking for a job, that's so important, writing down a list of all the people you know, and then calling them and trying to get a meeting with them, and then when you do have a meeting, before you leave that meeting asking for one or two other references that they might have, so you can build your list of prospects, if you will. But I go back to the ethics and the professionalism of leaving your career. Always be courteous, always show gratitude, [Start 16:06][End 17:58] And I was thinking about that point the other day, and I realized I am known to my colleagues as someone who doesn't swear. And a lot of people will swear from time to time, and then they'll look at me and they'll say 'oh gee I'm sorry,' and that's because I built an image, an action of being professional. If you were talking to a customer, especially on the first meeting, you wouldn't be saying swear words to them. That's being professional and I think that I have kept that through my entire career and I'm proud of that reputation.
Robin: *asks if he has found it to be the case that talking to people outside of your normal wheelhouse is where you kind of 'rock and roll'*
Bruce: Yeah, there's no question about that. You know, when you look at a resume, for example, and you try to get a perspective on someone, and who they are, and what their experience is, but then when you finally meet them in person, it can open up a whole other spectrum of other types of roles. I mean I've seen situations where someone comes in to apply for a job in sales, let's say, and it ends up the hiring manager might or I might say, you know, this person would be better- suited in a little bit different role. [Start 19:47][End 20:29]
I also want to mention and apply this to the theater world, because my theater partner and I always interview for a director, a very important role in a theater production; also for a choreographer and a music director. Those are the three key people in the creative team. And when we do interview people in the theater world, it turns out that their qualifications are important, but we're looking more for the person and what humanity they bring to it and what creativity they bring to that particular role. And we end up hiring people that we just really like the way they approach things. Certainly they have to have the right qualifications, but we have always hired directors who we think are up-and-coming. So maybe they don't have all of the credentials that we might need, but they have this spark, this real interest in what we do in a particular show that they want to direct for us, and a passion. And so we're always looking for passion in that, and I would translate passion from theater into the business world and call that enthusiasm, [Start 20:53][End 21:49] which if any of you are scholars of words, enthusiasm simply means the spirit within. And so that's what we're always looking for, in people, whether it be in theater key positions or in business as well.
Robin: *asks him to talk about the top three takeaways*
Bruce: You know, when I say take action, you know if you're in a discussion with someone and it's clear that something has to take place, there is always this feeling like, well okay, I'll handle that tomorrow; it's that procrastination thing. But I always like to encourage the people that work for me to pick up the phone and call someone. Reach out right away, and sometimes I'll maybe just send an email when I maybe should have really just picked up the phone and called someone. Not quite as often; you don't always get them on the phone, but taking action, that's what I mean. Don't wait for something else to happen. [Start 22:22] [End 23:04] Being a person of action; I think that that's really important. We always talk about being honest and telling the truth, being principled, and in the Christian Science world, of course, expressing principle in all situations, in dealings, with relationships, with issues with customers, with personal goings-on or even in the theatre, be truthful to people and show really good integrity. And then finally, what's most important, is probably the first not the last, but listening for God's plan, just don't just push ahead with your own plan. Make sure that you are listening very carefully, listening to people, and most importantly listening to God.
Robin: *asks if he has discovered something new or rediscovered any new kind of thing in his professional life during this stay at home period*
Bruce: Well I think certainly Zoom was a new thing, and now it's not a new thing to most people. I actually used a different program for a long time called GoToMeeting and when I was a sales advisor and a VP of sales for a software company, we would always use GoToMeeting because you could share your screen like you're doing with zoom. But Zoom has now become the video conferencing of choice overall, so yes, being in the theatre business, as you can well imagine, theater is being delayed or postponed. My posters up here are the shows that I've done in the past, and we've done two shows, one in May and one in August every year. But of course, as you can well imagine, we've had to postpone both of those shows, and we're going to do them next year. But we talked to the director of the shows, and we've really felt, you know, we've already cast the show, so we have 16 people in the first show, and 24 people in the second show. So to keep that enthusiasm going, [Start 25:05][End 26:23] we decided to have a table read. And for those of you who are not familiar with theater terminology, it simply means we all sit around a table, under normal circumstances, and read through the script. And the actors actually act out the scenes by sitting down at their chair. And then if in a case where we are doing musicals, they then sing a song. So next Friday night, we're going to have a private zoom meeting of all 16 cast members, plus a few other folks that are coming along, the director of course, and so forth. And this is the new part we've been working on, how to figure out how to get music into a zoom. Well, it's difficult for group singing, but we have figured out how to do solos, and that's gonna work out great! So we're excited about doing that, and we'll do that for the August show later on, as well.
Robin: *asks if he has any suggestions for artists trying to show their work under the current situation*
Bruce: I know that it's not the same, but you could have a kind of an art show and the curator could maybe explain, or the artists themselves could maybe explain what that painting is all about, and invite people to the Zoom show, and make it fun. I mean speaking about fun, my wife and I had a Memorial Day picnic for 35 years in Sewickley here. And we're not gonna be able to have it this year, because of the group thing, but we're gonna do a Zoom with everybody who has come to our picnics. And so, you've got to make it fun, and so we're gonna ask questions, you know, how are you handling things, and it's going to be a lot of fun. So Zoom, or video conferencing, could really be a lot of fun, even for something as difficult to do over the Internet as showing paintings [Start 27:54] [End 28:49]
Robin: *asks what kind of technology/skills to work on should people be thinking about in their offices to make them seem more professional*
Bruce: Yes, so the question is what kind of technology would you suggest working at home. And I think, certainly, the number one thing, and the most obvious thing is you're using Zoom now a lot more than we all have ever done, so video conferencing is important. If you can't meet in an office, you can meet through video conferencing, and I think that that's very important. I can't really think of a software app necessarily that would help or enhance you. I think the basic skills of the Microsoft suite are important to know. I mean, I know some people from time to time aren't particularly good in Excel, but Excel can do a lot of things that Word can do and visa versa, so I would say there's some basic apps out there that you should always have a good understanding of. [Start 31:13] [End 31:37] But other than that, other than Zoom and your basic Microsoft suite, I really can't think of anything else that is important to have. I have Alexa as a companion. Ooops, she's gonna speak to me here again if I say that, careful, you never know. So I ask some questions of her from time to time and I think that's always good to kind of get answers. What Google has done, and browsers have done to change our lives is immense. Think about all of the times we use a browser or a google type of system just to find out information about things. And when you're going for a job, or when you're just learning about people, or things. I've used Linkedin when I'm going to go meet someone to see what their picture is, so that I can recognize them if we're supposed to go to a coffee shop. I've also used Google to find out more about that person that I'm about to talk to, and again from a sales standpoint, finding out more about your prospects. There's a lot of software out there that can really help you learn more about the prospects, and the people that you want to be targeting for your sales [Start 32:04] [End 32:55]
Robin: *suggests getting a microphone* *announces job openings at Crystal Lakes camps and ways to stay connected with ABF* *Thanks Bruce*
Bruce: It's totally my pleasure, I really enjoy doing this and I really enjoy the Albert Baker Fund foundation and my part in interviewing students. I get so inspired by their enthusiasm and their careers that they have worked out for themselves, it's a terrific role!"
Robin: *thanks Bruce again, ABF, and the viewers*
Tags: career success, Has Transcript, performing arts, Publishing, sales