What are they doing now? An ABF Alum 10 years later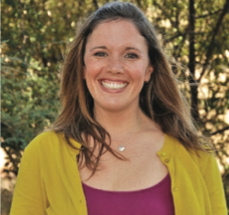 ANNE COLBECK, Distribution Marketing Manager
Semiconductor Manufacturer, Sunnyvale, California
Anne's Story:
Anne graduated from California Polytechnic State University, San Luis Obispo, in 2001, with a degree in Marketing. After working briefly in the non-profit sector, Anne joined a Silicon Valley semiconductor manufacturer where she has been able to help shape the company's marketing organization as it has grown from a small group of individuals to a global presence. Along with her marketing expertise, Anne has a definite creative side. She is a talented seamstress and writer and is working on a plan to start her own business in 2012. Anne was able to pay off her Albert Baker Fund loan in five years, and just a few months ago was able to purchase her first home.
What has help from The Albert Baker Fund meant to you?
I don't know how to express how grateful I am. From an early age my parents taught me the value of saving and working for things. With the assistance of The Albert Baker Fund, I was able to supplement my funding with a
flexible job that gave me the time I needed to study, volunteer, and have a full college experience.
How has Christian Science helped to shape your success in your career?
Whenever I'm faced with a stressful situation and I don't know which way to go, I stop and have a quiet conversation with God. I always get the answers I need. To me Christian Science is a warm heart; a place to come home and get my bearings, and then go back out there and do what I need to do.
What's one thing you've learned that you'd like to pass along to current Albert Baker Fund students?
Always keep the foundation of Christian Science in your back pocket. Stay focused on your goals and don't let any stumbling blocks get in your way!
Since our endowment covers yearly operations costs, we can guarantee that every dollar we receive will go directly to help students. We are a tax-exempt 501(c)(3) charitable corporation, so all donations are tax-deductible.