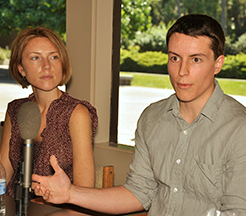 What are the challenges facing our students when they graduate from college and enter the workplace? How can we build on the relationship we have while they're in college to better support them after college?  What kind of support would they like?  And how can we utilize ABF's network of friends to offer this support?
These are just a few of the questions we considered when we met with a small group of ABF students and alums from the San Francisco Bay Area on a sunny Saturday afternoon in August.  We will be drawing on their feedback to help us in our future program planning.
The students we talked with were at all stages in their college and post-grad experience.  Some had just begun college, some were recent grads looking ahead to first jobs and graduate school, one alum was well established in her career but very ready for a major career change.  We were very grateful for their openness and their candor.
Here's some of what we heard:
They were happy to share their afternoon with us and offer feedback on new ideas we have for supporting our students and alums.
They are interested in staying in touch and sharing their progress with us.
They appreciate the financial assistance that The Albert Baker Fund has provided for their schooling and feel the love and support from the Christian Science community that comes along with this assistance.
They enjoyed meeting other Christian Scientists who were dealing with similar issues.
They understand the value of educating Christian Scientists who plan to give back in their careers and in their communities.
They have concerns about the cost of their education and the responsibility of school debt.
 They are interested in being supported or mentored a network of Christian Scientists who are established in their careers.
They expect to 'pass the blessings of their education forward' to others.  They see it as something they are inspired to do and not as a chore or duty.