Watch the interview here:
"If it's not about healing, I don't know what it is about, really."
About Our Guest in this episode:
Says Andrew, "Becoming a writer and performer of hymns and inspirational Christian music is something that really 'found me', and now it's part of who I am. The more I write, the more I discover how music can spiritually prod and poke us: stirring, awakening and ultimately healing. It brings me blessings every day, and I love few things more than being to share these melodies, harmonies and healing messages with anyone who'll listen." Eight of Andrew's compositions have been published in the Christian Science hymnal.
Andrew is a Brit, and a member of the British Academy of Composers and Songwriters. He loves that he can spend every day making music for the inspiration and entertainment of others. He is planning a US tour, "The Time to Pray," sometime in the summer of 2021.
Andrew has played cabaret in theatres in New York, London, and Cape Town, both as a solo act and with his band Red Hot and Blue. He is currently touring in a production of Choice Grenfell, playing pianist William Blezzard with his theatre company Kick In The Head.
Over the course of his 30 year career, Andrew has played piano at some of London's most prestigious venues, such as The American Bar at The Savoy, The Ritz, The Waldorf, The Dorchester, Claridge's and The Ivy. He was also the resident pianist and music consultant at the iconic Wentworth Club for 14 years.
Andrew especially enjoys sharing his passion for the Great American Songbook–Cole Porter, Gershwin, Irving Berlin, Rodgers and Hart and the late Michel Legrand–but in a quintessentially British style.
Connect with Andrew:
Part of our Net Effect Conversations series:
https://www.albertbakerfund.org/category/net-effect/
Subscribe to our YouTube channel here
---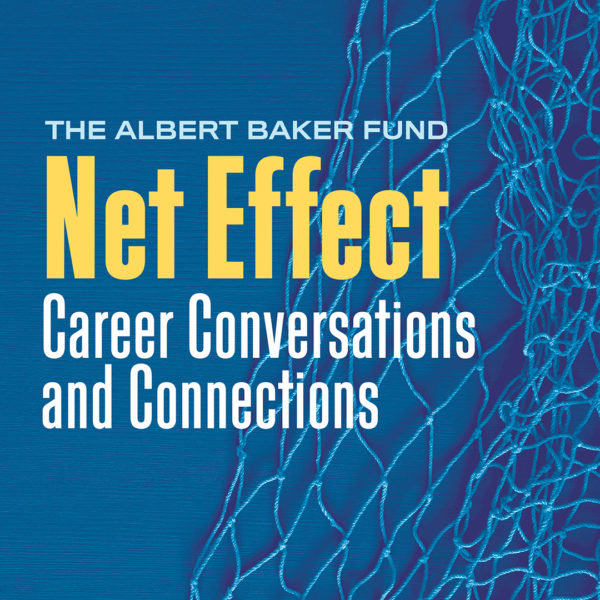 The replay of our September career conversation with Dan LaBar, innovative educator and community-builder, is now available in video, podcast, and transcript. Click "Watch Net Effect Replays" below!
Podcast: Play in new window | Download
---
Transcript of Episode:
Robin: Welcome everyone. This is the Net Effect, Career Conversations and Connections episode 42. We have our special guest, Andrew Brewis, singer, writer, jazz performer, theater, performer, Christian music composer, and performer. I'm your host, Robin Jones, Director of the Albert Baker Fund's Career Alliance.
Andrew is here to tell us how he has been casting his net on the right side, as Jesus challenged his followers to practice.
I'm so excited for you all to get to know Andrew and his amazing career and journey and all the things that he does. He's just an incredible, incredible talent. And I so enjoyed getting to know you. Welcome Andrew.
Andrew: Good evening. Nice to be here.
Robin: I know it's late over there in Britain, but that's just kind of you getting started, right. This is just kind of your warmup time.
Andrew: [laughs]
In days gone by, I used to start gigs at about midnight, midnight till three o'clock used to be one of my gig times.
So yeah. Midnight is a good starting point. I don't do that anymore. It has to be said.
Robin: We've got him seated at the piano and it's going to be a special treat for everyone. He just drove from another gig that he had earlier this evening. He's been going from one to the next, I think all day long.
And what a, what a champion you are my friend for jumping in here.
Andrew: No worries.
Robin: You've been entertaining at the piano for over 30 years. Right.
Andrew: Have I merely 30 years? Can't be surely. Yes I have. Yes, yes, yes. I've played for all and sundry around the world, mainly in London. Lots of hotels and parties and all that kind of stuff.
Robin: Let's make sure that people know that the hotels like we see in the Blues Brothers, of being at the Savoy and the Ritz and the Waldorf. We're talking about the places to play, right?
Andrew: Exactly. I played a song for Elaine Stritch once when she was staying at the Savoy, she came in.
I forgot what song it was that she sang. Remember Elaine Stritch was like this amazing character. And she came in and it was darling this and darling the other and play. I can't remember. It was, I should remember, but yeah, I accompanied her on a song once. That was at the American Bar in the Savoy. Yeah.
Robin: How neat, what a great experience.
As we were going through things, I loved what you said, in the spirit of our biblical theme, casting your nets on the right side. I discovered from you that this hymn from the Christian Science, hymnal has been kind of a special guiding inspiration for you.
Tell us about it.
Andrew: I think he probably has for lots of people. Yeah. It hasn't been that Mary Baker, Eddy hymn Shepherd Show Me How To Go and there's been several times, in my career when I, I I've had literally no idea which way my career is going. I can remember when I was first trying to buy a house, going to the bank and the bank manager telling me I had no sufficient funds to buy a house.
I remember thinking my Father will take care of the payments that need to be made, Shepherd, Show Me How To Go. And that all fell into place without me planning anything.
More recently, I remember when the UK went into lockdown. 23rd of March it was last year. I remember it because it was my wife's birthday. So a nice way to celebrate.
I remember lying in bed on that night, thinking how on earth? How am I going to pay for all the things I need to pay for? How is life going to be?
Because I had 250 theatre gigs booked for last summer and literally overnight, the whole thing collapsed. Looking from a human perspective, it was looking pretty dire. I have to say. I remember lying in bed thinking there must be something I can do. It can't be disaster all around.
That hymn was going through my head, Shepard, Show Me How To Go. As it does frequently. I remember thinking I can do it. I can sing, I can play the piano and I can share my music, which is what I did.
I put my trusted iPhone on the end the piano and pressed FaceTime live, which I've never done before.
And at the end of the hour, I had about a hundred people listening in. And they weren't all Christian Scientists. I know they weren't all Christian Scientists. They were all different faiths and people with faith, people with no faith. I know that from the letters I've had since, and it snowballed. The following weekend, I did another one.
We had 200 following weekend. We had even more. And over the year, I think I've done something like 40, 45 concerts online concerts in a year. And it's been wonderful. I haven't thought about how to pay the mortgage because I know it's all paid for. Don't have to think about it.
Robin: That takes a lot of courage and bravery to just, all of a sudden, the rug is pulled out from underneath you, everything that you anticipated, everything you thought about everything you had planned, it's just kind of gone. Be able to kind of respond to that.
Andrew: Robin, I don't think I had much, choice yeah.
I had to jump both feet in and trust that something would happen. I was so surprised at the end of the concert, when I was getting messages saying, how can we send you something? How can we donate?
I hadn't thought about it from that perspective. And it was afterwards, I suddenly had more in my PayPal account than I'd had in the last 10 years probably, which was amazing. It's really lovely.
It's been such a blessing for me, for all the new friends that I've made virtually across the world.
I know it's music and words that are doing the work. I still have to pinch myself, that it's me actually doing stuff, but it is, it is doing its work and it's healing. So it's, yeah, it's wonderful.
Robin: That word healing, that is such a wonderful word and so needed. It's so fun to hear you say it in connection with the work that you're doing, and that has to be a connection to the abundance that showed up in your bank account, wouldn't you think?
Andrew: Absolutely. If it's not about healing, I don't know what it is about, really. It is the crux of the matter, isn't it, really.
Robin: Tell us a little bit about your cabaret world, that hat that you put on, and maybe you might be able to tickle those ivories a little bit as we talk about this.
Andrew: I've played in the UK, society parties. I think that's probably what it's about. I have in my time played for her Majesty, the Queen, and I have played for the late Diana, Princess of Wales.
I have to say, I much prefer playing in theaters where people actually decide they're going to come and see you for a reason rather than just being, what I regard as being a wall light. Sometimes when you're playing that kind of background music, creating atmosphere. I much prefer, people actually coming for a reason rather than otherwise.
But yeah, I could play something. What shall I play?
Missed the Saturday dance
Heard they crowded the floor
Couldn't bear it without you
Don't get around much anymore
Thought I'd visit the club
Got as far as the door
They'd have asked me about you
Don't get around much anymore.
Darling, I guess my mind's more at ease
But nevertheless why stir up memories?
Been invited on dates
Might have gone but what for?
Awf'lly diff'rent without you
Don't get around much anymore.
Robin: Oh, that's just awesome, man. That is so, so wonderful. It just is so natural, so beautiful and seems to come so easy to you, but there was a time when you weren't in music. You didn't start out that way, right?
Andrew: You are correct. I started out as a landscape architect of all things.
I was very much into my gardening as a young boy. It was gardening, or music, I think.
At the time, learning about plants and design and all that kind of stuff took precedence. I set up my own business and designed gardens and had a wonderful time doing it.
I have to say, it was quite hard work, but it was quite a long time ago.
The husband of Christian Science teacher and practitioner Fenella Bennetts who, there's a picture of her there. Lovely lady, her husband was John Bennetts and he was the admissions tutor at the university that I went to.
And he kind of persuaded me that I should go and do this degree in landscape architecture. Which I duly did. And then Fenella was very instrumental in my musical and my spiritual upbringing.
Along the way, she sort of became my kind of pseudo mother growing up. I designed her garden.
I remember when she was a a lecturer, she used to fly off to different parts of the world lecturing in Christian Science, and then come back to the UK and find me ensconced in her garden having redesigned different parts of it. It was a very nice time I have to say, but then we used to go in and play piano duets together on her lovely piano.
Yeah. It was good times.
Robin: How fun.
Andrew: Yeah, it was.
Robin: So you discovered your love of music and decided, okay, I'm going at this thing. I'm leaving all the education and the steady check and I'm going to dive into music.
Andrew: I'm going to dive into music. Yeah, I started, there was a retirement home. Just next door, but one where I was living in an apartment.
One of the activities, organizers realized that I was a piano player, and then asked me to come and play for an afternoon tea, which I did. And then I couldn't be more surprised when they paid me for doing it.
And they did. And they paid me quite well as well. Wow. That's pretty good. So I thought if I could do three retirement homes a day, that would be quite good. I could learn some really good songs. I could hone my craft and earn at the same time, which I did.
I took it on board and toured retirement homes in the UK for about two years. And I built up my repertoire, and my finger skills earned money along the way. And then I was ready to go and get myself an agent to do all the London hotel work, kinda how these things work, but none of it was planned, none of it was planned.
Robin: So what kind of songs do you play in the hotel?
Andrew: In a hotel lobby? It's soft, gentle stuff like this.
[Andrew plays music]
Yeah. For five hours for five hours at a time.
Robin: Well sounds like a pretty good gig though. Nice paying job, that's kind of fun to have, huh?
Andrew: I did enjoy it. And I was really lucky in that I knew quite a few people in the music business.
There was a really cool club in London called Pizza on the Park in Knightsbridge in London. And they used to have this downstairs kind of a cabaret club. Quite a lot of the American artists used to come and play there late in the evening after I'd finished some of my gigs that finished at 11 o'clock at night.
I'd stop off at this club. And I knew that the man who was the host there, so I'd used to get in for, for no money, which was even better. And I saw some fantastic artists.
I remember going to see George Shearing play the piano there. And I literally, I sat right behind him and he was just awesome.
Some great American artists from yesteryear. It was a very good way of learning.
Let's talk about another part of your world, the Christian music composer, performer. How did you start a group and why, and how did that come about and kind of that move and shift.
Fenella Bennett was instrumental in making it happen. She knew that I was into songwriting, or beginning to get into songwriting, and she had always had a deep love of Christian Science themed music and was aware that there might be space for some new music there.
There was room also for some maybe more modern, vibrant new music. And she thought I should give it a go and write some new settings, which I did. And the first one that I wrote was I love by way of freedom, Lord. Violet Hayes, beautiful poem.
And I wrote a new setting to that and we took it down to a Christian Science youth camp down on the South coast here.
The kids absolutely loved it. It was the only one we had, so we just kept repeating it. We played it for about an hour on repeat and it was great. And then I took inspiration from that, went home and started writing more got together with two old school chums, Tamsin Bland and Airlie Scott.
And we set up the group called the Newsong Group. Put a little choir together, recorded all the new songs that we'd written and sent it off to the CSPS in Boston. Lo and behold, the CSPS said, love it. We want to run with that. So they ran with it and suddenly it was in Reading Rooms all over the world.
People were singing songs that up till then had just been in my head. It was a bit of a roller coaster. It was great. Yeah. It was wonderful.
Robin: You've been quite proficient with that, right?
Andrew: Yes. Yeah. Songburst was number one. Then there was Gracenotes, which is the blue one at the bottom there with a beautiful piece of glass sculpture that my wife designed, which I've got on my piano over there. And then we did UpBeats, with a load of jazz friends.
The last one, which actually wasn't carried by CSPS, and we could never understand why, because it's my favorite album, called Soulscapes. It's a really beautiful mellow quite symphonic, in its style, it's got some beautiful cello in it and yeah, it's lovely. I love that.
Robin: Maybe play a tune from one of those CDs that you've got. Yeah, that'd be great.
Andrew: This isn't actually on one of the albums, but this is a new one, fairly new.
Robin: Ah, debuting right here. I like that, right here on the Net Effect.
Andrew: This is a piece called The Secret Place. The words are by a Christian Scientist called William Loose, a successful playwright for Broadway and for Hollywood.
And funnily enough, he used to write some music and words for Doris Day when she was around. But he's no longer alive. He passed on about two years ago, but I wrote a new setting to this.
In the secret place,
In the heart of prayer,
there is always light shining everywhere.
You will learn to love,
with a gentle grace,
when you talk with God
in the secret place.
God is calling you to this world of light,
like a mother's voice calling in the night,
Leave your broken dreams,
drop your load of cares,
at the door of Truth,
at the gate of prayer,
In the secret place,
in the heart of prayer,
there is always light,
shining everywhere.
You will learn to love
with a gentle grace,
when you talk with God,
In the secret place,
bring your childlike trust
to his open arms,
in that secret place,
nothing hurts or harms,
you will be at peace,
you will know his face,
you will find your home
in the secret place,
when you talk with God
in the secret place,
when you talk with God,
in the secret place.
Robin: That's awesome. That's very lovely.
Andrew: It's very sweet. Isn't it? I love it. It's just very simple. Sometimes that's all you need. You need a really strong lyric, and a really simple tune.
Robin: I love it. So one of the questions that came in is how has the music helped your spiritual growth?
Andrew: It's one and the same thing one, and it's literally one of the same thing, because whenever I sit talking about CS music, particularly, if I sit at the piano and think, Oh, tell you what I'm going to do today, I think I'm going to write a new setting of hymn number, whatever it is, 274, it's about time somebody wrote a decent tune for it.
And I sit down at the piano and I can sit there literally for two hours and get absolutely zilch, nothing. Literally nothing. But when I open my thought and I let things happen with no preconceived idea about how it's going to work out, whether I'm going to even write a song today, when I'm just at peace, when I'm at one, I can literally, I can open the hymn book, words, only hymn book, and it just happens.
The tune, the chords, everything comes at the same time. To me, that is divine inspiration. And I know that I'm kind of doing the right thing and it's a massive life lesson. I wish I could do it more often with other things in my life.
Just let it happen. Don't work out, ooh maybe if I do it like this, or if I do it like that, that might be a better way of doing it? I think my spirituality has increased tenfold since I've been a songwriter, absolutely.
Robin: That's pretty remarkable. Another thing I found really cool was you singing in the Reading Room and you've done that a couple times, I guess. Right? Tell us about
Andrew: When Songburst first came out and the Newsong Group went to Boston, and the Reading Room manager found out that we were there, and she said, you must come and you must come and give a little concert in the Reading Room.
We couldn't find a piano to play, so she just stuck the CD on the sound system in the Reading Room. We sang along and danced to Songburst in the Reading Room in Boston, and it was packed. It was packed. We had loads of people, after, autographs and the rest of it.
And people knew the songs and they were singing along and it was just totally mind blowing.
Even more mind blowing I have to say was I remember when the first hymnal supplement was being sorted out. Fenella was on the committee for that. And there were several of my songs that she thought I should put forward to go in there in that hymn book.
So she took them. But when they go through the list of, maybes, possibles, definites, or definitely nots, the whole thing was done anonymously. The people on the committee don't know who's written a particular setting or a particular hymn.
Then I got this phone call from Fenella. I remember standing on a bridge when I was on vacation. I was on holiday and the water was rushing under this bridge. And I can remember getting a phone call from, Fenella saying two of your new hymns have been chosen to go in the new supplement. And my word that was, that was quite something.
And then being asked to go to Boston to sing it as well, in the original edifice of the Mother Church was just something else. A packed church, literally a packed church full to the rafters. And then everybody's singing me playing the new version of Satisfied that very simple tune with wonderful, wonderful poem. Really, I love that poem. By the time I got back to my seat at the end of it, I was a complete heap.
It was quite something
Robin: I can, well imagine that had to be just an amazing experience.
Andrew: Yes, it was.
Robin: You've got a total of eight hymns in the new supplement. Right? It didn't stop there.
Andrew: No, no. Several fans sent CD recordings of some of the music that I'd written over the years, and said, this will be a great one to have in the hymn book. Why don't we have this? So there was some there that I didn't even know had been put forward.
Totally honored. Again, that's one of those I have to pinch myself to see, my name there in the hymn book.
Robin: Are you, self-taught where you, where you trained classically? How did you learn how to tickle the ivories?
Andrew: I took the basics of piano up till I was probably bout how old was I? 12 or 13, so I didn't get very far. I don't know how the grade system works in America, but we have a thing called the Associated Board of the Royal School of Music, which people do here.
Robin: That sounds pretty swanky. I got to tell you right now, we don't really have anything that's so swanky.
Andrew: So I dunno, we have different levels.
So it goes from one to eight and when you get to eight, then you'd take a teaching diploma. And after that, then you can go off and do loads of other things. I only got to grade five. And then after that, my piano teacher got so annoyed with me. I was supposed to be learning a piece of Mozart and I kept syncopating the rhythm.
I play everything syncopated and she said to me, she said if Mozart had meant it to be syncopated, he would have written it syncopated. And at the time, I didn't know what syncopated meant. Basically means for those who don't know what syncopated means, it's off the beat. So it's like a piece of ragtime music. Yeah, so it's like this.
Not on the beat. So I syncopate quite a lot. So I gave up piano after that for about two years.
Then I discovered Jerome Kern. And his beautiful music from the 1930s. And again, kind of taught myself to play again, really, to sight read, picked up pieces of music, and then the rest is history.
It's all self-taught and I was never taught how to write a piece of music or anything like that. That's all from within or from above, I should say, from within and above.
Robin: That is amazing. What a gift.
Three of these four CDs are in the Reading Room, right? So someone asks, where can they buy your CDs, they can at least get three of the four of these in a Christian Science Reading Room, right?
Andrew: I think they probably can. I'm not sure whether Gracenotes anymore. I think they might have run out of Gracenotes, because it was so popular. You can always go to my website, you can download all of them from my website. So you don't have to physically buy the CDs. Lots of people don't buy CDs anymore.
Robin: Let's talk about Listen for Thy Voice. Tell us a little bit about this music and this adventure and project.
Andrew: Okay. I've actually recorded a CD previous to that called One. And it had the majority of tracks that Listen has got on it. Plus it had quite a few upbeat versions of things on it. This is another lesson in not pushing and shoving… that thing about love. Error pushes, love leads.
I've learned my lesson from that one. I remember when I sent it off to the CSPS I sent off one and I didn't get a reply and then I just left it.
I just thought, okay, there's obviously a reason that I'm not having a reply. And then a year and a half later, I thought, just out of the blue, I just sent an email and just said, Oh, I'm just wondering whether you actually ever received the copy that I sent through. And they said, I think we did, but could you send another one just in case we didn't.
So I sent another one and they contacted me about two weeks later and said, yes, we love, we love quite a lot of it, but some of it is not quite right for what we want.
What they wanted was a CD that churches without church musicians could use as preludes and postludes and solos in church. So it needed to be a bit more church-like should I say?
So I wrote some new pieces, especially for it. It's a solo album with me and a wonderful double bass player on it. It's beautiful. It's quite simple, piano, voice, and double bass. You can get that one at Reading Rooms definitely at the moment.
Robin: When can people hear you, when can people see you? So we're going to talk a little bit about some of your upcoming projects. I love the ideas of these things. Tell us a little bit about some of your upcoming projects, and people you're going to be working with and how some of those things came about.
Andrew: Musically Speaking is a show that I'm doing local to me in a little art center, but by the wonders of technology nowadays, we can stream our little concert all over the world, which is amazing. That's the 15th of May. I'm doing this thing called Musically Speaking with a wonderful Maria Kesselman who is there and Maria Kesselman starred in Phantom of the Opera with Michael Crawford.
Maria has an amazingly wonderful soaring voice and I'm going to do some duets and songs from the shows and stuff with her on the 15th of May.
I am really looking forward to that. And then it's going to tour the UK hopefully, very soon after that.
I am doing a spiritual summit for Lake Tahoe, at the end of May. I don't have a web address for that, but I'm sure people could find it out. I'm sandwiched in between Melanie Wahlberg, who's giving a talk, and Fujiko Signs who's also giving a talk and I've got some music before, in between, and after. So I'm that kind of icing bit in the cake.
Robin: You stay in some pretty good company, my friend, I gotta tell ya.
Andrew: I'm honored and I've been in touch with Fujiko and we've been talking about a few things and it's wonderful to be part of that group of people. It's lovely.
Robin: Tell us about the Time to Pray tour that has been unfolding for you.
Andrew: Yes, The Time to Pray initially was a song. I wrote a song which I put out last year for Christian Aid for charity in the UK. It's a worldwide charity called Christian Aid. Which really lovely some which I had orchestrated and stuff during lockdown.
If people go to thetimetopray.com, take you to the link to watch the video of the music of the song, which I really like, it's quite big and lovely. And then accompanying that I was going to come to your lovely country and share live music of all the CS and Christian music that I've been writing.
Somebody told me that since lock down, I've written one song every eight days. New song out, every eight days.
Robin: That's just remarkable.
Andrew: Yeah.
I'm so looking forward to coming and playing live again. And hopefully I'll be with some other musicians as well. So it won't just be me on my own. I shall probably come with a bass player as well.
There's so much music that I want to share. It doesn't need to be in a church or a concert hall. It can be in somebody's kitchen as far as I'm concerned.
Robin: Or possibly a church, right? Or, even a Reading Room,
Andrew: Reading Room, church, kitchen, garden, wherever is anything is possible.
Robin: How do you come up with these ideas?
Andrew: It's not me that it's not me that comes up with them. Really, I think the ideas come to me.
It's a whole sort of stream of thoughts. That whole idea of all things working together for good. And I really do believe that it's not just something that I just sort of toss off. It really is about all things coming together for good.
I had an idea about a week and a half ago. About how I should present my next CS music concert, which I've been doing with the UK Christian Science Reading Room online. And I had it all lined up and I thought this person could talk about certain things. And I contacted them and they very politely said no.
And I was like, Oh, I had it all sort of sorted. So I just threw it up there. I thought, okay, I'm not going to worry about this, but something else will appear when it needs to appear. And I I've always had a deep love of all the Violet Hay poems. And I started playing those and they were kind of very much in my thoughts.
And then I thought, Oh, I know some more British lyric writers, not just Violet Hay. I know Fenella Bennetts she wrote some beautiful lyrics. I also know Jill Gooding who used to be one of the directors of the Mother Church. She's a CS practitioner and a teacher, and she's written some beautiful lyrics as well.
Three L's for Life, which is in the book. That's one of the hymns in the handbook Lean on This, This Sustaining Infinite. And I just thought three fabulous ladies, English, ladies, let's do a show concert about these three English ladies who wrote beautiful lyrics and I've written music for them.
We just did it tonight, called The Brits, which is I think you can still probably view it via my Andrew D. Brewis Facebook page.
It was really lovely. It came together really well.
Robin: Do you play other instruments?
Andrew: I used to play the trombone, but it's quite a loud instrument and it's quite loud, isn't it? I've got quite rubbery lips as well.
So it's quite good for playing cause you have to down that down the, down the mouthpiece. So I tried to play the guitar. Can't play the guitar for, for love nor money. Love the guitar, but I cannot play it. Piano is my main thing. Me and the piano just seem to work well together.
Robin: Is there a song that you'd like to leave us with to think about as we wrap up our session? Andrew, my friend, when you were ready to roll fire away.
Andrew: I'm just going to do a couple of verses of the Satisfied that I talked about.
It's done a lot for me, I have to say.
[music playing]
It matters not, what be thy lot,
So Love doth guide;
For storm or shine, pure peace is thine,
What e're betide.
And of these stones, or tyrants' thrones,
God able is
To raise up seed–in thought and deed–
To faithful His.
Aye darkling sense, arise, go hence!
Our God is good.
False fears are foes–truth tatters those,
When understood.
Love looseth thee, and lifteth me,
Ayont hate's thrall:
There Life is light, and wisdom might,
And God is All.
The centuries break,
the earth-bound wake,
God's glorified!
Who doth His will– His likeness still–
Is satisfied.
Who doth His will–His likeness still–
Is satisfied.
Robin: Oh, that's so wonderful, thank you so very much. Terrific stuff. All of it. Wow. Thank you again.
If you would like to connect with Andrew, obviously we've given you a ton of links, but you can connect directly with Andrew through the Career Alliance. We'll help you connect with our friend here.
We're always looking for ways to help support our community through helping job seekers or career allies find potential job prospects or helping us with our students.
I love how you have given us so many examples, Andrew, of casting your net on the right side and showing us that no matter what, even if the rug is pulled out from underneath you and you're falling, that you can always turn to the scriptures, to our heavenly Father, Mother, what a remarkable and wonderful example of living that you are.
Andrew: Oh, thank you. That's so nice.
Robin: Thank you. And thank you all.
Appreciate the Albert Baker Fund and this wonderful, inspiring team and the work that they do, there's so much work that goes into this and, and putting on these Net Effects and helping college students, vocational students, and helping our community on a daily daily basis. It's a remarkable team at the Albert Baker Fund and I feel so blessed to be a part of it.
Andrew, best of luck, my friend. Can't wait to see you soon. Goodnight!
Andrew: Bye.
Tags: british, career success, christian musician, composer, Music, musician, performing arts, playing