Watch the interview here:
" I hope that anybody who's trying to embark on an artistic journey will go for it, and not to be afraid and not give up."
About Our Guest in this episode:
In addition to numerous stage and screen credits, Tricia Paoluccio is an accomplished artist who has elevated the classic art form of flower-pressing into unique design partnerships with luminaries in the fashion, publishing and music industries.
Most recently she collaborated on the design of the gown Taylor Swift wore on the 2021 Grammy Awards Red Carpet. Tricia says her goal is to celebrate the resilience and beauty of the wildflower through her art.
When not pressing flowers into vibrant floral designs, Tricia is a versatile actor and producer. She recently guest starred on Blue Bloods in NYC, where she played a judge. And the indie film she starred in, A Portrait of a Young Man, is currently being submitted to festivals.
Tricia produces and stars in the web-series mommy blogger, a comedy co-created with playwright, Eric Pfeffinger. Mommy blogger is being developed into a TV show, with the new title of LIKE ME, and is now being pitched to networks.
Her Broadway debut came as Brittany Murphy's understudy in the role of Catherine in the Tony Award-winning revival of A View from the Bridge. Other Broadway credits include Julie Taymor's The Green Bird and Fiddler on the Roof as Chava. Off-Broadway highlights include originating the role of Donna in the comedy Debbie Does Dallas, Cressida in Troilus and Cressida, and Carol in Edward Albee's Lady from Dubuque.
Tricia grew up on an almond farm in Modesto, California. She's an avid baker and crafter who loves dividing her time between NYC, where she lives with her husband and two sons, and her Modesto farm. In addition to her many creative and artistic pursuits, Tricia finds time to volunteer in the NYC prison system, which she has done for the past 9 years.
Connect with Tricia here:
Part of our Net Effect Conversations series:
https://www.albertbakerfund.org/category/net-effect/
Subscribe to our YouTube channel here
---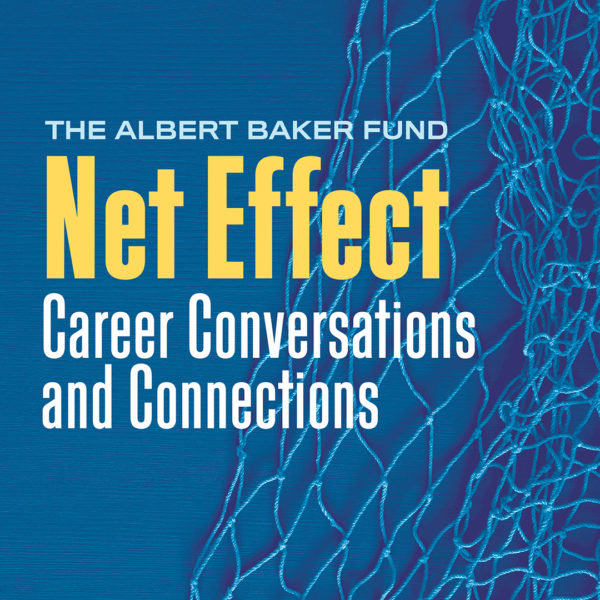 The replay of our September career conversation with Dan LaBar, innovative educator and community-builder, is now available in video, podcast, and transcript. Click "Watch Net Effect Replays" below!
Podcast: Play in new window | Download
---
Transcript of Episode:
Robin: This is the Net Effect, Career Conversations and Connections, episode 43. We have as our special guest today, Tricia Paoluccio. We're so happy that she's here with us.
I am your host, Robin Jones, Director of the ABF Career Alliance. Welcome, Tricia.
Tricia: Hi, thank you for having me.
Robin: It's so nice to see you, and we appreciate you taking time out of your busy, busy schedule to be a guest today. I thought we would just jump right in. You're an actor, right?
Tricia: Yes.
Robin: And an artist, and you kinda got your start acting, am I right about that?
Tricia: Yes, I moved to New York to become an actor when I was about 20. I've always been artistic and love to make things.
When I first moved to New York, I brought a little flower press and handmade papers and would make little cards and collages and sell them on the street or in boutiques while I was starting out as an actor.
I joked that for, 20 years, my acting career has helped pay for my artist habit because being an artist is very expensive.
So I like to say that acting is my day job and the art was my fun hobby that I loved.
Robin: So when you started with acting, how did you get rolling with that? Were there some special things that happened? Tell us a little bit of how you got started with it?
Tricia: It was a different time back then. It was before the Internet and social media and I would answer ads in the newspaper. There was a newspaper called the Backstage. My first job I got without an agent, without any help at all, was a Broadway show. I was Brittany Murphy's understudy in a Broadway show called A View From the Bridge with Allison Janney and Anthony LaPaglia.
That's really how I started my professional career. Ever since then, I've done quite a few Broadway shows and off-Broadway shows and a lot of television and film and voiceovers and commercials, and basically anything you can do to make a living as an actor I did in New York and do. So I'm really grateful and I'm proud about that. That I've been able to make a living as an actor up until this point.
Robin: So when the pandemic hit and you're in New York, that was the epicenter of all of this.
Tricia: It's such an interesting time to remember how we were all stunned and were like, is this real?
I had a friend that said you should go to your parent's farm. You have a place to go. And so we bought tickets, they were like $75, it was so cheap or something to fly. And I called my parents like, are you sure? I'm like, yeah, I think we're going to come home just for a couple of weeks till this blows over.
We ended up quarantining in their little cabin in the foothills. And it was a really special time. had a bunch of projects that I was working on where I needed flowers. I thought, if I am stuck in New York City, in an apartment, during this pandemic for months, I'm not going to be able to do my art.
So I said, you know what, we're going to go quarantine in nature. We flew out the day that the schools decided to close. So we came out to California. Then we stayed five months. And I was able to pick and press thousands of flowers from my parents' property and their farm and my sister-in-law's farm.
I made a lot of art during that time.
Robin: Tell us a little bit about, how you got started with that, was that a hobby that you had that you mentioned earlier, why wild flowers?
Tricia: My mom gifted me a little book by a British artist named Penny Black and she made beautiful little handmade cards with pressed flowers.
My brother built me a press, and I started just doing it for fun as a hobby. And it became something that I really became passionate about and I always really loved it. For 35 years now, I've been making press flower cards and little collages, and it's just something that I've always loved.
I had visions that it could be something more than what it was for all those years. I thought, oh, I'd love to write a book someday. I'd love to, put this on objects. And, but I didn't really know how to do that. The technology wasn't there for me to do that.
A couple of years ago, I had this idea. I started making digital copies and here's one. This is a copy. It's not real. It looks so real. Right. When I realized that the technology could enable me to do that I thought, wait a minute, why can't this be on fabric? Why can't this be on the wallpaper and wrapping paper?
Why is everything floral that we see water colored painted or drawn? Why can't it be the real imagery? I couldn't believe I had come up with something I thought was pretty new. So I started devoting myself to capturing all of my pressed flower art.
Rather than just selling the originals, I started photographing them in super high resolution so I could expand them and experiment with scale. A neighbor of mine knew what I was doing and knew some of the fashion houses that have reached out to me. I had quite a few different people in the fashion world reach out to me.
Someone at Steinway knew about this and they said, Hey, we have this idea. We'd love you to wrap a grand piano for us. And we are connected to this gallery in New York City and we showed them your website and they're very interested in having a showing of your work.
All of a sudden I had this opportunity and I was so grateful because of the pandemic I was here in California and I made dozens of works of art.
So I was really ready to go.
Robin: And when you were ready to go, they were ready to have you go, right?
Tricia: It worked out so beautifully. Never in a million years could I have ever envisioned that I would have a gallery show in New York City. It's just so prestigious and beyond what I thought I could ever pull off.
I was so grateful to be handed this amazing opportunity, to create that piano, that I was able to produce a lot of music videos and offer it to so many different performers and artists.
It became a symbol, I think, of the arts coming back alive in New York City to me. It's a really special exhibit.
Robin: How do you find the inspiration? How did you find the courage and the confidence to launch it forward and how did it just materialize for you?
Tricia: Right before the pandemic, I had a very exciting meeting with somebody that wanted to do a collaboration with me, I couldn't believe it. I was blown away, so excited. And then the pandemic hit and it was done.
There was no word from anybody, no contact, nothing. I remember being at the cabin and being just hit with a wave of grief, like, oh no, I can't believe that I almost had something so exciting and it's gone.
I remember just so clearly that in the same second that I had that feeling, I had another thought come to my consciousness, which was like, no, nothing good can be lost. And the good that you built and created, it's not lost. I just, in a very simple way, just chose to say okay, I'm going to believe that. I just held on to that.
I everyday picked and pressed one little handful of flowers. I was very methodical about it. Very simple about it. I didn't think about the future. I didn't think about what I was making. I wasn't trying to make beautiful art or inspiring art. I didn't, I just, every day went to work.
And then, one by one, all of the opportunities that I thought I lost, came back, and I was ready because I had worked all those months without any indication that any of that good was going to come to fruition.
I did the work, and whenever I started to feel down or worried about things, I just said, no, no, I really felt like what is that, what is that phrase, where I stand is holy ground. I felt like that time period where it was so full of uncertainty and seeming loss, I thought it was a really, actually crucial, important time to be an artist.
Robin: So you're, you're casting your net on the right side, right. Instead of allowing fear and all those things to come in, you really were pursuing your passion. Do you pick the flowers yourself?
Tricia: My parents have acres and acres in the foothills and they have a beautiful farm here in Modesto. I have wonderful farmer neighbors just down the street, my sister-in-law's next door. Everyone's very generous letting me just pick and pick anything I want.
I have about 10 flower presses going at all time. So everything you see there, literally everything you've seen in all my art, I pick everything. I press everything. And it's a very lengthy process. I'm actually teaching my class tomorrow on how to do this. That's one other interesting provision that during the pandemic, I discovered Zoom and I started teaching classes on this, how to do this on Zoom. It's been amazing how many people are interested in. It used to be, I would beg my friends, do you want to come over to my house? I'll bake, cookies and serve tea and I'll teach you how to press flowers. And all my friends, these are good friends, good people.
They'd be like, I'm sorry, busy doing the homework, doing laundry. Nobody cared.
And now every time I launch this class, I have hundreds of people from around the world that want to learn how to press flowers. It's very amazing. I feel so grateful that the pandemic did allow people to slow down, look around them and say, Hey, what can I make with my own two hands? And this is something that anybody can do.
Robin: And it really is a family thing, right? , You mentioned your brother building the press. And how about the kids? Did they get involved?
Tricia: No, they like to tease me. They'll be like, like when they see all my press flowers laying around, they'll say, mom, this is garbage? And I'm like, no, no. That's like my precious baby, you know? And so no, nobody's really into it, but they're all very supportive.
Robin: Where do you go from here with this? What are your thoughts for the future?
Tricia: I just partnered with two incredible people in the fashion industry who create and launch brands.
And I have about 30 emails sitting in my box of people wanting to collaborate and make something with this art form. I want to build it right. I decided to partner with these people. And so we are set to get to work, to try to see where we can take this because I I know that it can branch out into more fashion and to home line and paper stationary.
I feel like I'm creating a real business, so I'm very excited about that.
Robin: What other projects have you worked on while you've been in this state of transition and launching a new business. Are there other things that are happening?
Tricia: Yes, there's something very exciting. I don't know if I'm really allowed to talk about it, but I'm going to talk about it. Cause I'm so excited. So in addition to this, during the pandemic, we got an email from a theater that Gabe my husband had worked at, called Florida Studio Theater.
They said, listen, we got a PPP grant. And if there's a one or two person show, you want to write, we can offer you this grant, if we approve of it. And for about 20 years, I've had an idea of a two person musical. Because I know probably doesn't look like it. You probably can't envision it, but I can channel Dolly Parton, and I have my whole life.
I've always been able to sing like her and sound like her. I played her in Nashville at the Ryman Auditorium. I did the Broadway musical Nine to Five. I did all the demos as Dora Lee before the show went to Broadway and I did the ad campaign as Dolly. And did Sacramento Music Circus production of Nine to Five.
I've always had this little thing that I could do that brought people a lot of joy. I always wanted to write a two person show about like an über fan and his fantasy friendship with Dolly Parton. An opportunity for me to sing all of her amazing music. I didn't want to be Trisha. I didn't want to talk about me.
I didn't want to have it be about me at all. I wanted to, I just wanted to be her, and talk like her, and have a conversation with someone, and get to sing all those songs.
So we got the grant. We wrote a two-person musical, our lawyer loved it and said, I know Dolly's lawyer and sent it to Dolly. She read the script, watched the Zoom reading, listened to the recordings.
I have professional recordings of me singing the songs like her, and she loves the show. She approves of me. She had one note to fix one little thing.
And just yesterday we got the signed contract. I'm going to brag now.
Look.
So she gave us the grand rights to her show. I don't mean to be too biblical, but my cup runneth over. There's too many good things happening right now. Look at this!
That's Dolly Parton's signature, everybody.
Robin: Oh my heavens, that is so fun!
Tricia: She's like, I approve of Trisha playing me forever and all time.
Robin: How fun, that is so great!
Tricia: You know, I cannot believe it. My age, and my stage of career, that this could have happened. It's really wonderful. If I ever, feel like, oh, no things aren't working out or I've lost this… I'm going to remember this period of time and say, wait a minute. I can't believe all of these years, decades of working towards something, working on honing, something has led to this great, amazing fruition. I'm just, I'm blown away.
So anyway, that's a two-person show, that's going to be on a little national tour. We just had a meeting today that people want it in the UK.
We have the worldwide rights for this musical. So I've got to work really hard the next couple of months. Well, my fingers can be dirty and short making all this art because then I'm going to be like, that's my brand managers are going to take this and run with it.
And I'm going to be doing a musical as Dolly.
Robin: And singing and dancing, right?
Tricia: That's right!
Robin: I do have a question as it relates to the flowers in the project. Actually, it's not my question, it's Betsy's. She would like to know how you relate the art of the flower, and beauty, to God to the divine Principle, to that grand intelligence.
Tricia: You can't believe the perfection in a flower, it's just unbelievable. And so there's something so pleasurable and beautiful about working with nature like that.
I didn't have an intention to try to create something that was inspiring or happy or beautiful.
I really didn't. My job is very, very practical. I pick the flowers, I press them. I know how to do that well. I understand the craft of how to do that. I'm very good at gluing, but I give all of the artistic credit to God, to mother nature, to his creation because I didn't make this. I'm really just shepherding it from one form to a different form that can be saved forever.
At the gallery show it was really moving, how many people walked in and said, oh my gosh, I feel so happy right now, just being. And I knew that they were happy there. They're surrounded by God's creation. I really don't feel a sense of ego, like I'm this great artist at all. I just feel like I absolutely just get out of the way.
All I'm doing is taking care of the botanicals and the way that keeps them the most beautiful. As I'm laying them out in the composition, I really just am following direction. I'm not willfully putting it this way now. I just instinctively lay them out and they turn out the way they turn out.
I feel like the process for me being an artist, when it's really good is when you're most out of the way, when you're the clearest reflection, or the clearest windowpane for something else to shine through, that's when the art is good, you have to get out of the way.
Robin: Do you have any advice for a new person entering into the business? I'm not sure if they mean artist or actor, so let's just look at it in general, what would you say for someone entering into a new business today, being a business owner and being entrepreneurial you're whole life?
Tricia: Well, I, I read a wonderful Christian Science article decades ago that really has stuck with me. And it's about a young man was talking to his father about wanting to become an actor and he was gonna move to LA and be an actor.
The dad said, son, I want you to remember something about the horse and buggy business. The horse and buggy business went out of business because their sense of themselves, their identity, was that they were a horse and buggy business, and not in the business of transportation. And this is crucial because if you are holding onto this idea of yourself as an actor, as a painter, that's what I am. And if I'm not doing that, I'm not doing my art, you're in trouble.
You have to say, wait a minute, I'm in the business of telling stories, of creating beauty, of disciplined craft. Those are all translatable between being an actor, being a visual artist, being a good baker, being a gardener.
These are just qualities of life. When you have that very expansive view about what your career is, you're never unemployed. You always have the opportunity to be a good storyteller, or to share beauty, or to express soul through music. You don't have to have a paying audience, to be an artist, or to be a performer.
It's the small mortal mind, ego thinking that thinks that I'm not validated until, unless I have X and here's the truth. It's like, once you're in a Broadway show, you're like most people, when you're in a Broadway show, you're dying to get out of that Broadway show. You're like, what's my next Broadway show going to be?
People don't stay satisfied in that. It's not satisfying. After a few weeks, you're like, oh my gosh, I have to do this show again, eight shows a week. I got to get out of this, and where's my next job. This is not satisfying. So you can't be like, oh, once I attained that, then I'll be happy.
Every single celebrity that I know is like, oh, what's my next job going to be? You can't have this mystical fantasy about like, oh, as long as I hit that goal, I'll be happy.
The way to be happy as an actor, as an artist, is to be really clear about what your real career is. It's about expression, and not about that end result.
I could never, in a million years, envision that my artwork would be in high fashion or on a piano. It's not how I envisioned it, at all, but it turned out to be so great.
Robin: That's often how it works, isn't it? When we really find that inspiration and we get immersed in it, and then that pursuit of that passion, it does allow for things to unfold that you never thought or would never even considered might happen.
Tricia: Right.
Robin: Thinking along those lines and, looking at your career, moving forward and then looking back, what do you say to folks, that are challenged a little bit and say, yeah, I just don't know if I can. It's all coming together for Tricia, but I'm not sure what to do with this? What do you say to them?
Tricia: Well, inspiration can hit anybody at any time. And there are so many people that I know that have not had the amount of credits on their resume as somebody else. Some people have had very few job opportunities, but they come up with an idea that's theirs and they make it happen. And so, there's no excuse.
You could create a little vignette that's 10 seconds long, that's just perfection. That's so funny. Or that's so truthful. That's so spot on. You can put it on TikTok. We live in a amazing time of opportunity to be someone creative.
I created a web series a couple years ago, I was so proud about. It got picked up. It was optioned. I never sold it, but I don't regret one second of that time.
It's about a wannabe blogger with 17 followers, who forces her husband to quit his job, to devote himself full time to the family culture and the making of her blog.
And every episode is their attempt at making a video for their followers. And the characters are real narcissists who have delusions of grandeur. It's making fun of the mommy blogger culture, influencer culture, and social media. I had a blast doing it. It was so fulfilling. It was so creative.
I didn't get paid a dime. I spent a lot of money on it and never got paid. But I don't regret it. It was wonderful.
You cannot go into this business thinking the world owes you something, they owe you nothing. And if you stop, no one will remember you.
My kids don't even know who Marilyn Monroe is. They don't know who Cher is. They don't know who Barbara Streisand is. I'm like, I failed you as a mother. You don't know these icons. This doesn't last. All you can do is be in the moment of your life.
Let these great ideas come to you. They're available to everybody.
There's not just some people that have access to these good ideas, and some people don't have them. It's really about what you do with them. And this is where I think, gosh, being a Christian Scientist is a wonderful thing. When you take it out of personality, it's like, I don't give credit to myself for good ideas.
I feel like Christian Science life or practices is about staying receptive and open. The ideas that are meant to hit you, in your consciousness, will hit you and you can make something with no money. My press flower art, you don't need a dime to make something stunning.
Robin: Tell us about the workshop that you're doing?
Tricia: I teach a two hour workshop on Zoom. I sit here and I pick a bunch of things ahead of time and I have in the basket, and I show people exactly how to do it, the principles of how to press flowers so they don't turn brown.
And I can't believe that when you Google this or YouTube it, people are giving a lot of false information or information that's not helpful. I feel like after decades and decades of doing this, I really know how to teach something, that's so specific.
Now people care. I can't believe it.
My husband's really cute because he used to help me with my Zoom and he would see that there were people that were in the class and then they would ask for the recording to watch it again. And he's like, who wants to watch that again, I'm like, I don't know. People like to learn how to do something. I don't know.
I have people from around the world, I have 350 people signed up tomorrow to take this class. I'm so grateful. I think I'm a pretty good teacher because I embrace all the mistakes.
When a mistake happens, I always say, ooh, I'm so glad you saw that because now I can show you how I would solve this problem.
The viewer just gets to sit back and relax and just watch the show. And I'm talking, talking, talking, and then the last half an hour, I answer questions.
It's been really rewarding. I like it because I feel a lot of the people that I teach are women who have a desire to start their own little business. I love this idea that there's no competition in this world, right? I'm not in competition with the person in Texas who wants to press bridal bouquets for the local brides. That's her place, and I have my place I'm doing and somebody else has their place.
I like this idea that I'm enabling these people to be better at a craft that they could make money doing. It feels good to support women businesses. I'm saying that because 99% of the people that take this class are women. There are a few men that have shown interest.
I think people are enjoying getting back in touch with making something themselves, with their own two hands, the time that that takes. My dad always said that people are depressed in modern day society because they don't have to wash their clothes in a river. And I think there's something to that.
To be active and focused on an activity that's just looking and touching beautiful flowers is it's such a pleasurable way to spend an afternoon.
Robin: So, if someone is interested in attending your workshops, will you be doing more of these in the future as well?
Tricia: I do it once a season. So this is my spring class and I won't do it again until the summer. I don't know that date yet. I found that it's best to do it once a season. Once in a while I do other workshops like collage making or gluing. I have a funny idea for a book called the Zen Art of Gluing because I really think there's something about very tedious tasks that seems like what, how can that be inspiring?
I think there's a lot to learn about how to do that well. I've taught a class on how to do that specific thing. I like teaching arts and crafts, much more than acting. I have no desire to be an acting teacher at all.
I like to be an actor, but I like teaching art. I really do.
Robin: When you said earlier that the technology's helped you and really bringing this forward in a way that you weren't able to before, what things do you do with your art besides the piano? Can you do wallpaper? Are there other things that you do with that?
Tricia: About 15 years ago, I made a calendar. I made artwork and I made this calendar and I mass produced this calendar and I still have it. And it makes me laugh because it's so grainy.
It is so not a high resolution scan or photograph. It just looks like a bad Xerox copy. And I'm sure that those kinds of copiers or printers were available to, high-end books or art books, but not to a normal person like me. What I discovered a few years ago was that I could take a work of art, huge work of art, this big and take it to a company and they would put it on a flatbed scanner, or they would put it on the wall and photograph it with the camera that enabled them to get a super high resolution image.
So a flower that's like this can now be blown up in scale, like to be this big, but with all of the detail. And that makes all the difference. It doesn't look like a cheap, bad image. It looks so lifelike. And what's so fascinating with that piano, is people say, oh, are those real flowers?
And I'm thinking to myself, the rose is this big, like, there's no such thing as a rose of this big, but because it's so realistic, it's an illusion, and people go, it's real.
Robin: It's hard to imagine, it's so unbelievable. I've seen some of the other things under your Instagram page and it's like, is that really a flower?
Tricia: Yes, it's a copy. It looks so three-dimensional, the shadow and all of that. It looks like you can touch it. This one that's next to me, doesn't that look like you can touch that?
Robin: Yeah, it really does.
Tricia: It couldn't do that before. That's how technology has enabled me to can really think outside the box and what can I do with this imagery and these collages and these designs?
Robin: I'm going to go back over to the acting piece of this and this may be a little tougher question. So today there's so many opinions and it just seems like everybody's all over the place, and extreme this and extreme that.
How do you keep yourself grounded? How do you keep yourself in that place where you feel God's presence. How do you keep yourself in there and not get mixed up?
Tricia: I'm not saying I don't get down when someone criticizes my work. , I want everyone to like me, not everyone likes me. Not everyone will like my show.
Not everyone will like my art. There are people that say, gosh, that, Steinway's ugly, it should be black. And I'm just like, it's black underneath. This doesn't get me down. That stuff doesn't get me down.
Robin: Yeah, I think for some people that's one of the things that keeps them from diving into something or trying something new.
Tricia: I grew up with a dad, who's an inventor and his whole life is about trying, and making, and experimenting, and building, and then it doesn't work. And he is the happiest, most optimistic person. Nothing can get my dad down. And I grew up with that. I saw that every day. And so then I just think I'm blessed with that ability to be totally optimistic.
I really believe that I'm always going to get every job I audition for. And then I do it. I do my best. And then, you know what happens? I have total amnesia about it. I can't even remember what I auditioned for yesterday. Just decades and decades of being in that state, it's just become really natural to me.
If I were to ever speak to young actors, I would say, oh, just get ready. Because the only way to do this without becoming someone who has to numb themselves with alcohol or drugs or food or something, is it have that state of mind, like you cannot care. You have to just be so into it. So committed and then have total amnesia. So I think that's just practice of letting go.
My mom is on here right now. We like to tease her that she's used to winning. So when she loses, she's like shocked. I'm used to losing. So I'm never shocked when I lose. That's just par for the course. It doesn't bother me.
Robin: I got a question. My wife, Libby, says one of her favorite comments that you make about your work at the gallery, was when you mentioned the individual beauty of the wild flowers and weeds, correlating it with embracing humanity, seeing the beauty and appreciating something that is typically cast away and considered undervalued and sometimes worthless.
She says I love how Trisha shows that truth in her art and brings that joy and is inspiring so many to not discount something or someone, but in love in a bigger way.
Tricia: Oh, that's so kind Libby, thank you for remembering that. You articulated that better than I did.
One of the murals I made, which was huge, featured a lot of weeds. And you can't believe how gorgeous these weeds are. And these are weeds that I found literally growing out of the sidewalk. These weeds weren't watered, they weren't fertilized. They weren't weren't tended to, they just grew.
I feel that's what we need to be as artists, keep on growing. And even if you don't get any validation or sunlight, or water or anything, you just keep on growing, you know? I really love that you appreciated that sentiment.
Robin: Trisha, any closing comments, any thoughts that you'd like to share?
Tricia: I think it's so nice that you're doing this, and I hope that anybody who's trying to embark on an artistic journey will go for it, and not to be afraid and not give up if the first thing that happens doesn't work out.
It's all about the journey, you have to just really love that step-by-step journey of it and not have an outline of how it's going to go, where it's going to go, get really good at something. And you can do that.
Robin: When you start a project like this Dolly project, how long does it take to prepare for that and then get it in motion where you're actually on the stage?
Tricia: I had to act as if it was going to happen, just the same way I do with my flowers. I had to act as if it's, it might happen. These, these jobs that I had. Even though I had no word of them. I had to act as if, so I've been singing and practicing and I've been trying to get back into learning my guitar because I really have a vision. I want to at least play a few songs, pretend to play, because I don't really play, but I just booked my ticket today. I'm going back to work with the musical director on the music.
We have commercial producers. It's a tricky time with the pandemic. Theaters are being cautious about reopening. So if it wasn't this state of the world I would have a different answer for you. So it's a little up in the air, but I'm sure in the next couple months we'll have a official announcement for sure.
We just got the signature yesterday from Dolly herself. So now we can really move forward with confidence. If you guys are interested in that show, follow my regular Instagram, not Modern Press Flower, because that's where I'll share any acting stuff.
Robin: Tell us again where that is?
On Instagram, it's @triciapaoluccio and then my Instagram for my art is @modernpressedflower.
Thank you. It's probably time for us to start closing out. If you're interested in connecting with Tricia, please reach out to me, or you can reach through the Career Alliance.
If you have never been to the Career Alliance, it's ABFCareerAlliance.org. We'd love to have you come visit. We have some incredible resources there. We do have some new jobs on the website, student outreach, head volleyball coach.
ABFCareerAlliance.org. It'll take you to the connections and jobs board, and you can do the searches there for the new jobs, plus the existing jobs and career connections that we have posted.
Again, one last time, we have a special workshop coming up with Dr. Don Asher, America's job search guru. It's a two hour, two day workshop. It's going to be really good, really special. Don is famous for making these kinds of things fun and really resourceful. So check out ABFCareerAlliance.org, where you can register, and look forward to seeing you guys there.
Follow us on Facebook, Twitter, Instagram, and LinkedIn. And remember, this is the Net Effect. Just as Jesus challenged his disciples to do, I challenge you to cast that net on the right side and Tricia, oh my goodness. Your net is so full, I don't even know how you get it up. I don't know how you do all you do.
Tricia: I don't know. I need help, I need God's help right now.
Robin: Well, it's just incredible to see the success and to see the fun things that you're doing. It is so wonderful to see that talent being manifested in such beautiful work. I wish I could have got you to do a little more Dolly, but we'll just wait for the really polished stuff.
Tricia: Oh I could do one little song.
Let me see. I'll do:
Here you come again,
just as I'm about to get myself together
you waltz right in the door
just like you done before
and wrap my heart around your little finger.
Here you come again,
Looking better than a body has a right to
and shaken' me up so that all that I really know
is here you come again, and here I go, here I go.
Robin: Oh, gosh, that is so beautiful.
Tricia: I've been singing her since I was six years old!
Robin: Oh, fun. How fun for you! Well, thank you, Trisha. You've been so generous with your time. We so appreciate it. How fun.
Tricia: Well thank you very much! Thank you. I hope you all come see Dolly show when it happens!
Thanks everybody. Thanks for indulging me.
Robin: Okay, you bet, see you soon, bye-bye!
Tricia: Bye.
Tags: actor, artist, business, career success, collaboration, entrepreneurship, flowers, movies, performing arts, pressed flowers, tv, visual arts