Watch the interview here:
"Explore career opportunities through the Christian Science Nursing Youth Service Corps!"
Apply here: ComfortersCalling.org
About Our Guests in this episode:
Emily Mattson
Emily developed a love for nursing others at a young age, but didn't realize that Christian Science nursing was an option for a career path. Through her time in the National Leadership Council and at Principia College, she started thinking more about how to serve the cause of Christian Science and was quickly called to become a Christian Science nurse shortly after graduating. Since then, she has become listed in the Christian Science Journal and has journeyed around the country, nursing in facilities, individuals homes, at youth summer camps, Principia College and as a part of two Christian Science Visiting Nurse services in California. She's based in Sacramento, California where she enjoys paddle boarding, backpacking and fostering dogs.
Josh Kenworthy
Josh Kenworthy is a Christian Science nurse at the Chestnut Hill Benevolent Association, near Boston. Originally from Australia, Josh obtained an Advanced Diploma of Contemporary Music from the Western Australian Academy of Performing Arts and worked as a professional drummer and drum teacher. He then made the switch to journalism, obtaining a Bachelor of Journalism from Monash University in Melbourne and worked in that field in Australia and the US. Throughout this time, a deep and growing desire to understand God and love humanity through the understanding and practice of Christian Science led him to his current role as a Christian Science nurse. Throughout this time, a deep and growing desire to understand God and love humanity through the understanding and practice of Christian Science led him to his current role as a Christian Science nurse.
Lauren Wienecke
Lauren Wienecke has been a Christian Science nurse at The Leaves in Dallas, Texas, since 2016. Her love of the Bible and Christian Science, and desire to follow Jesus' teachings and example of selfless service to others, continues to be the reason she loves working as a Christian Science nurse.
Jennifer Johnson and The Christian Science Nursing Youth Service Corps
Jennifer Johnson is Executive Director of The Leaves, in Dallas, Texas, and serves on the Recruiting Team for the Youth Action Committee of the Christian Science Nursing Youth Service Corps. She also worked for 8 years as the Business Manager at Sunrise Haven, the Christian Science Nursing facility in Seattle. Jennifer has a deep love for Christian Science nursing and hold a Master's Certificate in Nonprofit Organizations.
Jennifer will share information about the on-site internship opportunities through the The Christian Science Nursing Youth Service Corps. These are 3-month and 9-month paid internship experiences for college students and young adults to explore careers in Christian Science nursing and nursing facilities administration.
Applications to join the Christian Science Nursing Youth Service Corps are due on August 15, 2021.
Apply here: ComfortersCalling.org
Part of our Net Effect Conversations series:
https://www.albertbakerfund.org/category/net-effect/
Subscribe to our YouTube channel here
---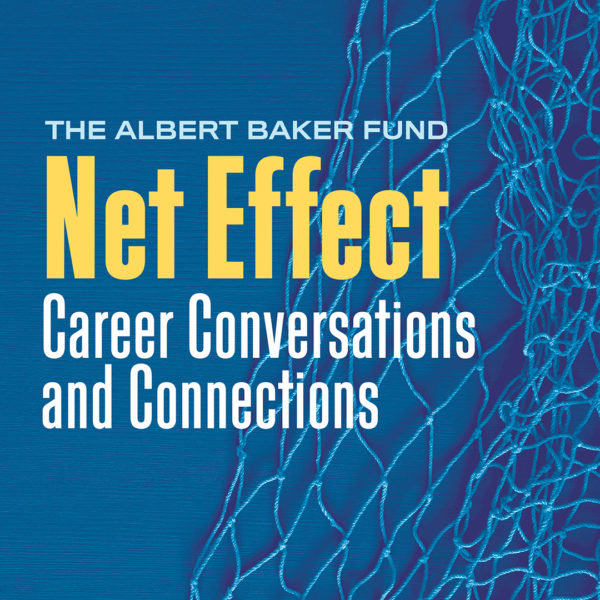 The replay of our September career conversation with Dan LaBar, innovative educator and community-builder, is now available in video, podcast, and transcript. Click "Watch Net Effect Replays" below!
Podcast: Play in new window | Download
---
Transcript of Episode:
Robin: This is the Net Effect, Career Conversations and Connections. I'm your host, Robin Jones director of the Albert Baker Fund's Career Alliance.   We have some special guests for you today.
I can't tell you how excited I am about this program. This is going to be packed full of inspiration and ideas. And I can't wait for you to meet our guests.
This episode is really going to be about casting your net on the right side. And you're going to see some real good examples of that.
This Net Effect is sponsored by the Albert Baker Fund. We provide a combination of loan and grant awards to support the education of Christian Scientists around the world. We encourage each of our recipients to pass their blessings forward.
Today is going to be focused on Christian Science nursing. I'm going to come back to this later and we'll talk more about how you can receive financial tuition assistance from the Albert Baker Fund.
We're going to focus on the Christian Science Nursing Youth Service Corps.
That may be a new term for many of you out there. After this episode, you're going to be real familiar with it. I thought it would be really good to start with some folks that are actually working in Christian Science nursing, and some young adults.
The Christian Science Nursing Youth Service Corps is focused on college students and young adults.
We're gonna meet Emily, Josh, Lauren, and a little bit later, Jennifer, so that you can see firsthand and hear firsthand from three very special folks that are already working in the Christian Science nursing field, in different parts of the United States.
I want to welcome Emily, Josh Lauren and Jennifer. Jennifer is also the Executive Director for the Leaves in Dallas, Texas.
Welcome you all. We're going to start with our dear friend Lauren.
Lauren, let's start with the camp counselor, where you were as a camp counselor, in your journey. And let's talk about what that looked like for you.
Lauren: I went to Cedars Camps as a camper and then later as a counselor for a long time. I loved it. I love the opportunity to work with young Christian Scientists learning about the Bible and Christian Science, Science and Health, and applying the principles of Christian Science in their daily activities. It was just such a fun avenue for learning and demonstrating Christian Science.
Robin: Once you graduated from school, where did you go at that point?
Lauren: I played soccer at Principia College. I stayed back and coached at both the College and the Upper School for a couple of years. I loved that. I love the avenue of learning about God and Christian Science.
I really wanted to do something that was very Manual based. Christian Science nursing came into my thought. I loved as I started working as a Christian Science nurse, just how Manual based it was, and also how biblically based it was.
I felt like it was a great fulfilling of Jesus' commands, teaching to love your neighbor as yourself and love God with your heart, mind, and soul. After he's washed his disciples feet, it was like, if I've done this to you as your Lord and master, you ought to do it to your fellow man.
Through my training I've gone through, I'm getting to be a genuine disciple of Christ Jesus. I love that. It's been wonderful.
Robin: I love that quote. I put that in there, you shared that with us and you had several other quotes, but this one really resonated with me.
I love the idea of feeding the hungry and thirsty and give them a drink. I wonder if Emily or Josh, if that resonates with you guys as well? Do you find that in your nursing practice as well?
Emily: Of course. I think all of us Christian Science nurses, even if we use different passages or come to it in a different way, I think this passage guides us all.
Josh: What I love about that idea is, Jesus pointed in numerous times in the gospel, he mentions food and drink and gives a literal sense of those and that the human need for food and drink. Also it gives us that quiet translation of what those ideas are spiritually.
What I love about Christian Science nursing is it really is supporting both. As we care for our fellow men and women, and very practically helping with nourishment and all of that, but also really seeing that each patient is being fed spiritually and supporting an atmosphere that allows for that to happen.
Robin: In your journey, help us see when that pivotal moment took place, where you said, okay, I want to go this direction. What was some of the thought processes you went through with that?
Lauren: What I really enjoyed with the Christian Science nursing bylaw was that it was so specific and so defined as to what that means. There's really thorough and wonderful training as to feeling confident and to fulfilling that bylaw.
In my work, when someone's needing help, it is Principle that's answering. That bylaw is what's showing up and that it is a demonstrable knowledge, it's the practical wisdom, the proper care. I really loved how grounded that was. It's all the same bylaw, and that's across the field. It's great to have that bylaw founding.
Robin: Your journey took you into a Christian Science nursing facility in Dallas. How did you get there?
Lauren: It was my mom that brought it to me. I grew up in Oklahoma and she knew of The Leaves. She knew what I was wanting to do something new and she brought up The Leaves.
I really loved what I saw. They were able to provide housing. It was just a nice situation, a complete package. It was very fitting. We have an instructor here at The Leaves and mentors and everything.
It felt so complete. It was easy to move into working in The Leaves and I've loved it.
Robin: How long have you been working there?
Lauren: It's been about five years here. It's been wonderful.
Robin: How has the training been and the mentoring? What's that been like for you?
Lauren: It's been both at The Leaves and also up at the Benevolent Association, Chestnut Hill and I really enjoyed that.
The program that The Leaves does is the one that is taught out of the BA, the Christian Science Nursing Arts.
I've loved it. My first class was down at The Leaves and then my second class was at the BA. We do about a four and five week class time with the instructors there. And then I'll come back and there's mentors at The Leaves who can do some on the job training for a couple of months with me until they feel that I'm ready to work on my own.
Then when the next class comes up, I get to go do that. In that way, it is fun too, because I've gotten to meet other Christian Science nurses both at the BA and other facilities will also send their nurses to go through that training courses.
It's been really fun just to see the quality of Christian Science nursing that's throughout the entire field, through those classes, and be able to bring that back to my work here at The Leaves and just feel invigorated. It's a great collective work and really fun to be a part of.
Robin: It's so wonderful to learn all that, and I'm going to pass it over now to Josh.
Josh started his professional career as a musician and drummer in Australia. So tell us a little bit about how you got started and your journey, and let us learn about Josh!
Josh: My journey's been interesting and a winding one is as I feel like God has continually shaped my life and uplifted my desires and my sense of what life's about.
I grew up with Christian Science. From day one, the branch church I attended is, is I believe the most remote branch church on the globe. It's about as far from Boston as you can get.
Growing up, I had some lovely healings. I always felt like Christian Science was taught and showed us the truth as Christ Jesus taught it. Through healings that I had, I just had this increasing hunger to understand it and demonstrate it. It didn't feel like my doing.
In my late teens, I was always very on fire about things, sports and music, and just loved the freedom of expression of soul in all of those things.
I started to pursue a career in music, in late high school, and went with that right up through post high school then went to a music school and then worked and taught professionally in that space.
I loved it. And outwardly, my life was wonderful. I had good friends and just what felt like a very full, enriched life.
But deep, deep down there were some more fundamentally pressing spiritual questions. And that spiritual hunger, that desire to understand God, just kept knocking at my mental door.
As I kept praying and striving to understand Christian Science better, it sort of eventually unfolded for me that while I loved music, I felt like the world surrounding it, and particularly for me, my motives in doing it, weren't big enough for what I was learning in Christian Science about who we are and my need to love humanity more broadly.
I grew up with the Christian Science Monitor and I always had a deep interest in the world, and this hunger me unfolded to branch out and to understand the world and know more about the world and how it works and sort of embrace humanity more.
Shortly around the same time as that transition happened, I took Christian Science class instruction. The relationship I was in fell away.
It was very hard to let go of it first, but it felt like I was being asked to just focus on spiritual goals.
So I moved to the other side of Australia and pursued my degree in journalism. During that time, it was a lot of wrestling, a lot of overturning in my thinking and my heart and continual growth. Not without its struggles, but it felt fruitful and deeply meaningful.
I finished my degree in journalism and then lovely things unfolded for me to then work in the field in ways I couldn't have expected. I ended up working in finance journalism, which I had no interest in until this opportunity came up and it just felt right.
What I noticed throughout this whole time is that while these human shifts were taking place and I was exploring, and my desires were being uplifted, the core focus, the sole hunger in me was to understand God and to know what it meant to love.
To love God with all my heart, and to learn what that meant for loving humanity. Being a member of The Mother Church by this stage and working in branch church work, I found myself… Mrs. Eddy tells us there is plenty of employment within the Mother Church for all its members.
I wasn't necessarily consciously thinking about that, but I found that my desire was just to channel everything into that purely spiritual focus and to see the scientific, spiritual dimension to all of the different offices and opportunities to work directly for church in, as Lauren said, these Manual based activities.
My work eventually took me to the United States and I worked in journalism here as well. This unfoldment in my experience was so wonderful and it just felt so right. And God governed the timing of things happened in ways that I couldn't have imagined.
I wanted just to keep my thought close to God and I want to be directly involved in this ministry of Christian Science healing. I wanted to really understand what that is and to see as much of it demonstrated as I can.
There was a point one day in my previous work where I was sitting at my desk and just reaching out inwardly. I opened my Bible on my desk to look for some inspiration. I know Mrs. Eddy used to do this all the time. She would open her Bible and always find inspiration.
I cannot say that it's true for me. Sometimes I open to a genealogy or something that I'm not yet seeing the deeper meaning there, but on this occasion, it it really spoke to me.
It was Jesus speaking in Mark, and he said it's Jesus called them to him, and saith unto them, that they which are accounted to rule over the Gentiles exercise Lordship over them. And their great ones, exercise authority upon them, but so shall it not be among you, but whosoever will be great among you shall be your minister and whosoever of you will be the chiefest shall be servant of all. For even the son of man came not to be ministered unto, but to minister and to give his life a ransom for many.
It was like everything I've been doing, had been channeling this good direction, but something in me really felt like I can of mine own self, do nothing. I sort of felt like I was spinning my wheels a bit.
And yet felt like God had more for me to do or something different for me to do. So I started to just cherish this meek feeling of wanting to be in that place of service and just humility, because I knew that I needed it so much.
The job I was in wrapped up and it didn't feel like a disappointing thing. It felt much more like an opening of the way and just loved that, that job as well and that time, but then it was just a real opening up.
First, I thought it was all over the place a bit and sort of thinking, what do I do next? And as the dust settled Christian Science nursing sort of stood out like a mountain peak on the mental horizon. Some lovely timing and things unfolded for that to all work out and for it to be a seamless transition into Christian Science nursing, and Christian Science nurses training at the BA.
It's just been such an incredible practical support as I've grown in my ministry as a Christian Science nurse, and this is just a really vital support to that, to being able to meet the bylaw that Lauren was talking about
Robin: That's a real interesting journey from the further hinderest outposts of the world into the backyard of The Mother Church. That's pretty remarkable, Josh.
Emily, it's your turn to say howdy. And tell us about your unique journey.
Emily: I loved hearing about how Josh and Lauren learned about Christian Science nursing, and I feel like mine was a little bit different because I feel like Christian Science nursing was knocking at my door for a long time.
I started when I was younger, when I was in high school and maybe even in middle school. I started volunteering in a capacity that had me caring for developmentally disabled individuals, non-Christian Scientists.
Through that, and then filling my summers throughout college, at Principia, I worked at Twelve Acres because my uncle had lived there in the past.
I ended up working at Olive Glen after I graduated just to fill the time and never really thought that Christian Science nursing was something that I was going to stick with full-time.
I actually ended up moving to St. Louis and working in the Peace Haven office, in an administrative role.
I remember, I woke up one day when there was just one hour every month that I would be covering the nursing floor at Peace Haven.
All of their Christian Science nurses were having their monthly meeting. And that hour I looked forward to that hour every month.
And that was the highlight of my month. One day I was like, why don't I do this full time?
I love caring for people. I knew that after graduating Principia and how it's so nice to be in a Christian Science community, I was really searching that in my post-grad life as well.
It was almost an overnight decision. Christian Science nursing has been there for me for as long as I can remember. And it's just been knocking on my door and patiently waiting for me to realize that was my calling.
It was a lot of little experiences throughout my life that all added up to me realizing that Christian Science nursing was something that was natural for me to do as my career.
Robin: Your training has been a little bit different than Lauren's and Josh's.
Talk to us about your training and the direction that's taken you. And tell us a little bit about that.
Emily: I'm not familiar with the training at all the facilities. But I do know that some facilities have a training program of their own.
For me personally, I was trained at Olive Glen in Sacramento, but with the curriculum from Le Verger, which is in Switzerland.
That curriculum is a little bit different.
Number one, it's based around the Socratic method. You ask the question and ask for an answer before you give the answer, if that makes sense.
It's a one-on-one classroom. The different programs are similar in terms of how many weeks or hours you'll have in the classroom.
It's a little more focused on perhaps not nursing in a Western facility or not nursing in a facility at all.
Certainly all of the programs have a foundation in the metaphysics and why we're doing the work that we're doing.
This curriculum focuses a little bit more on maybe being in someone's home without these Western supplies.
How would you work through this? How would you care for this person with what's right in front of you?
That has translated well into my work. I work a little bit more as a visiting nurse or as a private duty nurse. More recently, even though I love facility nursing, I definitely fell in love with Christian Science nursing at Olive Glen and the other facilities that I've been able to nurse at.
I appreciated the one-on-one aspect as well.
Robin: A visiting nurse, what does that mean? What's different about that than working in a facility? Tell us a little bit about what that looks like and what the work is for folks that may or may not know about what a visiting nurse is?
Emily: I mentioned private duty nursing as well. Private duty nursing is working in someone's home.
And that could be shifts of time during the day. Or you could be there 24/7. And that's a little bit more catered towards helping someone just go about their daily activities. That's bathing and dressing, mobility, helping them get meals and such like that. A visiting nurse is based on shorter increments of time.
And so a visiting nurse service might visit for a maximum of one or two hours a day. And it's a little bit more of a supplement to that person's day rather than helping them carry out those ordinary tasks, daily tasks.
If someone can take care of themselves for the majority of the day, but might need someone to stand by while they take a shower or help them with that shower.
Maybe they just need some help with a bandaging, cleansing and covering need. And so it's shorter visits. And then also a lot of the visiting nurse services around the country respond to immediate needs as well. And so we would respond to a need with someone who might need someone there quickly.
But of course we were always there and in the right time and then perhaps being able to support until they find care from a private duty nurse or a facility.
Robin: This is from Emily. She asked the question, what has been the most challenging aspect of being a Christian Science nurse as a young person, and how have you prayed about it?
Lauren, would you be willing to jump in first and answer Emily's question?
Lauren: Sure. I'm not really sure if I can say anything about like specifically as a young person per se, but I think maybe just the thought of like supply for the long term, but just as far as payment.
I think there's been a lot of great progress with that, recognition of the value of Christian Science nursing by organizations and facilities themselves and just trying to help the Christian Science nurses in that way.
I just prayed about that with divine Love always has met and always will meet every human need.
As a Christian Science nurse, that's what we're doing every day, is reflecting that love, that love is reflected in love and knowing that giving it doesn't impoverish, us and ideas are infinite, infinite resources of soul.
I have just seen that in every way that my needs are being met.
I'm sure every Christian Science nurse can attest to, but that's the first thing that jumps out to me.
Robin: How about you, Josh?
Josh: In terms of supply, and the practicalities, it's such an important thing. Being in service to God is not about poverty. There's been so much wonderful work by all sorts of individuals in the background to continually support and explore ways to bring up the rates and pay and all sorts of things for nurses, Christian Science nurses around the United States and elsewhere in the world as well.
I love what Lauren said about pointing to those spiritual ideas, to take to heart what Jesus said about seek ye first, the kingdom of God and his righteousness and all these things will be added unto you.
I've never found that not to be true and not just sort of just enough, but a relative sense of abundance. To really know that the way our needs are met doesn't always have to be, you provide a service and payment is rendered for that service.
In my experience, the way I've seen, taking that promise to heart and putting all our eggs into one basket, which is that we are heartedly trusting that substance is a spiritual thing and comes from God.
By investing in spiritual riches, where your treasure is, there will your heart be also. That is not an abstract thing or an impractical thing.
It's really actually fun to test those scientific laws and see that time and time again, God meets our needs and in practical ways. But also to trust that it is daily supply and Jesus did say, it's about daily bread and that includes the practical supply and the spiritual ideas and inspirations that bring forth that practical supply.
I've never found wanting in pursuing spiritual good. Coming into Christian Science, nursing has been a wonderful thing as well.
Robin: Emily, I know you have personal goals and you've been moving around and you like to travel a little bit. , Have you found a similar thing that going into to the nursing profession and the Christian Science nursing profession, have you been able to see some of your goals being met?
Emily: Absolutely. Even after I started Christian Science nurses training, I still in the back of my mind thought, you know what, I'm a recent graduate and I want to be traveling the world and I want to be still as serving the needs of different communities around the world.
That has been just such a working out. Because number one, serving this community has been such a blessing.
Certainly that is fulfilling enough. It's also been nice making my own schedule for when I am taking cases. And so within that, in my time off, I am able to travel just for leisure. I've also really enjoyed finding volunteer opportunities outside of my work.
I satiate that desire to be working with global communities or, quote unquote marginalized communities within my local area. And so it definitely everything that I thought that I would be. Maybe missing out on by not pursuing a career, other careers that I've been thinking about.
I've found other ways to implement those in my daily life, through volunteer work, or just by scheduling myself in a way that lets me have chunks of time to get that travel bug as well.
Robin: Those are some great insights into some really important questions for particularly students that are still in school or recent graduates that may be thinking about, where to go and gosh, if I can make a living?
Can I pay my bills? Can I do the things that I want to do?
Jennifer, welcome! Jennifer is the Executive Director at The Leaves in Dallas, where Lauren works.
We wanted Jennifer to come in because she's been working so judiciously with the Christian Science Nursing Youth Service Corps.
There are some wonderful opportunities that we wanted to make sure that everyone knows about, learns about. So I wanted Jennifer to be able to come in and maybe talk a little bit about some of these programs.
I traveled the country and I've talked to tons and tons and tons of students and recent graduates and, they always bring forward this idea of wanting to serve.
And I say to them, do you think about serving the cause of Christian Science and how many ways there are to do that?
I wanted Jennifer to jump in here and talk a little bit about what that looks like. Welcome, ma'am thank you.
Jennifer: Nice to be here, thanks Robin.
I love it when Mrs. Eddy talks about loving more and serving better. Christian Science nursing is an inspired atmosphere to be able to serve church in.
This program is for 18 to 30 year olds. It's going to give a general overview of what it's like to work in Christian Science nursing at different Christian Science nursing facilities across the nation. They're very flexible programs.
You could be going to college and still be in this program and there's a three month program and a nine month program, part-time or full-time, and it pays $15 an hour.
At the end of it, you get a financial education award that you could use towards college or towards a Christian Science nurses training program.
We start in September.
Robin: That also includes housing. Is that correct?
Jennifer: It does include housing. So if you are a college student who really could use some housing, while you go to college, and could use $15 an hour, why not serve church while doing it?
One of the things that I really liked and the 400 Beacon Street book that's out, Mrs. Eddy, when she's interviewing people to come work in their house, she tells them to be asked, what would you do for Christian Science?
Our panelists, you can tell that, their full heart is in serving Christian Science and serving their fellow man while doing it.
If that is an interest to you to serve your fellow man, and to serve church, there are different roles that you can do that in. You will get a general overview in each of the areas of a facility.
So you'll learn a little bit about Christian Science nursing. You could learn a little bit about HR administration, marketing. You can learn about the culinary arts, if that's your passion. Maintenance and housekeeping is also available. So everybody could get a general overview and serve the amount of time that they want in each.
Robin: I love the idea because there are a number of students that want to find experience. They're torn, they're being told you gotta get an internship. You gotta go find experience. You gotta do this, you gotta do that. So opening that door to say, Hey, Look over here, we've got some of those opportunities and I can bet you that you might find if you're one of those students or recent graduates, you might find a plethora of experience from lots of different projects and job opportunities when you work with a facility because there's loads of things that can be done, and there are people willing to let you do it, right?
Jennifer: That's right, definitely.
Robin: Talk about some of the different places that are out there. We've listed all the facilities that have the training program for the Youth Service Corps. Talk to us about that.
Jennifer: These are all of the facilities that have signed up to be part of this program.
You could go to New York, Princeton, New Jersey, Dallas, Texas Boston, San Francisco, Los Angeles, or St. Louis.
Robin: Well, that's all across the country. Are there a number of spaces? Is it limited?
Jennifer: There is a limited amount so apply today. The deadline to apply is August 15th, to start in September. We would like to send two participants to each facility. Once we fill up, we fill up.
Robin: I'm curious from Emily, Josh, and Lauren what do you guys think about this program? How do you see it? Do you think it's a good one? Do you think these are good opportunities?
Emily: Absolutely, yeah! I love the component that introduces them to all different aspects of what goes into life at a facility, whether that's nursing or in the kitchen. That is so valuable, because we really are a team.
That's great to get a taste of how everyone's working together.
Robin: How about you, Josh?
Josh: Yeah, wonderful. Just so grateful for anyone and everyone who is doing work to support Christian Science nursing, the Christian Science nursing ministry, and all of the support.
There's so many roles that support Christian Science nursing, particularly at a facility. There's such a need for more Christian Scientists to come forward and fill all these roles.
It is such a support to have Christian Scientists wanting to unselfishly serve the Christian Science nursing ministry.
I'm so grateful for everyone who's working to provide the infrastructure to make that possible. I would encourage anyone who has it in their heart to really want to serve in that way to come forward because I'm sure any facility would welcome it
Robin: Lauren?
Lauren: Thank you. I would agree. One thing that I loved about working at The Leaves and the other facilities that I've gotten to visit is the quality of individuals that you get to work with. Seeing their example, their life and their thought, their selflessness, is such a blessing.
The introduction into an organization where the sole purpose is to witness the efficacy of Christian Science healing, and God's presence and power in our lives, it's great. I think it's a great program.
Robin: It seems so impressive to me, the training that goes on across the country, in these different facilities and each one may have a little different approach to it.
You guys are very confident in being able to walk into a room and face whatever it is that you might have to face with a sense of knowing what to do.
I would love for you to just comment quickly, maybe on the training, Lauren and how it's benefited you and your progression through it.
Lauren: It's not talking about procedures or formulas. Here are some tools. Here is what you can do in certain situations.
They're just things that are constantly practical, no matter where you are, whether it's a facility, home, the soccer field, so on and so forth.
One of my favorite ones for example, is you're thinking about how to turn away from the physical senses without turning away from your fellow man.
It's just so practical. I've seen time after time that the love that's in your heart, it's expressed, and how you're caring for the individual, that Love guides.
Love, inspires, illumines, designates and leads the way.
We get to see that daily.
Robin: How about you, Josh?
Josh: I've taken a number of classes in the Christian Science Nursing Arts program here at the BA. It's an indispensable support to preparing ourselves when we already have that heart and now lives have been readied and prepared to want to have that desire to meet that bylaw of Christian Science nurse in the Manual of The Mother Church.
The Christian Science Nursing Arts program for me has taken that desire and then helped to bring it forward in a practical way.
To meet that bylaw sounds simple on the surface, but there's so much depth and dimension to each one of those aspects.
Having a demonstrable knowledge of Christian Science practice, but then also to have the practical wisdom necessary in a sick room and to be able to take proper care of the sick.
I think there's so much that goes into that. It's such an amazing training in the sense that it doesn't just give you some sort of formulaic, if you say this, do this.
It provides all those practical skills. It really refines your thinking and gives you those skills and the confidence to do that.
Knowing that we have standards within the field of Christian Science nursing through these training programs, it gives the public a right sense of just how serious we are about this and that it's not just something we do on a whim, but that there is a proper preparation and high standards demanded for the care that we do.
Robin: Jennifer, would you like to jump in on that? I'd love to hear from you as well.
Jennifer: There's definitely different training programs and they all seem to serve an individual need.
I think that they all put out great Christian Science nurses. So if you have an interest, feel free to look one up and see what would work for you.
To apply for this program, you should go to ComfortersCalling.org. This is a new national service initiative. This is our first time doing it, so we really hope to have everyone's support, even if you're not in the right age range, perhaps you know somebody in the right age range and can send them our way. We would appreciate it.
Robin: One of the questions comes from Margaret. Is this a ministry for you all and is being obedient a challenge? Who'd like to jump in on that one?
Emily: I have a quick answer for that. Yes, it's absolutely a ministry. And one of the things that I love about being a Christian Science nurse is that we're not a Christian Science nurse just for our eight hour shift. Or, however long our shift is. It's not just when we walk into the facility we're a Christian Science nurse and when we walk out we're just Emily.
Being in the mindset of nursing, my fellow man, 24/7 and being ready and available to meet that need whenever I'm called upon.
I appreciate that being a Christian Science nurse is not just the job, but it really is how we live our lives. I find such joy in that.
Robin: I'm going to ask this question from Priscilla. As a Christian Science nurse, how are you applying Christian Science to see that idea of career unfolding for you?
How about you Josh?
Josh: Mrs. Eddy talks about somewhere in Miscellaneous Writings about God guiding every event of our careers. Everyone is going to have such an individual journey.
I wouldn't pretend that I can speak for everyone, but I think in terms of the way Principle unfolds in our experience, I see at least what has led me to understand and to bring out more and more of a sense of purpose and meaningfulness and a sense of feeling like I'm in my right places is to make my job as simple as which is to love God with all your heart and soul mind and love our neighbor as ourself.
I think it's very easy in this day and age, which is so data-driven and analytical and it's all about networking and all that, which is not to disparage any of the good and those things, but at least in my experience, the demonstration of career as an unfolding thing, getting to the point of becoming a Christian Science nurse and of course, the way that continues to unfold is, seems to be a lot about refining, constant refinement through spiritual growth.
That study. And then of course, Christian Science nursing provides this wonderful avenue to demand of you to go up higher in your spiritual understanding.
I've just found that instead of focusing on sort of the human circumstances, the way it might look or, what I want to do or what my goals are, to constantly make that one goal of loving God and loving my neighbor as myself.
Just bring that into sharper and sharper focus and to grow in my love for God. I love what Mrs. Eddy said about we are obedient as we love. And so refining, what does that mean to love? What, what does that really mean?
That constant study and practice. I find focusing on that just takes care of the human details.
Robin: For each of you individually, do you find it more important to be broadening your horizons in the practice of Christian Science? Perhaps through church work or studying broadly or deepening your current area of focus as a Christian Science nurse, perhaps both? Love to hear how each of you approach your career development.
Lauren: If I understand the question correctly, I think it it goes hand in hand. Because with the Manual bylaw, that is the founding, the first requirement there, that demonstrable knowledge of Christian Science practice.
I've noticed that with that desire to love that Josh was just talking about to serve, love God and neighbor as yourself, that unfolds and just brings opportunities of advancement.
What I've noticed here at the facility is that when there are home cases that will come up that I'll be called to be a part of, or just my own experiences with family members, different ways in which there are opportunities to advance my practice of Christian Science nursing.
Along with that, there's always a demand to go up higher in our understanding of God's presence and power and the efficacy of Christian Science. I think it goes hand in hand.
Emily: I definitely agree with Lauren. I feel like every experience I have at church or in my Christian Science nursing work that it all benefits each other and supplements each other.
I think that any experience that we have and the study that we do will benefit the next step that we take. They definitely go hand in hand.
Robin: Without question, you're so talented. It's so incredibly assuring to me to see this vibrant group of folks that are committed to this Christian Science nursing.
In my own family, we have been so blessed to have nurses close by. To be able to, to meet the needs of our family. We raised a number of kids and our kids were always active. There's always been occasions for our whole community to witness the efficacy of Christian Science nursing.
I've been a coach at our local high school for a number of years, and our kids all went through high school and they always had wonderful support from a local Christian Science nurse that was as good as any support they got from our incredible training staff from our high school. And they were great. There's 35 people in that training staff.
So when they talk about getting training, they are getting training. I can personally attest to the training that nurses receive because I've seen it with my own kids and I've seen how quickly they respond to that training.
You have my, I get a little choked up. You have my, thank you, my thankfulness for the care that you all give to our wonderful community. It's fabulous. It's fantastic.
If any of you that are out there know of potential young adults who might be a candidate for this, don't hesitate to reach out to them and share with them about this amazing program.
I want you to know how the Albert Baker Fund is supporting Christian Science nursing.
I told you at the beginning, go to the AlbertBakerFund.org and click the little tab that says Apply. You can see that right up there.
I've circled it in big red, and there'll be a dropdown menu for Christian Science Nurses Education and how you can apply for tuition assistance with these wonderful facilities and training programs that are out there.
We encourage you. Don't be bashful. Give it a real good prayerful consideration, particularly if you're a student or a recent graduate.
If you are interested in serving, I challenge you. Think about serving the cause of Christian Science.
It brings about healing. It brings about an incredible spiritual reward and a sense of fulfillment and career development. I've seen it. I've witnessed it.
These wonderful people that are here today are shining examples of the talent that we have. So if you want to connect with Lauren, Emily or Josh, you can do so through the ABF Career Alliance.
Do an informational interview, I recommend it. Ask them the questions that you didn't ask today and talk to them one-on-one and we'll be happy to help facilitate that.
Where do you go to apply? Tell us that website address again, Jennifer.
Jennifer: ComfortersCalling.org.
Robin: Okay, one more time.
Jennifer: ComfortersCalling.org.
Robin: Great. If you're interested, share this with your church, send it to your board, ask them to send it out to the congregation. If you have family or friends, send it out to them, give them the opportunity that we've all had today.
And this recording is going to come out in a, in a week or so, be sure and share that recording when it comes out with the people that and love so they can hear firsthand how this amazing program is going to be blessing our community.
Be sure and keep in touch with the Albert Baker Fund for these incredible events like we're having today, like us on Facebook, Twitter, Instagram, and connect with us on LinkedIn.
Today we got some definite good fishing. If I had my pole and my net, I think my cup would be running over. It'd be full of the fishes of these wonderful ideas and wonderful inspiration from you all.
You have been terrific. I appreciate it. Our community appreciates it.
Thank you so very, very much for spending your time with us this afternoon.
Look forward to seeing you for the next episode. Have a great weekend.
Tags: career success, christian science nurse, christian science nursing, christian science nursing youth service corps, education, internships, opportunities, student life