Watch the interview here:
"I never stopped praying and I never stopped putting one foot in front of the other."
About Our Guest in this episode:
Chris Harbur
Chris has worked with over 20,000 children, ages 7+, across the US doing everything from teaching sports and acting, to mentoring young people in crisis through Crisis Text Line, and running the Impact Team at DoSomething.org, the world's largest non-profit for young people. His team at DoSomething.org directly led to some of the largest world-wide volunteer efforts in history including the collection of over 100k pairs of jeans for homeless youth in 3 weeks, the donation of 30k pieces of sports equipment for kids in low income neighborhoods, and the clean up of 5 million cigarette butts in a month!
Over the past 10 years, Chris has worked as a coach to develop new methods for engaging kids to be active and healthy. Not only does Let's Go Play get children excited to go outdoors and engage in exercise, it's also a safe, creative space for them to talk about the things that matter to them most, bolster their self-confidence, and give them a life long love of sports.
Part of our Net Effect Conversations series:
https://www.albertbakerfund.org/category/net-effect/
Subscribe to our YouTube channel here
---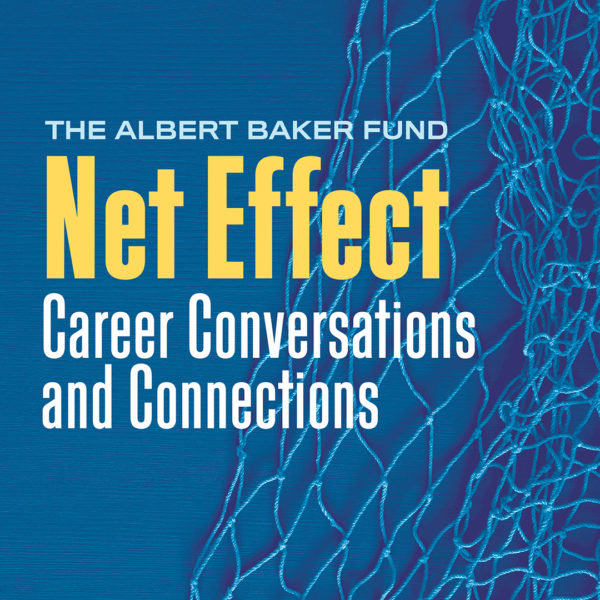 The replay of our September career conversation with Dan LaBar, innovative educator and community-builder, is now available in video, podcast, and transcript. Click "Watch Net Effect Replays" below!
Podcast: Play in new window | Download
---
Transcript of Episode:
Robin: This is the Net Effect. I am your host, Robin Jones, Director of the ABF Career Alliance. Thank you all for joining us this afternoon. We're here to cast our net on the right side.
This Net Effect is sponsored by the Albert Baker Fund. To learn more about the Albert Baker Fund, go to AlbertBakerFund.org.     You'll find all kinds of information about the incredible programs that we have and our worldwide outreach. So again, thank you to the Albert Baker Fund.
Thank you to the staff of the Albert Baker Fund, the incredible team that we have there for supporting this wonderful series. It has been highly successful.
Welcome Chris Harbur, CEO of Let's Go Play New York.
I met Chris in New York at one of our Career Alliance networking events a few years ago. He reached out to us and we became fast friends quickly.
Welcome to the Net Effect.
Chris: Thank you, Robin. It's a pleasure.
I love the Albert Baker Fund and every thing you guys are doing. It's such a beautiful thing. So thank you for what you do.
Robin: Well, thank you, and thanks for being a Career Ally. We really appreciate your supporting us.
As you were growing up as a child, tell us a little bit about the countries, the schools, and give us a little background on you.
Chris: I went to nine different schools growing up, in five different states, and three different countries.
That's just kind of who my family was. My dad's work changed quite a bit. And we just sort of rolled with it.
It definitely teaches you about culture. It definitely teaches you that you gotta be flexible. You gotta be able to roll with the punches.
Getting to go to three high schools in three different countries and getting to go to so many different schools, it allows for that freedom, that flexibility.
You gotta be kind of sharp because you're going to have to start over with a whole new group of people who don't know about you, don't care about you, and you just got to find a way to roll with it and be flexible.
So it taught me a lot.
Robin: I thought it was really interesting when we were talking beforehand about your direction and how you landed, where you landed, but it really started when you transitioned from high school to college and you decided to go to a conservatory.
I love this story. Tell us about how that unfolded for you.
Chris: It was wild because I think for my whole life, I thought I was going to be the second basement for the Boston Red Sox. And then I had the rudest awakening when we moved from Switzerland and the Bahamas for high school to Florida, which is like the most talented baseball players on planet earth.
And I literally had no chance. And I was like, yeah. Okay. So that dream has gone. So now what?
I was a senior in high school. I didn't really know what I wanted to do. And I ended up going out for a high school play.
All of a sudden, I was like, oh my gosh, I love this. And I found out about this conservatory at University of Miami in Florida.
And I was like, I want to try to get into that school. And so literally on my way down to the audition to get into this conservatory, that only takes 20 people a year, you can see the photo right there. That's the theater we performed in. I was learning my material, learning my monologue. Cause I just didn't know any better.
I wasn't, I didn't realize you had to, spend months looking for material. And so I show up and I do this monologue for this panel of people who are going to basically decide my future. And they asked me one question about the monologue and I was like, huh, I'd never thought about that. I just learned this in the car.
Robin: Had you acted in high school? Had you done anything like that before?
Chris: I had done one play my senior year of high school, when we moved to the U.S., and that was pretty much it. So I had no background, really no idea what I was doing. Everybody auditioning had songbooks headshots, agents.
And I was like, what is all this stuff? And I was literally learning a monologue in the car.
So they were basically like, well, why do you think you should get into this conservatory? And I was like, look, I know what I just did was not very impressive, and I'm sorry.
I am not going to bring any baggage to this.
Whatever you teach me, whatever style of acting or singing or dancing, I will be all in because I literally don't know anything about this.
They loved it. And I ended up getting in, and I performed at this theater, did my first musicals and all sorts of stuff. And had this really tremendous experience, and it was really wonderful.
Robin: What was it like performing with some really talented and gifted students or actors who probably had portfolios, and had been acting since they were five years old. How did you manage that?
Chris: That was difficult. I learned my first lesson in comparison and being really careful with how I'm comparing myself to others, because it was crushing, especially the first year or two.
I was so far behind everybody else. A lot of them had been dancing, acting, singing their entire lives. And I had just started a month prior.
It was a really, really big lesson in figuring out who I was, what unique qualities God had given me to express.
They weren't the traditional ones. I couldn't do the best triple turn. I didn't have the best monologue. I didn't have the best baritone voice.
Robin: Had you ever danced or anything?
Chris: On the first day of dance class, the teacher had to keep me after class because I had all the dance stuff put on incorrectly.
I was wearing nothing the right way and he had to like draw charts for me. I was lost. Totally lost.
Robin: How did you just be so lost, and yet still willing to keep doing it every day?
Chris: That's such a good question. I'm a pretty spiritual guy. Early on, I just realized that you're going to feel a little bit tossed around in the sea of life sometimes. And you might feel like you have no idea what you're doing and everybody else around you is killing it and you're doing a horrible job.
That is how I felt most of the time. I think recognizing that each one of us does have really wonderful qualities, unique qualities, I clung on to that and just recognized that if I was supposed to be here, God was not going to drop me in this top 10 conservatory and then leave me to go up in flames.
There was going to be a way for me to shine. As I went through those four years, I found little things here and there that just made me feel like, oh, I can do this.
It might be a very small sliver of this one thing. I found out I love stage combat. I was really good at remembering choreography, I loved the physicality of it and was very good at that.
And so I was like, okay, I get something, and then slowly start to grow in confidence. I'm not going to say it was easy. It was a challenge.
Robin: You work your way through college and you do all these different things within college. Tell us a little about the transition from college, into the professional world.
How did you get there?   What did you decide to do, and why did you decide to do it?
Chris: In the senior year of college, as an actor, you basically have to be like, all right, you're going to go to New York City or Los Angeles. Those are kind of the two options that they throw at you.
I remember feeling like I have no idea. I just didn't have a strong sense.
What happened was, I went to this audition where like 10,000 21 year olds show up in the biggest ballroom you've ever seen in your entire life in Orlando.
Robin: I just can't imagine that.
Chris: It is wild. You go into a warm-up room and there's like a thousand people warming up, and like screaming…
Then they drag 50 people at a time into this huge ballroom. And you are looking out at a thousand industry people who hopefully, one of them will give you a job.
You have a 30 second monlogue, and a 30 second song, and you do it for all of them.
The hope is that one of them will be interested in you and will be like, Hey, come work for us, and wherever.
Robin: How do you decide what the 30 second I'm going to do this and 30 seconds singing I'm going to do that. How do you decide that?
Chris: That's one of the good things of going to a school that has a good theater program. They prepare you, they know who you look like, who your type is, and what kinds of material you should be doing.
So, thankfully, I was prepared for that one. I did not learn that on the car ride to Orlando.
So what happened is I do this audition, and a couple of companies are interested in me and you go to their hotel room and you talk to them about it.
One of them was this really wild, but intriguing job called Missoula Children's Theater. You and another actor drive across the entire country, basically doing shows with the local kids in each town that you're in.
So you show up. Our first week was in Napa, California. You roll into Napa, California. There are a hundred children waiting for you. You do a two hour audition, pick 60 of them, start rehearsals, and on Friday, you have an hour long production of The Little Mermaid that you perform for the entire town.
Robin: I've worked at camps,. It's like 60, you don't know anything about them. And you go, okay, we're going to make this production with these kids and we're going to put it out there and everybody's going to come and it's going to be fabulous. It's just amazing.
Chris: It was ages 5 to 18. So there was a wild range that we had to work with. And this was a very professionally produced piece of theater. We had lights, music, costumes, sound, the kids had 60 pages of lines they had to learn in three days, by the way, cause it's only a week. And then you pack it up, say goodbye to the kids and you drive to the next state.
And I did this for 15 months.
Robin: And it was like every week for 15 months?
Chris: Every week for 15 months. Yeah.
Robin: Wow.
Chris: I've never experienced anything like this in my life. I think only when you're 21 years old and you have the zest of life as strongly as you can, can you handle a job like this.
I finished 15 months and I just like fell over. I just like slept for a week. It was very intense.
Robin: After the 15 weeks, and sleeping for the next month, where did you go then?
Chris: My best friend who I met in conservatory is like, dude — move to New York. You can sleep on an air mattress in my bedroom.
You can start auditioning, and we'll get you figured out.
He had already started a show called In the Heights, which was off Broadway and is now a movie.
And that was his off Broadway and Broadway debut. So thankfully he had already been there for a year, doing the show In the Heights.
What was neat is that when I arrived in New York City, sleeping on his air mattress, he was like, Hey, we're doing this new show. It's going to be off Broadway. And we need a male swing.
A male swing is a someone who learns like every male part in the entire show. And then at any given moment might have to jump in and be one of those parts. And so that sounded terrifying, but I was like, whatever, I'm in New York, this is what I wanna do with my life, I'm in.
A day before this show, we started rehearsals. Someone dropped out, and I had a role in the show and an off-Broadway production, a brand new musical. It ended up being just a tremendous experience for me, meeting new people in the industry, getting my feet wet in New York City.
That was the start of a pretty fun acting career for me in New York City.
Robin: That sounds like a fairly easy transition. You have something you could hit the ground running with right out of school. And then you made a little money and had some really good experience. And then you do this audition and you end up in a leading role.
I'm sure that you had lots of challenges. Thinking about those challenges, what helped you? What helped you think through those kinds of things as well?
Chris: The first thing that I realized that I was really having a trouble with was anxiety. I had a tremendous amount of anxiety about moving to New York City with no connections, except for my best friend. I had tremendous anxiety about not having any money.
I had tremendous anxiety about going into a field with the most talented people in the world.
In one of my first auditions in New York City, there were 50 guys in the room auditioning for this TV role, and every single one of them looked like a better version of me. They were taller, they had better hair, they had nice cheek bones.
I was like, come on, like, what's the deal?
That created in me quite a bit of anxiety. I recognized very early on in my career, I was going to have to get a handle on this thing.
I don't know if this is how you're supposed to pray, but a week before I moved to New York City, I was like, Look God, I'm freaked out about this.
I am very scared about moving to a huge city with no money with no means. I just didn't know what I was going to do.
This verse from the Bible, which is one of my favorite verses of all time: Trust in the Lord with all thine heart, and lean not unto thine own understanding, and in all thy ways, acknowledge him, and he shall direct thy paths.
That was in my heart, and I knew that if I could trust in the Lord with all my heart, about my finances, about my career possibilities, about my friendships, about anything, that there would be a path forward, but I needed to go all in on this.
I needed to really trust.
And so, I made a pact with God. I was like, God, if you promise to provide for me, so I can live and pay rent in New York City as an actor, I will pack my bag and I will be on the next flight out of there.
I don't know if that's the most eloquent prayer one has ever prayed, but I was 22, scared, and that's what I went for.
And I really did put aside that fear and that worry and just trusted. I think that led to like some pretty incredible things that happened very early on for me.
Robin: I wonder if you might share a little bit about this incredible thing that you got involved with?
Chris: A couple of years into New York City, I'd done a couple of musicals, a couple of plays, a few commercials, all these things. This audition that ended up being in Philadelphia, came across my desk.
And I was like, I do not want to spend a day on a bus to Philadelphia to audition for something that could be a student film. I had no idea and they don't tell you these things. I felt very led, and guided to go do it. And I was like, all right, I'm in.
So I auditioned for this movie. I ended up getting the lead in it. It was called The Descending. My mother was very happy. I played this psycho like killer.
Robin: Very nice thing for a Christian boy.
Chris: I have a hostages. It's a pretty like, cutter kind of film. But it was this incredible experience and I ended up getting the lead that you can see my little face there on the post. I ended up traveling the country with film festivals. We won a bunch of awards. It was like this really incredible experience for me getting to travel and do these things.
And then I got back to New York City and I was like, all right, I'm gonna make such a splash back in New York City. And I go show all these casting people, this movie poster. And they're like, yeah, we don't really care. And I'm like, what? That's my face! Come on people.
And they just didn't, and it was just kind of a rude, kind of a rude awakening with how difficult it is to be in the industry.
But I'm very grateful for this and all that it taught me for sure.
Robin: So where did you go from there? You've had some success, obviously. What happened then?
Chris: This is now the part of the story where it's my first big career transition.
I know there are probably people on this Zoom today who are thinking about a career transition and who are career transitioning.
I just felt it was time for me to move on. I didn't really get to a place where I felt like I could sustain myself as an actor. And I was getting a strong sense that it was time to move on.
What I did is I said, all right, I'm going to do one more year in this business.
I have three goals. If I don't meet any of these goals in the next three years, it is time to move on. I had a great experience. And so after a year I didn't hit those goals. I didn't make it to Broadway. I didn't get into a TV series where I was a regular. And I didn't have anything that was like paying me enough to essentially pay New York City rent, just being an actor.
And I was like, Hey, all good. I loved my 6, 7, 8 years. It's time to move on. But what I realized about career transitioning is I actually wasn't sure what other humans did for a living, because I had only ever been an actor.
I just didn't know. I didn't know what people did. Once again, an opportunity to get quiet with God, the universe, and be like, where do you need me? I know you gave me these kinds of neat skills, I want to use them. I want to be used.
What came to me is to send an email to 10 of my friends and tell them I'm leaving acting.
I have no idea what to do. What do you guys think I should do? This is the best plan I had Robin.
I got all sorts of terrible advice. Like you should be a lawyer go to law school. I don't need any more school, I'm good on that front.
One of them was like, you should talk to my friend. He works at this nonprofit in New York City that works with teenagers, check them out.
I went to their website and it looked really, really interesting. So I found this company, I figured out how to get in for an interview. And ended up working at this company called DoSomething.org.
It's the largest nonprofit for young people in the world. They essentially have 5 million teenagers and you can go here, sign up for a volunteer activity in your own community. And you can get started. And a lot of times you don't need the help of a parent or a guardian. They can do it on their own.
The reason that they hired me is because I convinced them that I could make volunteering a little bit more fun by gamifying it, by turning it into a giant competition.
So you can see down on the screen there 5 million jeans donated. Well, several hundred thousand of them were from this initiative that I tried by pitting colleges against each other in a national leaderboard competition where they battled each other to see who could collect the most jeans for homeless kids.
It exploded and the CEO loved it. She gave me my own team of people and it turned into this really fun creative thing.
I ended up working there for three years and learned a ton about having bosses and working at a desk and using Google, the Google suite of products, all things that I'd really never done before.
It turned out to be a pretty enriching experience.
I remember going in for the interview and thinking to myself, I bet they've seen like 20 people today for this job interview.
I think it's possible that like, no one did anything interesting or different. I treated it like an audition. So my theater background is like, okay, how do I frame in 60 seconds the most intriguing story about who I am, what I come from, and what I could give to this position.
Framing is something that you learn in acting school. You learn with the sort of theatrical background. I came in starting to talk about my experience in a really concise, quick way. I saw an intern wake up in the corner and I'm like I was on to something!
Having a theatrical background, knowing how to just sell yourself in a more interesting way to connect and talk to someone in a way that is authentic and loving and compelling, because you have to do that onstage, or the audience will fall asleep, much less an intern in the corner.
It impressed them. I think they were like this guy's got something going on that we want in our ethos, in our pipeline and do something. That really did help.
Robin: So you were there for a few years, and had obviously really good success. What led you to leave or do something different or think about making another big career switch?
Chris: After a few years in this company, I started to have panic attacks and the anxiety became really, really bad.
We had a lot of pressure on us to perform at an extremely high level. It was only 50 people on staff, servicing 5 million teenagers. We had these huge companies, Jet Blue, Coca-Cola, all these companies breathing down our necks to perform, and do better, bigger things each time.
I wasn't sleeping well. I've learned a lot here, but I don't think this is for me anymore. I'm not sure I'm meant to be in an office environment, especially one that demanding.
My second big career change was coming about and I knew I had to get out.
My Christian Science teacher taught us about something called a spiritual bath. You wake up in the morning, and you get really clear about who you are, and about who God is, before anybody else tells you who you are, or what your day will be like.
You just sit and have that communion with God every single morning. And this is a time of my life, where I leaned on my spiritual bath more than I ever have before.
I remember leaving, having once again, absolutely no idea what to do with my life. I knew I didn't want to work there, and I didn't want to be a firefighter, and I didn't want to be an actor again.
So those are the only three things I knew now. The one thing with this career transition is I decided I was not going to let anxiety or fear dictate any decisions during this second career transition.
Robin: That's a big deal, man. That's the thing I see, that just cripples people. The fear, the anxiety, the worry. You mentioned pressure. Those are all synonymous. How did you come to that and how difficult was it to get to a point where you felt like you had some strength and confidence in that?
Chris: I'm going to be honest about this and this might not be very popular amongst Christian Scientists, amongst spiritual people. It was a very, very messy road to pull myself out of this panic and this anxiety. Sometimes we read the periodicals, we hear about healings and things, and it just feels like, wow, that was amazing, and it's got this nice tight pink bow on it. This was not a pink bow healing. This was messy.
I felt so bad at times that I was like, God, I will literally do anything to not feel so panicked all the time. I started going to therapy. I started working out more. I started taking anti-anxiety medication. I know this is not going to be a popular thing to say. I was in dire straits and I was really scared.
I started changing a lot of things in my life. The one thing that did not change in my life, the one thing that I stuck to through all of this messiness, is I never stopped praying and I never stopped putting one foot in front of the other.
Even days where I could barely pull myself out of bed, I knew that I had to get up and do my spiritual bath. I knew that I had to keep reading mary Baker Eddy's works. I had to keep reading the Bible. If anxiety woke me up at three in the morning, I was going to get up at three in the morning and I was going to do whatever I needed to do, to pull myself out.
It was a really messy road, I have to say.
Robin: I hear so many people say, well, I just quit going to church and I just quit doing this. And I quit praying. I quit thinking, I quit.
Why did you continue to hold on to prayer? Why did you continue to move, and stay where that was a part of what you're doing and looking for searching and try to discover that peace, to where you found that peace, to address those issues of anxiety?
Chris: Really good question. And I had days where I wasn't sure I could do anything. I knew in my heart that even if it was the faintest light that I was going to be okay. Because God loved me even on the days where I was like, does God love me? Cause this sucks. Even the days that were just really, really challenging.
I'm out of work. I have no idea what to do. I'm paying $1,200 a month for a tiny studio in New York City. I had bills to pay.
Robin: None of your family lived there, right?
Chris: No, my family was spread out all over the U.S. No, I didn't have any family. The sense that, no matter what I was doing, whether I was taking medication, whether I was going to therapy, all these things that are, I think are sometimes frowned upon, I had to remove the judgment about that because I felt very judged.
I myself was judging myself. And I felt the judgment from others. I had to remove that first. I don't think God talks to us in a way that makes us feel badly. I don't think God shames us. I don't think that God makes us feel badly.
So every time a thought came that said, Hey, you suck because you're taking anti-anxiety medication. You're a bad Christian Scientist. I would think to myself, would God say that to me? Would God do that?
It did take some time, but eventually I was like, you know what, if God's not saying it, I'm not going to listen to anymore.
I'm just not going to do it. I'm not going to shame myself every single day about this. And it was not easy.
Eventually in that line that God only says really loving, wonderful, empowering things to us, and if it's not, we don't have to listen, step-by-step I just started to kind of pull myself out a little bit, day by day.
Robin: And found the light and inspiration. How did you come to the next piece where you were starting to make decisions and how did that materialize for you?
Chris: So I'm pulling myself out of this thing. I'm in my second career transition, with really no idea.
I make this pact with God to not have any worry about this. What if this was fun? Here's a crazy idea. What if my next career transition was fun? Like, let's just try it, even as an experiment. It's funny, because once you remove the fear, you really do free up creativity.
You can just let this creative spirit just talk to you and move through you in a way that you can't, when you're just feeling constricted.
The thought came to me, have a little brainstorm party for yourself with 10 of your best friends, bring them into your house and let them think about your career for you.
I set up my little New York City apartment and every station was a different part of my new potential life they had to think about. What were my best attributes? My favorite station was give me the names of three interesting people who are doing interesting things and write down their contact info so that I can talk to them.
It yielded some pretty interesting stuff. I ended up calling these people who lived in Denver, Colorado, and California, and I just went and visited them. Because I promised this transition was going to be fun.
I flew out and I met with a guy who ran the student center at Pepperdine University.
I met with these female artists who made experimental art in the desert of California. Not that I was going to do one of these things, but it just freed me up in a way that let me just let God talk to me more clearly.
I'm walking around this botanical garden in Denver, Colorado, and all of a sudden the idea for my next thing just dropped into my lap and I'm like, oh my God.
The idea was, do a fitness program for kids that marries video games and movement so that you can activate the kids who have low confidence or don't feel good about themselves or don't like activity or movement or sports. And it was just like, oh my gosh, I love that idea.
I called a friend in New York City, a mom who had a kid who fit this description perfectly. Didn't like an afterschool activity, didn't like to do anything, had low confidence. And I told the mom, I just had this idea. Are you crazy enough to try this? Let me pick your kid up next week from school and we'll try it. And if it sucks, I won't even charge you. And if it's good, I won't even charge you.
I just want to see if this thing can work. And she's like, all right, let's do it! So I found the kids' favorite video game. I researched it online and I basically built his video game, which was like this pirate thing where they find coins and go on a scavenger hunt. And I built it for him in Central Park. So we went into Central Park together.
I had this big map that I made. I'm the worst artist in the world. And he was collecting gold coins and he had to do different fitness exercises to beat these bosses and discover these treasures. And the kid loved it and the mom loved it. And she told all of her friends and within a month I had sold a year's worth of classes with kids all over New York City.
And I was like, oh my God, I need a website. I need a name of my company. I need insurance. What are these things? And it snowballed from there. It was unbelievable.
Robin: Well, it's pretty remarkable, and it's an incredible story. What creativity, it's just amazing. So you ended up developing a website, you've got business and you've got people.
Tell us a little bit about how you came about the name and about what you're doing with this.
Chris: I wanted to call it Let's Go Play because I felt play is one of my favorite things. As I was researching, I found that it is instrumental for a child development that they have moments in their day, to feel like a kid, to play, to create, to get outdoors, to move.
This idea of using video game terminology, for instance, one of the things in our two hour sessions is everything is broken out into levels. So the first level is like, all right, you're going to run to the three turnaround, catch this ball.
They complete the level. Okay. Level two. Now you've got to hop on one foot over to the tree. Catch two balls. It feels like their favorite video games because they're leveling up at the end, they win a wristband, and the most fun thing, which I think you also have here, Robin, is we make a 60 second video of our session together so that the kids can go home and show their parents.
The parents and their grandparents, and everyone gets to see them running and jumping and playing, and we add filters and music, and this is the thing that this kid can have and feel good about.
It's just play, and a lot of parents have told me that their kid comes home and feels more confident, is happier, gets through their homework with more joy.
What was amazing, that I had not realized until recently, is this is like my Christian Science practice. Right? I'm not sitting in an office taking phone calls all day, but like I'm out, in the field, working with kids helping them feel more joy, helping them feel inspired and loved and safe.
Why can't this be a Christian Science practice? It sort of felt like it was. It had this sort of divinely led aspect as well. It just blew up really quickly in a really wonderful way.
Robin: How did COVID impact this? What happened when COVID started? It must've impacted your business in some way.
Chris: New York City was one of the first and worst cities hit with COVID last year.
I had to shut the company down immediately. Obviously I'm taking absolutely no chances with the children. I made the call very early on to just shut the business down, which was obviously hard. We didn't really know what was going on at that point in March of last year.
Once again I had an opportunity to get quiet with God and be like, all right, I don't have a business right now. What would you like me to do?
It came to me to go down to Florida, to hang out with family and see what would happen. I came down to Florida, crashed with family, started doing some virtual Let's Go Play classes, which was kind of an interesting, messy work in progress, but ended up being really fun.
Then this new thing entered my heart where I started realizing that if my Christian Science practice was potentially with these kids and helping them feel loved and inspired and safe, could I expand that? I had all this time on my hands now. I wasn't able to really run this company.
It started coming to me to talk about Christian Science more. And I know that might seem very obvious to some people, but it kind of freaked me out, the idea of just walking up to a stranger or a friend, or someone I really cared about a best friend, and being like, Hey, there's this book Science and Health.
I wanted it to be in a way that didn't feel Bible thumpy. I wanted it to feel authentic. It was just burning in my heart that I needed to start talking about this stuff more in a way that didn't feel like I was proselytizing or judging.
It actually started on the New York City subway. I was reading Science and Health on the subway, cause everybody reads on the subway. This homeless guy walks by me and he's asking for money, is asking for food and then literally looks at me and he goes, or anything else that could help? And then walks away.
Robin: Message from God, right?
Chris: I said, God, this feels weird to me to talk about this stuff. So you're going to have to make this very clear. And God made it super clear that day.
This homeless guy is about to get off the train and I'm like, well, what am I supposed to do with this? Do I give him a book? There were all these people staring at me.
This is weird. I don't want to be weird. I went over to him and I was just like, Hey man, I'm reading this book I love. And there's the statement. She says: "to those leaning on the sustaining infinite, today is big with blessings." I was just thinking about that. What do you think that means? I would love to hear what you think.
The guy looked over at me and he looks down and he reads the sentence and he's like, I think it means we've got to take the steps that lead upward, not downward, and he gets off the train. And I was like wow!
It just blew my mind. I realized there can be authentic ways for each of us to share this stuff. Eddy says over and over in her biography, we have to circulate this book. We've got to talk to people about this stuff. And in a way that does not feel proselytizing or condescending or judgmental.
I had this genuine interaction with this guy and I was like, okay, so I can do this. So now what? It came to me to talk to my best friend about it. And I went to my best friend. I was like, Hey man, I've been reading this book. Do you want to read it together? And he's like, sure. And so we met in a coffee shop every week and the craziest things started happening.
He started having healings, which is another thing that I was like, right. We forget, this book heals me and my family, obviously, but a random person, who's never read this? He was on a Broadway show and he had a really serious neck injury. And he was reading literally one of the first lines in Science and Health.
I walk into the coffee shop and he's like, dude, I don't know what just happened. My neck is perfectly fine. And he's like, I think it was because of something I read in this book and I was like, I think you're right. It clicked in that moment. Right. This book heals, because we know it heals, and we hear testimonies that we read the last hundred pages.
But when you see your best friend who has just experienced a tremendous healing, for me, it connected the dots. And I was like, okay, I get it. I'm awake now. What do I do next?
It kind of just spiraled from there. Those were some really pivotal big moments for me.
Robin: That's pretty incredible. Now you're in Florida, you got your business up and running again, and things are moving in that direction. Where are you heading now?
Chris: That's a really great question. I don't know if I know the answer to that. I have a lot of Florida kids now for Let's Go Play, which has been a dream to have all new families, all new kids. They're super excited.
The other thing that has started to really open up and develop is, after my best friend, we read Science and Health together. We got through the whole book. He had incredible healings. He started healing his cat, his wife, his new twins, and every week it was something, it was bananas.
I started talking to other friends about it and people I met in coffee shops and people I met at parties and started Science and Health book groups for people who had never read Science and Health.
Every week on Zoom or in person, I have a couple of people, a couple of different groups, none of them have ever read Science and Health or known anything about Christian Science.
We're all reading through the book together and we chat about it and every single person in every single book group, and I had a four at one point, has had a healing. Every single time it blows my mind.
I don't know fully where that goes. I have Let's Go Play with these kids that I'm working with and I love so much. Continuing on with these book groups and seeing where it goes. What really surprised me is the people in the book group started calling me for prayer.
They started asking for healing. I was like, oh, yeah, I took class instruction. I took this course for 12 days. A practice started. And so now I have people calling. That is sort of opened up in a way.
I realized from all of this stuff that when we do something that feels purpose full and purpose driven and right to us, you can't believe the stuff that will unfold.
You have to check the fear, and check the anxiety, and as much as possible, not let it play a role in the decision making.
Robin: I love that. It's remarkable, incredible, and awesome and wonderful. It's why I asked you to be a guest because I just love your practical approach, your authenticity and the earnestness that you demonstrate, my friend. It is just so incredible.
When did you know that you were winning against fear? When did you know that you started to have those wins and those victories and what was it that helped drive that, and get you that victory that you started gaining that confidence that you needed to deal with those horrible pressures and worries, and anxieties and all those things?
Chris: Really good question. I'm definitely not an expert by any means. I still have days where that voice, which I know has no power, it's still pretty loud. It's definitely still a journey of mine.
Fear and anxiety play a far, far smaller of a role and their voice is much more muted than a couple of years ago.
When did I feel like I started winning the battle more? To be honest, it's when I started talking about Christian Science. I don't know if that sounds like the most obvious thing, but it happened when I was sitting in my Association which is after you have your class instruction, you come back every year and your Christian Science teacher gives you some really wonderful tools.
I'm sitting in that room with all of these amazing spiritual thinkers. God, this feels so good. And I was like, why am I not doing this more? Why am I not like cultivating this kind of environment more in my life? Why am I not talking about this more? Why am I not thinking about this more? That burned inside of me for like six months until I started implementing it more into my life.
Once I started talking to my best friend about it and watched him have healings, once I started incorporating it into my work with kids more and just started thinking about it more. It helped me win.
I just didn't feel as freaked out anymore because I knew I was doing something that was purposeful and loving and healing.
When you feel like you're on purpose, when you feel like you're doing something that is uplifting others, when you're asking the question each day, not what can I get from this day, but what can I give to this day? And you reframe it. It doesn't leave as much room for error to creep in, for fear, for anxiety, for depression, for worry.
These are very challenging things. Eddy talks about unselfing the mortal purpose. We have to un-self. Become more unselfish in our action. I think that's the key. I really do. I'm still trying to work through it, but I th I think that's what I would say to that.
Robin: I love that. I think sometimes we forget that it does take that effort. Sometimes it does take the consistent effort to push and to humbly and thoughtfully consider, on a daily basis, that movement forward.
Often we want, Hey, I want it now. I'm tired of feeling like this. I don't like to hurt. Take it away. Get rid of the pain, just do something. Cause I can't take this anymore.
Talk a little bit more about your spiritual bath today. What does it look like when you take that bath in the morning today, when you're living in Florida and that wonderful new house you got there my buddy.
Chris: So how does my bath look different now than 10 years ago? That's it's a good question.
As we go through these struggles, I think as we learn these lessons, whether they are with a nice little pink bow on top, or it's like, what is this circus going on right now? We absolutely learn something from each and every one.
I remember having a chat with my buddy two years ago, we were playing softball. I've never seen this guy sad. He was sitting under a tree, looking so sad. And I went over to him and I was like, Hey man, like what's going on? And he's like, my wife just divorced me yesterday and I have no idea what to do with my life.
My heart just broke for him. And we were talking and he said to me, He goes, this is the craziest feeling, and I don't even know if I should feel this way, but I know that me going through this right now, as horrible as this feels, I'm going to be able to have a little more empathy for somebody when they go through something like this.
It blew my mind that in that moment, he could already start to understand that this will bless other people. I think it's that, that no matter what we're going through, no matter how horrible it feels, you will get to sit with someone under a tree and be like, you know what?
I know how that feels. I really do. And that will bring them comfort. If nothing else I know that's true.
It adds richness to your prayers. I think it adds richness to your career. It adds richness to all your social interactions when you've been through things and have stories to tell and can just have a deep compassion and empathy for everybody else walking around on this planet.
Robin: It sounds like to me that you've removed some form of judgment of yourself and that also then impacts that for others. It looks like today, there may not be as much of that as there once was in your spiritual path, then it sounds like you kind of got that dirt done, it's down the drain.
Chris: Definitely, definitely a work in progress. I realized that shameful, judgmental thoughts about yourself basically just lead you into a circus that I don't want to be a part of. The more that just becomes very clear, the more you're like, yeah, this isn't serving me. Maybe it's time to rethink this or let this go a little bit.
Robin: You're remarkable my friend. I so treasure the short amounts of time we get to spend with one another, but man, what a incredible journey you've had so far.
I just love the opportunity to be able to visit with folks like yourself and hear your stories and all the inspiration. It's just incredibly inspiring, but we've got to got to move into that closure state. And if you all would love to visit with Chris, we would love for you to visit with him.
All you have to do is go to the ABF Career Alliance and do a search for Chris. His career connection is there, or you can email robin@albertbakerfund.org and I will be glad to get you connected. Chris is a Career Ally, been one for several years. He is representative of the type of people that are willing to share their ideas and their thoughts and help students and career changers and folks who just want to go, Hey, man, I love what you had to say. Can we talk a little bit about that?
Again, Chris, we so appreciate that you're willing to do that.
We also have job postings that we post on our career connections and jobs board. I just posted two new ones today, technology specialist and early childhood support teacher in LA.
And then we have some others that are, that are still posted like associate director of admission. So be sure that if you are seeking a job, we do have some jobs that are on there. We don't have a ton of them, but boy, we have a wonderful storehouse of career allies that are willing to help folks just like Chris.
Be sure that you're following us on Facebook, Twitter, Instagram, and LinkedIn.
My friend, you have been throwing your net on the right side. I want to follow you around for a little while. I think my net needs a little tuning after listening to you today. I got some holes and I need to fill them. Thank you. Thank you. Thank you for your time today.
I just love everything you're doing. I appreciate all of that good work and your time and effort that you gave us this afternoon.
Chris: It's my pleasure. I love what you guys are doing here. I love your community of spiritual seekers that listen to these things. I'm always available, open, happy to help and we can get under that tree together and chat, I'm happy to do that. Thank you for having me Robin.
Tags: actor, Business Leadership, career success, ceo, education, entrepreneurship, founder, new york, new york city, Non-Profit Administration, play