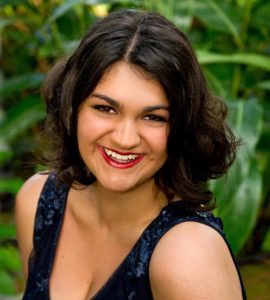 We are delighted to announce that Natasha Naik of Edmond, Oklahoma, has been selected as the first recipient of the Jean Burgdorff Memorial Endowed Music Scholarship. Congratulations, Natasha!
Natasha is currently earning a Master of Music in Voice and Opera at the University of Cincinnati. The breadth of her work in her Master's program, the depth of her vocal study at the Cincinnati Conservatory, and her goal to be a working opera singer perfectly fulfill the donor's requirements for this award.
Says Natasha, "I am honored to be selected for the Jean Burgdorff Memorial Endowed Scholarship. I have loved the process of bringing an opera together since I started performing in Gilbert & Sullivan musicals in high school and my dream is to do that professionally. This scholarship will assist with my school costs and allow me to take advantage of further training required for a career in opera.
"My performance degree allows me to be a better camp director and counselor for Cimarron Opera's Summer Opera Theatre Camp. This camp is a performance opportunity for kids age 8-18 of all skill levels. We have kids that are planning to make a career in performance and kids that are scared to speak or sing in public. I am always delighted to see how the camp benefits all of the kids. My performance degree also gives me more knowledge to use in our school outreach programs during the year. I am currently developing a virtual opera lesson plan for teachers, as the pandemic has prevented us from taking our educational touring show to schools around Oklahoma."
Jean Burgdorff was a dedicated humanitarian and Christian Scientist who lived by the Golden Rule. She was devoted to music and the arts and was a concert-level pianist in her own right. Jean especially loved supporting young people to realize their best selves and achieve true success. The scholarship in her name is being awarded to encourage students to learn and live these life principles and to always give back to mankind. This intention perfectly aligns with The Albert Baker Fund's core value of "Passing Your Blessings Forward." In that same spirit of giving back, we encourage each ABF recipient to find tangible ways to share what they've gained from their education and use their talents to serve others. We have no doubt Natasha will bless and inspire others with her musical talents.