2011 message to our friends from The Albert Baker Fund

Dear Friend,
Consider these qualities of current Albert Baker Fund students…
The humility of an Olympic hopeful athlete who runs to glorify God…
The entrepreneurial skills of an international journalist who is at the center of helping The Christian Science Monitor build a sustainable new business model…
The spiritual viewpoint of a college English teacher who finds that the same demands that make her grow as a teacher help her grow in her practice of Christian Science…
The courage of a father of five who returns to school to pursue a chemistry degree and develop a promising new fuel patent…
The wonder of an emergency room nurse who wants to learn more about true healing and becomes a Christian Science nurse…
Each of these individuals is an Albert Baker Fund student who is making a difference in their world — and in ours.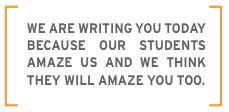 They may be working diligently to prepare a small group of students from other countries for success in college, or they may be confronting complex issues that are challenging an entire industry.
They may be a quiet example of integrity to their fellow athletes, or a shining inspiration to fellow students who are less than half their age.
They are making a difference wherever they are, because of who they are, and what they know.
And, of course, that essential difference is their practice of Christian Science. We are writing you today because our students amaze us and we think they will amaze you too — their dedication, their selflessness, their vision and their courage — and because we couldn't do what we do for them without your generous support.
We are writing to ask for your continued support of our students. Or if you have never contributed before we are asking you to consider making a gift for the first time.
Because of a generous bequest that helps fund our operations, we are able to ensure that 100% of every gift we receive from our friends goes directly to fund a student's need. It will not be used for any other purpose.
It was almost 50 years ago that a small group of Christian Scientists first pooled their resources to lend money to Christian Science college students in need. They established a fund and named it after Mary Baker Eddy's beloved older brother, Albert, who took a tender interest in his little sister's education.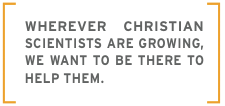 We like to think that, today, The Albert Baker Fund is nurturing the education of Christian Scientists in much the same way that Albert encouraged and supported his sister Mary.
Wherever Christian Scientists are growing — in their desire to bless the world and in their practice of Christian Science — we want to be there to help them, and we invite you to be a part of this exciting growth.
Right now that means we are helping Christian Scientists in the United States, Canada, France, Germany, Switzerland, the United Kingdom, and nine African countries: Cameroon, democratic Republic of the Congo, Ghana, Kenya, nigeria, Republic of the Congo, Rwanda, Uganda, and Zambia.
And along the way, we are being asked by our friends, advisors, and fellow Christian Scientists we've met during our travels, to consider reaching out to Christian Scientists in more parts of the globe: South America, Indonesia, The Phillipines, Singapore and India. you should know we are giving these opportunities a great deal of prayer and consideration.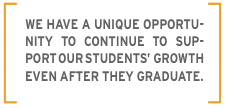 You can imagine that, in the course of our work with our applicants, we get to know hundreds of young Christian Scientists during a pivotal  time in their lives: as they graduate from high school, begin college, establish a career, relocate to a new area, possibly start a family and establish a church home.
We have come to realize that we have a unique opportunity to continue to support their growth even after they graduate or complete the programs we've helped fund.
So right now we are asking ourselves, how can we build on our relationship with our students to…
support their progress as they transition from college to career and independence?
encourage their spiritual growth and ongoing commitment to Christian Science?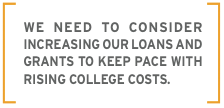 This next year is critical as we
reach out to help more students
help non-traditional students "retool" for a career change or  advancement
consider increasing our loans and grants to keep pace with rising college costs
evaluate opportunities to serve Christian Scientists in new parts of the globe
explore exciting ways to more actively mentor, support, and engage our students during the time that we have with them
The truth is, our students need and deserve your support now, as much as ever. They are uniquely positioned to help solve major problems — they are boldly challenging entrenched limitations, they are tenderly ministering to the needs of others.
Would you like to hear more? Take a moment to be inspired and amazed at Five Stories from The Albert Baker Fund: Passing the Blessings Forward.
On behalf of these students, and all the others we will help next year, thank you!
With deep gratitude,

Lucy Harper,
Chairman of the Board

Alan R. Bashor,
Chief Executive Officer
P.S. Your gift today will form the cornerstone of support for next year's students.
Since our endowment covers yearly operations costs, we can guarantee that every dollar we receive will go directly to help students. We are a tax-exempt 501(c)(3) charitable corporation, so all donations are tax-deductible.