Christian Science U.S. Military Chaplain Program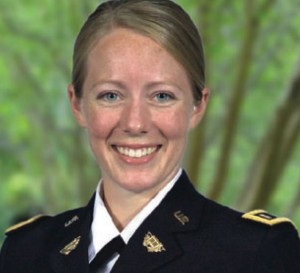 ABF Scholar Profile
Lauren Nofsinger
U.S. Military Chaplain to the U.S. Army
Fort Bragg, Georgia
"Having funding from The Albert Baker Fund during my seminary education meant I had more time to focus on metaphysical work and prayer. Seminary was challenging, but rewarding when I had the time to dig into Christian Science."
Lauren's Story: Growing up as the daughter of a U.S. Coast Guard Chaplain, Lauren saw first-hand the impact that Christian Science military Chaplains have on service members, their families and their communities. While attending mount Holyoke College, she realized her desire to serve her country while bringing the truth and comfort of Christian Science to the front lines. When The Mother Church reopened its chaplain training program in 2006, Lauren was one of the first to apply and be accepted. In March 2011 she was deployed with her battalion to Kuwait.
Read Before You Apply
Once you have been accepted by The Mother Church's military chaplain program, you will then be eligible for funding from ABF.
What is a Christian Science Military Chaplain?
The First Church of Christ, Scientist, trains chaplains for the U.S. Military. A Christian Science Chaplain is a commissioned military officer serving as a Protestant Chaplain in the Armed Forces. The training program comprises three major components: formal seminary education, regular training under the auspices of The Mother Church, and practical field experience.
Proud to Serve the Cause
The Albert Baker Fund is proud to partner with The Mother Church to provide scholarships for TMC chaplains' seminary training (master's degree) at Boston University School of Theology.