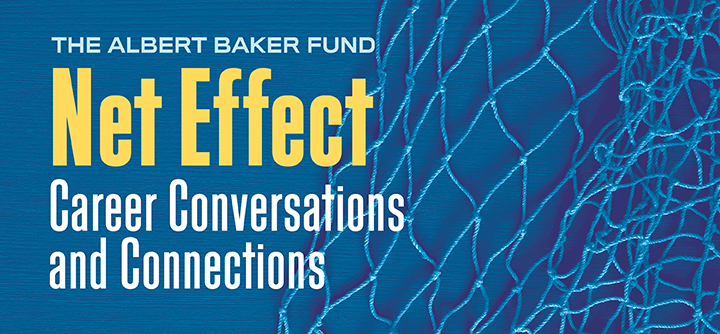 Several times a year The Albert Baker Fund is bringing you conversations with valued members of our community. In each session, guests share impactful events from their own education and careers, and how they are in turn making a positive impact in the world. Through Net Effect conversations our guests offer insights that you can apply to your career right now. Scroll down to learn about our May 20 guest, Jill Hamilton, President and Founder of Sustainable Energy Strategies, Inc. and a leader in the clean tech industry.
Conversations are broadcast live on scheduled Fridays at 3 p.m. PT, through Zoom, and available for replay in our Net Effect archive after that.
If you have not registered and would like to receive the edited recording register now! Once you register, you're registered for all future episodes and replays.
We are excited to bring these conversations straight to you, to keep you inspired and driven. Since launching the Net Effect in April 2020, we've sat down with artists, activists, educators, philanthropists, entrepreneurs, executives, coaches, authors, and more.
We also offer direct access to our guests through the ABF Career Alliance, giving you the ability to connect one-to-one with career mentors who can help you with the next step in your career.

Join us live for Net Effect Episode 50 on Friday, May 20 at 3 pm PT.
Topic:  What does sustainable energy look like in the  future?
About our Guest
Our featured guest is Jill Hamilton, President and Founder of Sustainable Energy Strategies (SESI), Inc. located in Fairfax, VA. For more than 20 years, Ms. Hamilton has provided the clean tech industry with leadership on funding and public awareness. As President of SESI, she leverages alternative fuels industry funds with public and private resources for her clients, as well as manages their federal grant programs.  She provides business plans, project management and technical support for biofuel infrastructure development, including market research, fleet analysis, equipment assessment, and fleet and retailer liaison efforts. 
Ms. Hamilton also coordinates public outreach activities to promote awareness of biofuel transportation technologies; authors alternative fuel articles, presentations and speeches; manages media and and prepares alternative fuel marketing strategies. She is a staunch supporter of climate justice.
Ms. Hamilton attended the University of Missouri and graduated with honors from Principia College in Elsah, Illinois with a BS in Environmental Sciences and a minor in Education.