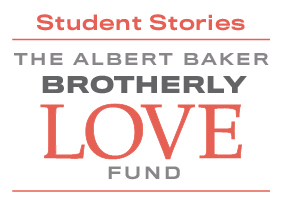 Look what we have accomplished together!
Gifts to the Albert Baker Brotherly Love Fund helped us double scholarships for nearly 60 students attending college in the US and Canada. These students received an average award of $7,600, which included a $3,100 Albert Baker Brother Love scholarship.
We know that each of these students would like to express their gratitude for this loving support. Since this isn't possible, we thought you might enjoy meeting a few of them to hear how their college experiences have changed, how they are navigating these changes, and how their scholarship made a difference. Please join us on Monday, November 16, 2020 from 3 pm-4 pm (Pacific Time) via Zoom to meet them. if you don't use Zoom, you can participate by phone.