Watch the interview here:
"I feel like this is what the world needs. How am I supposed to put this into some sort of use?"
About Our Guest in this episode:
Michael has spent the last decade serving with Navy and Marine Corps units across the country and deployed overseas. After graduating from Principia College in 2003, he returned to his childhood home near Seattle and worked with a law firm to develop programs for ethics and integrity in public policy. His love of aviation led him next to work at a regional seaplane airline, where he served as flight operations director and station manager at the company's Seattle seaplane terminal.
In 2009, Michael joined The Mother Church's Chaplain Training Program and began his graduate studies at the Boston University School of Theology, graduating in 2012 with a Masters of Divinity and a specialization in mediation and conflict resolution. Michael then entered active duty service as a staff Chaplain at Naval Station Norfolk, VA. In 2016, his next assignment took him to the high desert of Twentynine Palms, CA, where he served with US Marine Corps units, including 1st Tank Battalion and 2nd Battalion, 7th Marines, with which he deployed to support Operations Inherent Resolve and Enduring Freedom in Iraq, Syria, Kuwait, Jordan, and Afghanistan.
In the fall of 2018, he transitioned to serve as Command Chaplain onboard the guided missile cruiser, USS LAKE CHAMPLAIN in San Diego, CA. Michael Currently serves with Submarine Readiness Squadron 36 at Kings Bay, GA.
Part of our Net Effect Conversations series:
https://www.albertbakerfund.org/category/net-effect/
Subscribe to our YouTube channel here
---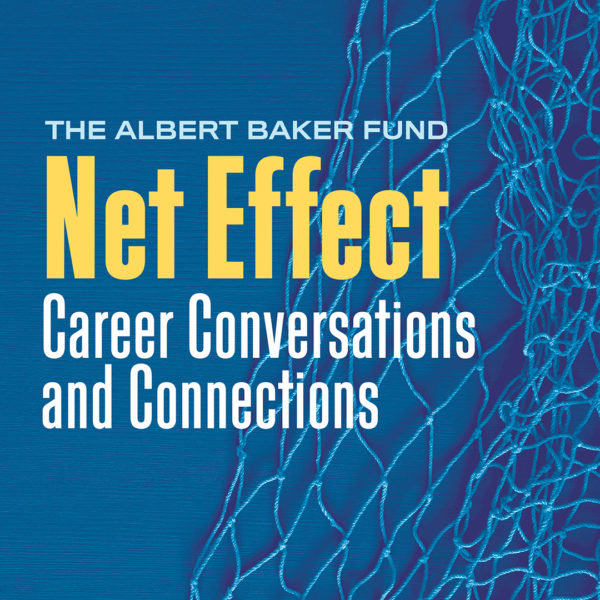 The replay of our September career conversation with Dan LaBar, innovative educator and community-builder, is now available in video, podcast, and transcript. Click "Watch Net Effect Replays" below!
Podcast: Play in new window | Download
---
Transcript of Episode:
Robin Jones: This is the Net Effect, Career Conversations and Connections, episode 48. I can't believe how quickly it's gone. We have as our special guest today, Chaplain Michael Brown, Lieutenant Commander, United States Navy. 
I am your host, Robin Jones, director of the Albert Baker Fund's Career Alliance. What an awesome opportunity, Veteran's Day was yesterday.
What a nice tribute to have Chaplain Brown with us. He's here to tell us how he has been casting his net on the right side as Jesus challenged his followers to do in practice. I'm really excited. 
Welcome, Michael. Thank you for being here. 
Michael Brown: Hey, thrilled to be here. Thanks so much, Robin. 
Robin Jones: Before we get started, I'd love to pay tribute to the Albert Baker Fund.
The Albert Baker Fund is what makes this possible, and we have an incredible team at the Albert Baker Fund, doing wonderful things every day. To realize the unlimited possibilities that emerge when Christian Scientists journey together through inspired education and career development.
We're easy to find.
Just go to AlbertBakerFund.org and up will pop this wonderful website and great resources are at your fingertips. So if you have any questions, go to the website, click on those tabs, find your way around, navigate, see all the wonderful programs that we offer and then reach out if we can help. 
Let's get started.
Let's dive right in, Mr. Brown. After you graduated from college, you decided to return to your childhood home near Seattle. And worked with a law firm, developed programs for ethics and integrity and public policy. Right. Am I right? 
Michael Brown: That's it. 
Robin Jones: And you also had a love of aviation that led to you serving as a flight operations director and station manager at the company, Seattle Sea Plane Terminal.
That sounds like a lot of fun. 
Michael Brown: It was. 
Robin Jones: And then you decided in 2009 to join the Mother Church's chaplain training program. 
What led you to move in a direction that seems pretty different from where you were headed? Tell us a little bit about why you decided to do that and about the chaplain program. 
Michael Brown: Yeah, absolutely. It's a real privilege and pleasure to share a little bit about that journey.
I left college and went back to Seattle and worked in a couple of different things that seemed very unrelated.
One of the lessons that I've learned is that often at the time, things seem unrelated. And then you begin to see these connections drawn between the kind of work that we were doing. And for me I was doing this public policy work and it was a very unique opportunity. 
I loved it, I learned a lot, but it wasn't ever going to go anywhere. It was kind of project based. I learned a tremendous amount. 
It did give me the opportunity to indulge a little bit of a childhood dream to start flying airplanes. And that got me into some other circles of folks. 
Before I knew it, I did make a transition and it seemed completely different to go from sort of teaching work over to customer service and station management at an airline doing flight operations.
But we were a tiny airline there in the Seattle area, small family run business, and been doing this for a very long time. It was a neat group to be part of. 
It was an opportunity for me to go from a small office job, to learning how to work with other people.
The first time I really started leading any others in a professional sort of way, and got to have a lot of fun doing it. Cause it was just a neat place to be, a neat experience. 
The real change came after I took Christian Science class instruction, and that was really the catalyst that began to transform what was sort of a meandering post-college early career into something that was focused with purpose. 
For me, it was an interesting experience in that I was there at the end of my two weeks of class instruction. And I remember sitting in my little room doing some of the homework that we'd been given.
I had this overwhelming sense that I had learned something new and important, something very significant. I'd grown up in Christian Science Sunday school. It was something that was important to me. But I was shocked at how different it all seemed at that moment. And I remember just kind of in prayer, going out and saying, I feel like this is what the world needs. How am I supposed to put this into some sort of use? 
I had been really well supported by this airline. Being able to go in the middle of the highest kind of busy season tourist season to go and take class instruction. And I, I knew they were expecting me back there to continue that work. But when I kind of went out in prayer and I said, how is this supposed to really take shape in my life?
And the question kind of was what does the practice look like? What does it mean to practice Christian Science? And it was one of those moments in life where the answer came like a voice.
I remember it was this crystal clear moment saying you need to go be a Navy chaplain. 
Well, I, and I had exactly the same response you just did, Robin, which I kind of laughed. And I thought, Hey, I thought about this once before and the Mother Church doesn't have a chaplain training program. So that's funny. And then I also kind of giggled at the Navy thing because I grew up in an Air Force family. Why on earth would I do the Navy?
But that thought just kind of kept persisting. I made it back home and, and kinda got back to work, but I continued to sort of cherish that. 
At some point, I don't remember exactly when, I must've been obedient enough that I started investigating and lo and behold, I found out the Mother Church absolutely was sponsoring new chaplains and training them up.
Before I knew it, I was talking to that program and beginning the journey. Kind of get myself set up in Boston, to begin that chaplain training program and it moved quickly from there. 
It's a very active program and it's something that is loved and supported at the Mother Church. So we're very grateful to have that. And folks may be interested in kind of what the nuts and bolts are, how somebody becomes a chaplain, cause there's a couple of things involved.
For me, I was out there in Seattle and I went kind of the typical path and that I contacted the Mother Church. If anybody is interested in more information on that, at christianscience.com there is a specific webpage that they provide some information for the chaplain program and in there there's a link and that link will get you to the right person who can give you that information. 
That's sort of the route that I took, I connected with the Mother Church. And one thing that I learned was there's three elements that are required to become a chaplain. There's a professional level, a master's degree. So for most chaplains, they're going to have, what's called a master's of divinity degree.
It's a three years master's program. And most of us in the Mother Church program have gone through a Boston University's seminary, the School of Theology at Boston University. There's a long standing partnership with the Mother Church there and a really solid program and a lot of cooperation. So initially I had to kind of be invited by the Mother Church to participate as a trainee.
And then I applied to Boston University. So you need that degree and then, you need an endorsement from a religious organization in our case, the Mother Church. And then you need the military side of things. So a commission from a branch of service. And for me, somewhere along the line, when I was looking at all my options it's interesting.
I, I ended up right back where they had prayerful answer, told me I would be, and that was at the Navy. And there were a number of reasons for that, and partly who was already in the Army and, and sort of what the Air Force was looking for at the time that the Navy seemed to appeal more. And lo and behold, I realized after I'd commissioned that, that's what that original answer was.
I should've just listened in the first place. It would have been easier. But everybody going through, whether they're a Christian Scientist or not, they need those three elements, education, the endorsement from a church or a religious organization, and then the military commission. 
Robin Jones: I love this scripture that you pulled up. There must be lots of challenges that you face on a day to day. You just recently moved from one base in California to another base across the country in Florida. And you have to deploy different times. 
I was just curious about the impact that, that might have on your family and how do you adjust to all those changes? Because all of us are having to adjust to changes today in so many different ways. So how do you approach it?
Michael Brown: That's been one of the big elements of my experiences, is learning. So personally on the kind of the inner piece of this is learning how to deal with that. And it's been the biggest challenge for me. The sort of nomadic lifestyle that you live in the military and everybody's service is different, of course.
There's a lot of variety in what can happen. But for me, it's, it has meant a little bit of back and forth across the country. And we're actually in Georgia now, right on the border with Florida, I'm at a submarine base in Georgia and I'm close to Jacksonville. 
We were living in San Diego. I finished my tour on board a ship in San Diego. And I asked the folks in the Navy that make the assignments. I said, gosh, we're here. My kids are settled in school. It would be really nice just to stay local. Some may realize that there's a lot of Navy and Marine Corps opportunities in the San Diego area.
And I said, I'd like one of two things, either to stay put for once, enjoy that. Or maybe even to get closer to Seattle and return back to that sense of home. And I was told, actually, how about Georgia, which is neither of those things and kind of dramatically the opposite direction.
And it's just part of what we faced. And that's not just for the service member. It's actually easy for me. It's a bigger challenge for the family and our kids are pretty small. They roll with it, but military spouses have to kind of uproot everything and relocate and start fresh and, and they don't arrive in that place with a built-in job like the service member does.
So it's something we've thought a lot about sometimes not with the most elevated thoughts. I'm sure it's kind of been frustrating at times. But I know one of the passages that we discussed that has meant a lot to me is Mrs. Eddy's statement about home from the chapter in marriage, she says home is the dearest spot on earth, and it should be the center, but not the boundary of the affections.
And that was something that I began to work with very early on, especially leaving a place like Seattle, where my folks are and other families. And finding that, oh gosh, now I need to move across the country for school and training. And then, I ended up in Norfolk, Virginia, then southern California, a couple of times.
And to me, that concepts of saying, am I really changing home? Or am I broadening that boundary that says, my sense of home is expanding to include more and more. And that's been really important for me and my family. And I'm grateful for that experience because it stretched me out of that kind of homebody feeling.
I want to just stay, put where I'm settled and of course everything is comfortable and stretch that a little bit and say, well, can we extend that boundary and our affections, those centered in one place maybe can grow. And of course that's not really a geological geographical kind of concept.
It's a spiritual concept of home expanding. 
Robin Jones: Thinking about home and your deployments and family, I'm sure that your Marine family or wherever you may be you're looking at them as family as well.
Talk to us a little bit about this really cool place that you're in. And, and some of the things that you were doing, and some of the challenges you were faced with.
Michael Brown: I love this photograph because this is Thanksgiving day, 2017. And we're in a location out in the middle of Al Anbar province in Iraq.
And there was nothing there. What you see are things that my unit put up as a temporary location to provide some support to the Iraqi forces that were nearby. 
It is a location just off of the Euphrates River. I went out there to spend some time. This was a kind of a limited duration mission in this part of Iraq. And I went to spend some time with my unit because it was Thanksgiving. 
And I thought, well, if ever, there's one of those moments where you feel far from home it's during the holidays and something I'm conscious of in the season right now.
And so I went out there and, and this experience was so great because. Everything around you kind of says, I am not at home. There's nothing familiar about this. It was an incredibly dusty place. The pictures don't give it credit. So it would just swirl up around you in this sort of moon dust, it would get into everything. It just reminds you, this is not like being at home with mom and dad.
 And it can feel like there's a distance. What, what was so neat? We sat here on this hillside kind of overlooking our camp and and shared some thoughts. At the end of the reflection that I gave, I think I talked about the feeding of the 5,000, the sense that, Hey, we may be lacking the things that we're used to, but what elements are here that we can see kind of grow and multiply and and bring us a sense of nourishment in this and as far away place. 
And one of the things that I constantly thought about both. What are, we were stationed at home in 29 Palms, California. The idea that a lot of great things in the Bible happened in the desert.
It can seem like a place of great absence and yet most significant events occur in a desert setting. So I used to tell people, God things happen in the desert. 
So we had the service and I would and I opened it up to them afterwards. It wasn't really a plan, but we talked about gratitude and I just said, Hey, why don't we all go around and share something that we're grateful for this Thanksgiving?
And they did. And, and it was cool because you can see in a picture through there, right? These guys are dirty and grimy, and we're all sitting there with, with their weapons. We're all sitting on MRE boxes, the meals, ready to eat. They wouldn't like me saying this. Everybody was crying because it was this incredibly tender moment where we felt like we were at home.
And we could feel that we were not in any way, separated from all that is good and perfect. We're not separated from a place of warmth and safety because we're out here and it was quite cold, a cold war zone. No, in fact, we were at home and we had that sense of family and that's something that I have found over and over again.
And these kind of extreme experiences, the sense of family that's present there. It was a powerful time and and I loved it and it's something I've constantly come back to is, that as Psalm 139 reminds us, where can I flee from your presence? 
Well, it doesn't matter where in the world you go, and what the setting is, we're never outside of God's care. We're never away from him. And it was very present and palpable here in this Thanksgiving day, it was a wonderful. 
Robin Jones: I'm assuming that there are people in that group that are from different faiths, and so what's it like to sit down with a group of people and conduct a service and then have something so moving like that from having, different people share? What did you find in common? What was that common thread? You talked about gratitude. What did that look like as it related to all these different people?
Sometimes people have a hard time, one, sharing their faith, two, just having a decent conversation with other people. 
Michael Brown: Frankly, I think we have an advantage as Christian Scientists because as we're trained in the practice, it's not about that person doing it. Be under no illusion.
It's not the effectiveness in this setting is not because I was there. I think the neat thing is to watch how God's presence in that moment is doing the work and bringing people together. And yes, this is a diverse group, not one of them, unless somebody was really keeping a secret from me, not one of them had ever been to Christian Science Sunday school.
I did bump into Christian Scientists out in Iraq. It was kind of interesting, but they're all coming from different places. Many of them probably don't attend church. Didn't grow up doing that. And what's cool is you begin to realize that not to dismiss the necessity for church, but that's not a prerequisite to feeling God's presence.
These guys were open and receptive to it and held a couple of services during the day because of course, some people are on watch and standing post places, and both of them were very similar, both services and they're feeling that sense of home, because my job is to recognize you're not separated from God.
You're not separated from that consciousness of good. We have a wonderful hymn in our hymnal. Home is the consciousness of good. I love that. And I used to think of that all the time. So that concept that we're being sent forth to meet our brother's need and find our home in every place it says, and that they can feel that too.
Robin Jones: I love how you pulled this in, man. Talk about this a little bit. 
Michael Brown: Sure. My second tour was in 29 Palms, California with Marines. I was with a couple of different units. The group that I deployed with was an infantry battalion out of Seventh Marine Regiment.
As I was mentally preparing for that work and anticipating a little bit, I knew what the mission was, and what the scheduled deployments of that unit we're there to affect. As I prepared to undertake that mission and join my unit, this was something that I found in Science and Health as a statement of kind of what I understood to be happening.
Basically what's the foundation for my work. 
I love this. 
The still small voice of scientific thought reaches over continent and ocean to the globe's remotest bound. That's what I knew was happening. As we left, place A and went over to place B and we were prepared to go other places to, at the time there was the possibility of going to Asia to take a different mission there. 
And it didn't matter where we were going, over continent and ocean.
 That still small voice of scientific thought is already there and be an audible voice of truth is to the human mind when a lion roars, this is my favorite part.
It's heard in the desert and in dark places of fear. So I expect that I'm going off into the desert and certainly into dark places of fear. And I was in, I was in Iraq and Syria and Afghanistan on that deployment. And fundamentally in each of those places in different ways, fear was being manifested.
The sense of darkness was there. And what I love about that is it's a reminder that, certainly I'm not, I'm not bringing something, our unit isn't bringing something new there that scientific thought is already present in those locations. God's already there. Christian Science has God's law is already operating.
In Helmand province in Afghanistan or Alambar province in Iraq or in Northern Syria where we were already there. And of course friends were there too. You talk about family. You asked me to send me some pictures. The connections, this is a great, not only is this a great friend of mine, but he I can't tell you how many late nights we spent on deployment.
When you're just out there and, and the world is sort of quiet for. Talking about deep spiritual concepts. And, and we still do that to this day. And he's a good friend and here we are preparing to go on. I don't remember where we were going. I think actually we were flying up into Syria at this point.
And we're just waiting. You do a lot of waiting in the military no matter where you are.
Robin Jones: So when you're waiting and you're contemplating some of these places that you're going how do you deal with fear? How you deal with a fear of the unknown, how do you deal? How do you find your, how do you find your way through the challenges that the present situation tries to impose upon you and, and move you in its way?
Absolutely. Yeah. What a great question. And, and this, the military is an extremely diverse setting in which to do work no matter what your job is. And certainly as chaplains, it's true as well. So it can look a lot of different ways. And for me, especially on that deployment in other ways on ships I was constantly faced with opportunities to address exactly what you're asking about.
And there was one experience in particular that stands out to me. It was really a transformative moment. I was actually in Afghanistan and we were at a really remote location. And for security reasons, we, we didn't have any lights on at night. So we had some night vision equipment that we could use, but I was supposed to travel from one location to another.
And by helicopter, some army helicopters were going to pick us up and I was kind of hitching a ride. And I mentioned, I used to fly airplanes. I like aviation stuff. I always thought that was kind of fun to be able to hop on different aircraft. But on this night, it was late sometime after.
We're sitting there in the dark and, and I was not excited about going just something about it felt like it needed to be addressed and that sense of fear was very present. And it was interesting because in that moment, I, I had material with me. I carried, I brought them for show and tell, and I have my little tiny Bible and Science and Health that I would carry around with me.
Well, I couldn't really pull out a flashlight and, and read. And so I sat back with my backup against one of these concrete barriers. And I remember looking up at the stars and then that moment, of course, no lights, the stars were really brilliant out there in very rural Afghanistan. And in that moment, it just struck me.
I know this view, this is a familiar view. I've seen these stars before. It was clear to me, this is the same view that lane back home was looking at. We could see the same thing. I, my sense of perspective completely shifted. And and with that, I came the thought this isn't the only thing that, go to what, go to know what you go to, what to be true.
And the 91st Psalm came to mind and where it says you shall give his angels charge over thee to keep the, in all your ways. And this idea that they will bear you up in their hands. So as I was expecting to get onto this helicopter and just waiting for the sound of them coming in, we couldn't see them and waiting and waiting.
This, you asked me what were a couple of passages that meant a lot to me, and this is why this one it just sort of washed over me and I realized, yeah, God's angels are right here with me. And once again, that realization I'm not, there was never a place where I felt further from home than I did in Afghanistan, by all accounts in human measurements, it was far, far away and very separate, couldn't communicate easily, very cut off from what I knew and this just cut right through all of that.
And I knew in that moment I know exactly where I am and I know what I'm doing. And I know that God is with me in doing this work and all of that fear just washed away and it was done. And it was a really powerful moment. And then I can think of times being out at sea, on board ships and it was a different.
That didn't seem to be the kind of threats that we were facing, but it was still far away from home and missing my family. And I'd go up on, on deck at night and look at the stars and be reminded of that. And just think what a privilege to know that we're right here, that God's angels God's thoughts coming to us are always accessible, that we can not be removed from that.
And again, that sense of it doesn't matter whether we're taking the wings of the morning and dwelling and the outermost parts of the sea it doesn't matter arrows by day, the threats that come at night, none of that can separate us from God. Right. And Paul says as much enrollments as well. So that's something that I've had to dress, but I feel better.
Yeah. I mean, I, so I think about the Psalms and sometimes. I hear people say, well, I'm not sure the Bible is relevant. That's some old dude talk in. And how do you, how do you find it? How do you find these scriptures, these morsels of, of scripture, the receptivity to, to the crowd that you're in?
Because I can't think of a more diverse group of guys coming together from all over the country and all different walks of life coming together, forming a unit. 
Oh, absolutely. 
So how does it, I mean, how do they take that when you're ministering to them? 
Sure. Well, part of it is learning how to use the language, that kind of bridges that gap a little bit.
And one thing that I found to be very helpful, this is not didn't come from me, but thankfully the timing was right. We like to use now words like spiritual fitness. And that to me is like, Simple, but profound concept. Especially with, with the Marines when I was with them. Anything to do with fitness is their language they want to, now they're excited.
They want to talk about it. But that recognition that, even from a very human standpoint the military saying, we see clearly that you're not just a body to do something. You're not just a mind to be trained, but that there's a spiritual component to everybody. And and we need to uplift that further.
Do you understand my job is to see people not as a mind and a body and with a spiritual component, but as holy spiritual, but to be able to use that language that says we have a place at the table to discuss the spiritual concepts and spiritual qualities. And if you can relate that to the concepts of of being a strong, effective, and tough warrior, Well now, that's something that we're happy to discuss.
And and so it's, it's our privilege to kind of work into that. These ideas of a greater spiritual depth. And one thing that I've found is, you may think, oh, I'm, I'm willing to be spiritual, but not really religious in any way in those settings when you're out there in the desert and, and the pressures of combat or the, the realities of a very uncomfortable life are kind of weighing down on you.
That's when having some familiarity with something more concrete than just a vague sense of spirituality, but center. Familiar scripture for one or solid concepts of our spiritual identity come into play and can make a real big difference in people's lives. And that's fundamentally what chaplains are there to do is to help walk alongside somebody and bring that perspective to them, whether you're a Christian Scientist as a chaplain or from all the different faces that chaplains represent out there.
I wanted to get to this particular picture. Sure. And have us, have you share with us? I mean, that looks like a pretty swanky ceremony. I see a pipe organ in the background there. 
Michael Brown: It's at a chapel. Yeah. 
Robin Jones: Oh, okay. Good. 
Michael Brown: This is actually recent and this is a Navy photo that they put up on, on the official Navy kind of images site or Department of Defense images.
I mean, this is just a change of command ceremony. It's a somewhat ceremonial function for a chaplain, but another opportunity to shift thought just a little bit. Something that Christian Science chaplains are trained on through the Mother Church is to see something like this as an opportunity, not just to be in a ceremonial role and stand up in front of folks and say, let's pray.
But to also gently uplift that thought and say, well, what's really fundamentally going on here. When we think about something like command of a unit. And in this case, a summary of what's really happening when we think about retirement, what is somebody's career represent in the sense of accomplishment represented?
Certainly when we start thinking about memorial services, or other more solemn events like that, the opportunity to do a prayer public. It is not know the purpose isn't to toot some horn or express some religious perspective in any competitive way, but it is certainly an opportunity to move thought, to see a higher concept of what our mission is.
And I've found that people respond to that really well, too. They love it. Often like seeing that there's some greater basis for their command than just, a military ceremony. 
Robin Jones: Well, do you find that, folks in the military are open to like a church service. A lot of folks today that are really struggling with going to church, walking in the building through the doors. 
Michael Brown: And that's not unique. It's certainly not different in the military setting and most things in the military. Cause you're just dealing with volunteers from, from society. And so a lot of the trends continue. So if you're looking at statistics, absolutely. It's not. I think if you look at pictures of chaplains holding services back in world war one, world war II, culturally, we just handled that differently.
It is different now, but every place I've been if ever I do hold a service and we often do as chaplains were of course, serving everybody in that unit and everybody is welcome to any service. I'm doing it as a Christian Scientist, but people from all walks of life are there as you saw in that Iraq photo everywhere I've gone, people come, it's not always huge groups.
And I find that most of the real work is not necessarily done in a, in a service setting. It's really being done in those one-on-one interactions with people. And that's fundamentally what chaplains are there to do is to work with that individual. Who's going through something in life. 
Robin Jones: I thought it was interesting, we were talking last week about how chaplains are organized within the Christian Science church. 
Michael Brown: That's right. Yeah. 
Robin Jones: And I, I can't remember, we talked about that early on. I wanted to bring that up again because I thought that's kind of, that was new. I don't think I knew quite how it, the organization, the church, the Christian Science church you know how that all works.
Talk a little bit about, the structure of where chaplains fall under the guise of the Christian Science church?
Michael Brown: As I was describing , the basics of how I realized some people may be interested in this and by the way, if anybody is interested in serving as a Christian Science chaplain That's something that we're always looking for, people who are willing and able to do that work.
Did you have to be a us citizen? I should always include that. In order to serve in this role in the U S military citizenship is a requirement. But as people go through, we do our church is one of the few that has a very structured training program. And even that training program is housed within the Committee on Publication at the Mother Church.
And people may not know exactly what the Committee on Publication is. But it serves such a critical role. It's something that Mary Baker Eddy established and it's a Manual based activity of the Mother Church. It serves a really wonderful role to basically if you will kind of clear out any misconceptions that people may have about Christian Science fundamentally.
In news reports or media and something that is being shared. The, the way that it's stated in the manual is to correct impositions on public thought regarding Christian Science and Mary Baker Eddy, and members of the church. 
So really to be responsive to something that's incorrect out there, so that Christian Science is represented correctly.
Well, that's the mission of that, that office within the Mother Church and, and those committee representatives exist in all states and, and work a lot with legislatures and governments and, and they are not just limited to the United States either they're around the world. And there are a lot of wonderful fruitful activity being done.
So people may say, well, why is the why is the chaplaincy included in that And it's a great question. And I think it's really neat. It gives us a great clear sense of purpose. The chaplaincy exists within that mission set to correct and positions on public thought because we're able to be out there as somewhat formal representatives of Christian Science and the Mother Church.
And we're not usually responding to miss understanding or misperceptions or misstatements of Christian Science though, that does happen. And when it does in the military context, we're kind of right there ready to do that, but it's often almost a preemptive work, we're there building relationships, especially with other chaplains other professional ministers that are out there from lots of different faith backgrounds and church communities.
And we have the opportunity to essentially just be a Christian out there now. And it says. Did I miss a stated this? Cause I left it out. It's correcting your positions in a Christian manner. And and that's something, of course we're just doing. Hopefully being professionals out there and it does happen very often that, these ministers will say, well, I don't know much about Christian Science, but I know that person.
And they were, they were a solid Christian. So I'm going to have, a different sense of what Christian Science might be based on that. And that's true for service members as well at large, they're just not often thinking in those terms, but but that's why we're there, we want to foster that right.
Understanding of Christian Science as a part of the Mother Church's mission and we're wonderfully supported in that way. 
I, I, I've got a couple of questions and be sure everyone, if you have a question we'd love, love to, to be able to entertain that question. So put it in the Q and a Kay Patterson is she has a question real quick and it says I have a young.
And by the way. Hi, Kay, glad you're here. I have a young family member in the military. How do we learn the chaplain on the Navy base at Everett Washington? 
Excellent. Okay. Well there's a couple of ways to do it. I will mention that those of us that are currently serving as chaplains are all listed in the journal, both in the print edition and online.
So any Christian Scientists or anybody, of course that wants to get in contact with us can find our contact information through the journal listing. It's right at the end of the section of practitioners and teachers. So one option is to contact me and I can find that through the Navy system, I can figure out who is a good contact there.
The other it's amazing what you can find off of Google just by looking at. Naval station Everett and almost always Navy websites. Aren't always easy to navigate, but sometimes there's a down that will say, the chaplain's office and it'll have a phone number or an email or something. But I'm, I'm happy to assist with any of that.
And my colleagues out there there's six of us on active duty and, and three in the reserves across the branches. We're all happy to assist and and make those connections too, if you need anything. And that email on the there's a link again on the Christian Science.com page to do with military chaplains.
And that's also a resource to get some questions answered. If you have any, or it touch with one. 
Thank you. Thanks for that question. Okay. Thanks Donna. Our S our dear sweet Donna who works for the Albert Baker fund. She's our marketing and communications Dan, or should we so appreciate all the work she does.
She has a great question. All right. So what is a typical day like for you? What does chaplain brown do from day to day? Okay, 
well, it varies tremendously depending on which assignment I've been part of. Right. So but essentially most places, even if I'm on the ship, I usually have some sort of office. So even when I was deployed with the Marines, unless I was out in the field, in which case my office was like a sleeping bag or something it usually I have some central location where I actually am.
So very often, like any other job I'm going to go and kind of start my day and get settled there and figure out what is it that we need to be doing today. At different places, I've had assistants working with me, or I've even worked with other chaplains where I am right now. There's another chaplain that I work with and she, and I coordinate kind of our activities.
Very often we are teaching classes for newly arriving folks or or something specific to do with spiritual fitness or resiliency toughness, and where I am located now, I'm often going down to the submarines and walking around. I'm one of those that is important, visit people and, and do what we call in the Navy deck, plating deck plate ministry, just to walk around and be there.
And a Marine Colonel who used to always brag about the value of leadership by walking around and very often that's it. So we just want to be out there. The key is the more that you are around folks and getting to know them and chatting. And sometimes they're just, silly conversations. If you're building that sense of relationship and trust, then when the need comes and that individual finds that they're challenged by something it's much easier to go reach out.
And so I spend typically part of my day, at least responding to individuals who want to have. Counseling conversation just to sit down and discuss what's going on in their life. And so I do a lot of that throughout the day as well. So where I am right now, the pace is a little bit slower than it's been in other more operational settings.
And I'm okay with that for now. It's good to have a little bit of change. There's a season to things, but other places I've been when I was on the ship we were a guided missile cruiser, so not a huge ship, but 350 or so sailors. And I was the only chaplain there. But it kind of simplified life.
And I would try to do kind of a loop around every day, see every every department and component. And, and I think Donna, this may not be what you're asking, but I take it as the opportunity to share one other concept that came to mind. I used to sometimes feel like, I didn't know. W everybody on, on the ship or with a Marine Corps unit has a very clearly stated purpose.
And and sometimes I'd be in a meeting and I think, what am I here for? I don't, I'm not, I'm not scheduling a bunch of events. I'm not representing a bunch of statistics about readiness and so forth. I tend to say things like Hey, it looks good. I think we're doing okay. Or this, this part of the units hurting a little bit.
And I, I think I got self-conscious of that sometimes. And when I was on the ship, one thing that really occurred to me was a chaplain is there not just to be present and counsel and so forth, but to represent a higher concept. In other words, to almost serve as an ambassador for God to that meeting or whatever it is.
And that was a really freeing concept to, to realize that, we could be there to represent something. Not only a concrete, but extremely important and valuable in that moment. So I used to, when I was on the ship, I would go down to like the engine control spaces. And I just hang out while they were doing an evolution.
And it got to be that the, especially the senior folks there would ask me to come and be present when they were trying to do something. And they're working with old equipment. Sometimes it can be finicky and they began to realize that it was different there, when the chaplain was present, something was different and that's not because, Michael was fun to talk to or a good distraction, I hope.
But it was more fundamentally that, they recognized that there was a little shift in thought to understanding that God's governing this complicated piece of. Just as much as, somebody that's coming to me for prayer because of an issue with their family. And that was that's when things began to really shift in my career where I realized it's, there's a deeper purpose to our presence there in these places.
And if that's, if that's worked into every day, then I think we're doing okay. 
Robin Jones: That's certainly something that we can all take with us. That's not indicative just to your media. That's an a, that's something that each one of us can do. And the meetings that we participate in, whether it's a church meeting or whether it's a meeting that, in your office or in a family meeting, so to speak.
Michael Brown: Absolutely. And I couldn't emphasize enough that chaplains are not unique in this. This is a this is what the practice of Christian Science. When it's out there in the world, whatever our task may be I've always found Mrs. Eddie talks about businessmen and cultured scholars, right. That sense of expanding thought that clarity of thought this is applicable in all realms.
It's neat as a chaplain sometimes because you can make it your sort of stated mission purpose, but it's certainly true. And I've seen service members have talked in times with Christian sinus and, and they're doing this as, as aviators and pilots and ship drivers and all sorts of things, mechanics, they're bringing that same spirit of thought to bear.
I just, I get to wear a cross on my color that makes it kind of publicly stated that that's why I'm there. But Christian Scientists are able to do this no matter. It's certainly not something unique to chaplains. 
Robin Jones: Well, there's another question. On the Q and a is CS chaplains described as CS practitioners in uniform.
That that's, what they've heard is, is that how you feel? I mean, we're kind of talking about that. 
Michael Brown: Yeah. I think that gets right to that point that and there was a time where we sort of used that as a tagline and, and I think the realization was that's wonderful, but we're not the only practitioners in uniform.
Any student of Christian Scientists that serving in the military is a practitioner in uniform. And and we have a specific job as, as chaplains as a staff officer in our different kinds of commands. And so we're there to represent that very sometimes very openly. But the practice is not certainly not limited to the role of the chaplain.
And and I think that's important to understand where, it's w we have this neat opportunity because of the, the military structure of chaplaincy it's been around since the very beginning of our branches of service. We're, we're just about to celebrate our 246th birthday as a Navy chaplain Corps.
So it's, this is not a new concept. What's so neat is that the Mother Church has been able since world war one to provide chaplains into that system in order to serve, not just Christian sinus in the military but all members under this sort of mission to, to help the world understand better.
What is Christian Science? That's pretty 
Robin Jones: remarkable. Now I think this question is going to warm your heart right here. I've I understand there are upper age limits for pilots in many companies and agencies. Are there any upper age limits for military chaplains to begin or enter the service as a chaplain?
Michael Brown: There are, and it, and it varies from time to time. So it's a tough question. It's something that can flex depending on the sort of numbers game, the needs that are there. If you're just starting with, and it depends sometimes how a prior service can work in there. Sometimes people are coming from having already served in the military in some capacity, but generally 40 years old is the, is the kind of upper limit.
Sometimes it's a little bit older than that to begin that service Once you're in, you can go well beyond that, thankfully, and, and continue that service. But in terms of starting it's around there sometimes a little bit more, that is a question that I have no real view on what is happening at this moment.
That's the kind of thing recruiters do, but and I, I also, I failed to ever acknowledge the fact that, I, in no way represent the Navy in these comments, right. Anytime you're in uniform was out to emphasize I'm not representing the Navy. And so I can't speak to some of those things that are policies.
I'm just not not up to date on. 
Robin Jones: So another good question. You, you showed your books that kind of go on those in the pocket, right? You carry with, you 
Michael Brown: sure. 
Robin Jones: Are there occasions. Where you are able to share Science and Health with R with others or whether you're ministering to, 
Michael Brown: yeah. I had a really neat experience.
I was in Kuwait. And I heard through, I don't remember exactly how some Christian Science, great vine out there that there was an army officer stationed not too far away in another base in Kuwait. And, and my unit would go there occasionally to use different training ranges on that base. And so he and I got in touch and I said, next time somebody going out there I'll, I'll go with them and we'll have dinner.
And so I went out there and had a wonderful time with this young man. It was so neat to be able to connect. We had some other mutual connections and it was just wonderful again, to bring that sense of home. And then he said to me, I thought this was just remarkable. He was a tank officer, there's four people in a tank and he said, one of the junior soldiers in my tank is also a Christian Scientist.
And I think he'd like to see you now. I had brought some books with me to give to this officer, but he was all set. And so we went out into somewhere. This young guy was working and loading things off of a truck and we pulled them aside and, and started talking. And, and I shared with him one of the kind of fundamentals of this work, which is that the Mother Church has sent me here for you.
And I said that to him. And cause he was telling me a little bit about what was going on and it was a pretty rough deployment for him. And And he was so moved by that. And I was, he kind of said, I feel like I should be doing more, but I don't have any of my books with me. And so I pulled them out of my pocket and handed them to him and it just blew him away that here, he never expected this.
How is it that the Mother Church has provided this to him way out there. And I thought that was just a really neat experience. That's, that's a clear demonstration of God caring for this, 
Robin Jones: That's interesting. You say that my dad served in world war two in the south Pacific. He carried a Bible and Science and Health with him into theater.
And there was a gentleman from Arkansas that was, very devoted Christian and they struck up a friendship and relationship and were able to exchange the Science and Health he and his buddy. And I actually got to meet the guy at one of the unions that my dad had when I was, when I was growing up.
It was so neat to see that it was something that just naturally occurred as of, that the willingness and openness to, to share. I appreciate all that you do and all the work that you do and the things that you do that are out there. It's just it's such a treasure.
Let me get this question in here. This is from Jacqueline. Please share with us some of the CS books over the years that have documented the CS chaplain programs. 
Michael Brown: Okay. Absolutely.
There's there are a handful of things and I've, I may miss some of it. The Mother Church put out for kind of different reasons. After the first world war, they sort of did a report. It was an internal report about kind of the wartime services of the Mother Church. And then after world war two they did that in a more formal matter and that one's easy to find wartime activities.
And I, I can't remember exactly the dates that are on there '40 to '45, I think. And we're '39 to '45. And so Christian Science, wartime activities world war one has an issue with that and world war II. And those do include a lot of the chaplain work from that era, but it's much more than that. And the Mother Church, especially in world war one was very, very involved in a lot of things that we may not expect nowadays. 
Kim Shuette wrote a book as well, that kind of documents that chaplaincy, Christian Science, military chaplaincy over its lifetime. And that went up until I think 2004. And so some of us were not part of the program at that point, but we kinda got up through up until the current generation, if you will.
Those of us that are out there and it tells a lot of wonderful stories and other individuals have written some things and there's neat opportunities to hear from Janet Horton and others to share their experiences through some of the books that have been published. Dick chase had some stuff as well.
So We can all kind of work together to point you towards something if you're looking for it. But there are some neat books out there that tell these stories. 
Robin Jones: There are some great comments in the chat. Steep says, this is close to my heart. My dad was not raised in CS, but after he was a world war II ace Navy pilot shot down and in prison in Japan, a Navy CS chaplain was instrumental in his recovery from near death.
So that that's and, and brute and the brutality of the war that ended. 20 years later, he introduced me to Science and Health. When I needed it is many world war II, Science and Health. His first textbook. 
Michael Brown: Yes. Yeah. And that's why this is one of those, world war two ones, they made them smaller and a little hard to come by now.
But yeah, we do have small ones that we give out. Absolutely. That's a wonderful statement. 
Robin Jones: Yeah. Terrific. Linda says, this is wonderful. Thank you, Michael, for your service and your family for their service, because she's learned so much, she said didn't know about the, the COP how that worked either.
That was really, yeah. It was really helpful. Thank you very much for this just wonderful outpouring of thank you's from everyone listening and, Michael you're, you're a terrific, terrific man. And, and all the work that you're doing, we just so very much appreciate it. 
Michael Brown: The stories, those comments really drive home. What I think is so important and that's that, yesterday was Veteran's Day here in the United States Remembrance Day, Armistice Day, it's not unique to our country where we recognize November 11th and it's an opportunity to, to consider the sacrifices that people make.
One of the great things of this job for me has been that I get to see a lot of those individuals in action doing their service. And that certainly includes the families. There's no question that it's a much broader sense of service than just somebody in uniform.
And not only have we felt that in our family here and I've. Absolutely in awe of my wife and kids for what they've done. But I'm sure so many of our listeners can relate to that and feel that kind of connection with their family members who've served or you've seen that. And so my, I also just have a tremendous amount of gratitude for everybody else that's out there and it's really fun to be able to have the conversation, but I know it's, it's a much broader conversation than just the two of us.
Well, it 
Robin Jones: is. And your, your words are so full of wisdom and thoughtfulness, and thank you for those comments. 
 If you're not an Albert Baker Fund career ally, why not? Our students and our recent grads could use her help. A word of encouragement, a new idea, help with a resume, a professional connection, connections to the local CS community, potential internships, or job opportunities. Maybe just a warm, friendly conversation with honest feedback.
So we need more career allies. We need people that are willing to share what they know with our students, our recent grads that are out there that we help. Please, please consider that and reach out to me, Robin at Albert Baker fund. If you're interested, we'd love to hear from you. And if you're interested in connecting with chaplain Michael Brown, Lieutenant Commander, United States Navy, this young gentleman we have right here, reach out to me again at Robin at Albert Baker fund.
And we'll help you make that connection. Be sure that if you do know a student or you are a student that you go to the Albert Baker Fund and see the programs that we have available as you click that little dropdown menu that says apply, and it'll direct you to the tab that you need to open for the particular program that might be of interest.
And you'll see, we have a chaplain tab there as well. We love to help support, the folks like Michael, that are out there that want to make that, want to make that commitment. And so we, we, we would love to help you. And we do help at the, our banker funded and 
Michael Brown: have for a long time. So it was a huge going through graduate school as part of the training program to have that assistance.
Yeah. Very grateful for Albert Baker Fund. 
Robin Jones: And you can see how that blessing Michael is blessing the world. So as you see some of them. Year-end fundraising things coming and knocking on your doorstep landing in your mailbox. Please take notice that that your funds help folks like Michael, and they are a major blessing to our world and to our local communities.
Be sure that you follow us on Facebook, Twitter, Instagram, and LinkedIn. We have all kinds of wonderful stories and events like this one that we have, and remember to truly cast your net on the right side, because you will find inspiring ideas when you do. And the ones that Michael shared today with us is certainly proof positive of casting your net on the right side.
And again, sir, thank you so dearly for your work and all that you do. 
Michael Brown: Thanks Robin, I really appreciate you all. 
Robin Jones: Thank you.
Tags: career success, chaplain, deployment, military, military chaplain, navy, service