As Chief Operating Officer and President of Color Me Mine Enterprises for 25 years, Mike helped develop it into a market leader in the paint-your-own-pottery industry, growing it into 9 countries and 27 states. He also spent 37 years in the restaurant industry including serving as President and Chief Operating Officer of the Koo Koo Roo casual restaurant chain, where he created its popular take-Home Meal Replacement concept.
A graduate in Economics from the University of California, Los Angeles, (UCLA) Mike is a frequent guest lecturer for the UCLA Department of Economics and delivered its commencement address in 2014.
A lifelong Christian Scientist, Mike is currently First Reader at First Church of Christ, Scientist, Newport Beach. In addition to reading, he currently teaches the online high school class for The Mother Church Sunday School. He has served as a Christian Science Chaplain for the Orange County Institutions Committee, and was a member of the Christian Science Committee on State Institutions. He is currently serving on the board of Broadview Christian Science Nursing Care in Los Angeles. He is a frequent contributor to the Christian Science periodicals.
Part of our Net Effect Conversations series:
https://www.albertbakerfund.org/category/net-effect/
Subscribe to our YouTube channel here
---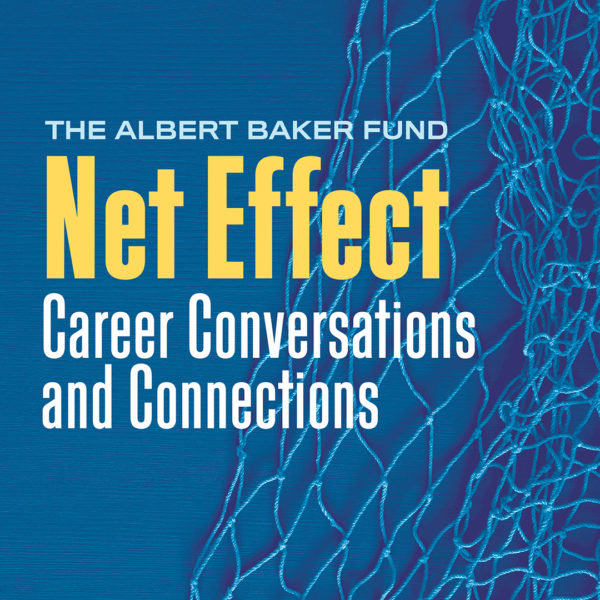 The replay of our September career conversation with Dan LaBar, innovative educator and community-builder, is now available in video, podcast, and transcript. Click "Watch Net Effect Replays" below!
---
Episode Transcript
Special thanks to DiscoveryBound NLC intern Brenna Erickson who volunteered to transcribe this episode.
Robin: "Today I'm so excited about Mr. Mike Mooslin being with us today. He has been such a wonderful supporter of the ABF Career Alliance from the very beginning and we love everything that he is and does. He was president of Color Me Mine until his retirement in 2019. He's also president and chief operating officer of Los Angeles-based Ku Kuru which was a creator of a whole meal replacement concept Michael will tell us more about. He also spent 37 years as a chief operating officer and consultant in the restaurant industry.
He's a graduate in economics from UCLA and a frequent guest lecturer at The UCLA Department of Economics. He's a lifelong Christian Scientist, currently the first reader at First Church of Christ Scientist in Newport Beach. He's taught the high school and college Sunday School class in Newport for 50 years, and is currently teaching an online Sunday School class for the First Church of Christ Scientist in Boston, the Mother Church. I could just go on and on but you know the best thing for me to do now is to turn it over to Mike.
Mike: "Well thank you, Robin! Hi everybody! Secret Sauce, huh? I first heard the term "secret sauce" when I was a teenager working in McDonald's. The company was introducing a new burger called the Big Mac. We all wanted to know what was in the sauce and they told us it was a secret. Thus the name "secret sauce" was coined, and we called it that from that day forward. The question is, what is your secret sauce, your special, unique gift? Why are you here today? Are you looking for employment? Money? Security? If so, you're not thinking big enough. Why not seek that which inspires you to higher accomplishments? We mustn't start from a standpoint of a limited need or problem. You know, the Bible doesn't start…'In the beginning, oh, a problem of mine,' and the Lord's Prayer doesn't start…'My problem which art on earth.' Of course we both know they start with God, and God must be first and only. And he has much bigger plans for you than just finding a job or making money [Start 7:03][End 7:57]… Mrs. Eddy writes in Miscellaneous Writings 'the mere puppets of the hour are playing only for money and at a fearful state.' As we glorify God, we tune in to the blessings just waiting for us to discover. God knows what we need even before we ask (quoting a 1979 journal article called Supply and Transparency.) The writer says lack isn't truly overcome by getting more money, education, or possessions, but by relinquishing the concept of limitation. Real supply isn't things coming to us. It's ideas appearing through us, through the transparency, the clarity, purity, and spirituality of enlightened thought [Start 8:13][End 9:08] Let me just repeat that. Lack isn't truly overcome by getting more money, education, or possession,s but by relinquishing the concept of limitation. Real supply is ideas appearing through us, through the transparency, the clarity, purity, and spirituality of enlightened thought. Enlightened thought–it is a unique gift from God to you. Enlightened thought is your 'secret sauce,' your weapon in the battle, a barrier to entry by others, but that means reading the spiritual landscape as well as the competitive one and focusing on what you are seeing as an unmet need as opposed to simply your own economic game! I'm reminded of the little known story in the book of Numbers about Balak and Balaam. Balak was a King of Judah at the time, and goes to the prophet Balaam, and asks him to curse the children of Israel as he's fearful they will overtake his country. But Balaam says he needs to pray about it. Well, he did, and that night God said to him 'No, the children of Israel are blessed. You may not curse them,' when Balaam told Balak he could not, since god would not approve. Balak responded by offering Balaam a promotion–power and money, lots of it! Balaam responded that if Balak were to fill his house with gold and silver, he would not betray God's will. Now what would you or I have done in that situation? All spiritual advancement–and that includes your business success–comes from God revealing his plan to our thought. In other words, inspiration, as opposed to humanly willing, manipulating, or outlining something to happen. When we're receptive to a higher thought, human consciousness becomes enlightened; new ideas reveal themselves, and we must remain loyal to that inspiration and stay focused on the good it foresees. For example, the intense focus and persistence of some famous modern visionaries, I think the current term is 'market disruptors,'–the Wright Brothers, Elon Musk, and Steve Jobs all developed products that change forever the way we live. Wilbur and Orville however didn't invent flight, Jobs didn't invent the laws behind the smartphone technology, Musk didn't invent electricity for vehicles. What they did was discover pre-existing laws that only needed to be discovered and then put into practice. These were ideas that were needed before anyone realized the need for the laws and ideas. Their discoveries have always existed. The laws of flight existed before man was on the Earth, so what was its source? There must have been an intelligent source, something Christian Scientists refer to as divine Mind, the same mind that was also in Christ. So here's the question of the hour, what is your yet to be discovered idea that you will bring to the world? Think big. No, think bigger. Think about the future needs of mankind. But you need to really listen to what the mind of Christ has in store for you. The key is being responsive to the need even when no one else knows they have a need. [Start 11:11] [End 13:26]
Here are two personal examples. In the 60's and 70's, women were entering the workforce in record numbers for this country if they weren't home cooking meals for their family. Their two incomes were needed for mortgages then, and there was a rising divorce rate, so a lot of working women, and the hottest industry at that time was fast food. In many cases fast food preempted the family tradition of having a home cooked dinner together. Mom didn't have any time to prepare a meal and I saw a need, being in the restaurant business, a new kind of restaurant that would serve fresh, homemade quality food that working moms could bring home with pride. I called the concept 'home meal replacement' and I wrote some articles about it in the restaurant news and I took over the management of a failing chain called koo karoo as a vehicle for my idea. 'Home Meal Replacement' is now commonplace in the restaurant industry, but it was non-existent at the time. Later in the mid-1990's as Koo Koo Roo was being sold I got involved with a pottery painting concept called Color Me Mine, that was losing $3 million a year on its 14 pottery painting studios. We were publicly held at the time and the company was being sold. Former Chrysler chairman Lee Iacoco, who was on our board at the time, came in our office and asked me to get rid of Color Me Mine. He said it was a loser and killing the sale of Koo Koo Roo to El Torito, who eventually brought our restaurants, I didn't want to go to work for El Torito, instead I opted to buy a Color Me Mine. You see, I saw another need that no one was really aware of. There was a need for a communal family bonding concept accomplishing just what home meal replacement did for restaurant. It came to me that Color Me Mine was the perfect answer. You see, when a family celebrates a special event, what do they do? They typically go to a restaurant. Each person around that table expresses their own individual expression by ordering something different on the menu, but at the same time they bond together in a communal activity. And it dawned on me that pottery painting was and is the only activity that duplicates simultaneous communal activity with individual expression. People sit and paint, do their own thing, but they talk. Good idea, but I didn't have the assets to cover the three million dollars in losses. Nonetheless I held firm to my understanding that the idea came to me with the means needed to be fully realized by listening. You might say my prayers paid off. Funding was made available by a source I had never thought of, and I was able to buy the company and turn it around. By the way, the restaurant chain I bought around 'Home Meal Replacement' achieved the highest sales per outlet of any quick serve food chain in America. And as for Color Me Mine, it became profitable, the only franchise of its kind, for the 30 years that followed and continuing to this day with 150 pottery studios around the globe. You see purpose was a conduit for profitability.
What are you seeing mankind needing today? Open up your entrepreneurial vision, stay focused on that vision, and never become discouraged. Meet all obstacles with prayer and persistence and resilience and you'll bring the opportunity to fruition. Align profitability with purpose. Remember, then, your yet-to-be discovered ideas will attract into your experience like-minded people who share your vision–funders, team members, and most of all, customers. You will need to research the competitive landscape, to identify what is missing. Put together your team, show proof of concept, write the business plan, and then execute it with confidence because it is purpose-directed. Of course, you'll need to seek input from others, but beware of those giving advice or attempting to discourage you. Musk, Wilbur and Orvill, and Steve Jobs were all told their ideas would not fly–pardon the pun–and they had severe funding needs, bad press, stiff competition, and many initial failures. But they prevailed; not yielding to discouragement and ignoring opposing human opinions. They were obedient to the vision. Their success was based on the impact of the vision, not the profitability. When God speaks to you, there is no need for advice or confirmation from others. But the big question is, how do you know when it's truly an inspiration and not just doing your own brainstorming? In my career I have found five surefire signs that told me it was a divinely inspired voice speaking to my thought. I'll list them for you. First, the new idea is free of self. It's never about you, it's always about God, good. It's about the idea; no self-pity, no self-justification, no self-indulgence, no self-will, or self-promotion. Second, it's free of fear; it has an immediate rightness and peace about it. Third, it's free of lack. It comes with everything it needs to be realized. God would not give you a mission without the means to fulfill it. Fourth, what blesses one blesses all. the success of your idea is not at the expense of anyone else, it's not a zero-sum game, your winning does not involve another's losing competition is not a factor when you are vision driven. Fifth, unexpected good occurs. That's the $2,000 check in the mail from the aunt you didn't even know you had at exactly the time when you needed $2,000. We have all had that kind of experience from one time or another." [Start 17:16][End 20:35] In other words, God winked at you with a sign you could not have made happen yourself. When those 5 ingredients are all present, you need to stand and take notice–a new idea is being revealed to you! The question is, are you receptive? So enter the closet referred to on page 15 of Science and Health, and quietly listen to the Father shutting out fear, human opinions, and discouragement. He will answer you when you get yourself out of the way and stay mission driven,' Eddy writes on page 117 of Miscellaneous Writings, 'God is the fountain of light, and He illumines one's way when one is obedient. The disobedient make their moves before God makes His, or make them too late to follow Him. Be sure that God directs your way; then hasten to follow under every circumstance.'
Before we go to questions, I'll leave you with a prayer by a 17th century theologian poet and writer, the French Roman Catholic archbishop Francois Finland, who wrote 'Cheered by the presence of God, I will do each moment without anxiety according to the strength which He shall give me, the work that His divine providence assigns me. I will leave the rest without concern; it's not my affair.' [Start 21:58] [End 22:17] Thank you all! And now Robin, I think we'll take some questions?"
Robin: *asks what's happening with entrepreneurship today, how do you learn about it, etc/ how he interacts with UCLA and the kind of program they have there*
Mike: "Sure, I've been a guest speaker for the Econ classes at UCLA for the last six or seven years, and for the last probably 5 or 6 years, I have focused on a subset of entrepreneurial- focused classes called 'social entrepreneurship.' That's where there would be 50 in a class, and there'd be 5 to 10 teams of 5 each, and they would seek a non-profit that would need funding, a continuous form of revenue generation, and they would have to come up with a for-profit business plan that would support the non-profit. And it's become so big that every university across the country has a social entrepreneurship program in their Econ or business department. And venture capitalists have expanded to where there's a whole set of venture capital only focused on social entrepreneurship, which is really well-timed today, it's where the action is. I've been a judge when they have a competition. We just entered one yesterday, in fact, and I mentored one of the teams that ended up winning it. What everyone is looking for are three factors: scalability, sustainability, and barrier-to-entry. A secret sauce is something that is missing from the current competitive landscape. Something fresh, something new that would be very hard to copy or compete against when those three factors are there and it's a worthwhile idea. There doesn't seem to be any limit to the funding available so really it just takes inspiration." [Start 25:46][End 26:39] In the last five years we've launched over 200 entrepreneurial ideas at just one university."
Robin: *asks how he deals with divine inspiration that results in failure/ how he remains receptive to divine intervention*
Mike: "Well you know I go back to the example of the three visionaries I mentioned: Jobs, the Wright Brothers, and Musk. They had so many failures before they succeeded. Sometimes it's not you doing it, sometimes you need to hook up with a company that shares your vision and you're just the right person that they're looking for to help it succeed. Don't be discouraged by failure. You'll have multiple failures until you succeed."[Start 28:26] [End 29:21]
Robin: I think failure is a great educator. I've failed so many times with things I've started and stopped. People think failure is horrible but even Apple's most recent IOS 13 was fraught with failure right out of the box, but sometimes you have to get things moving forward so the things you need to work out will reveal themselves. Would you agree with that?
Mike: "Yeah, I guess the question goes back to where Adam was hiding himself from God because he was naked, and what God said to him was, 'Who told you, you were naked?'
So who told you it was a failure, and not a step in the progress or the development of the idea? And boy I'll tell you, I've fallen on my face over and over again. That's how you learn each time, and the next time you pull it out.
Robin: *asks if he thinks there's an entrepreneurial DNA that some people have and others don't. Can someone who has never been entrepreneurial become so later in their life*
Mike: "That's a great question. When you go through the Bible's heroes, one after the other, it's the most unlikely group of ne'er do wells and they always responded the same way, 'Me? You've got to be kidding, no not me.' It has nothing to do with your inclination, talents, DNA, or anything else. It has to do with what happens when inspiration calls. It comes to you for a reason. You know Moses fought like crazy to get out of the job of going to let the children of Israel go to Pharaoh, and Gideon said, 'My family is the weakest of everybody's here and I'm the weakest in my family.' And poor Jacob was a con man all his life until he had that little wrestling match that caused him to wake up. So I mean, it has to do with being receptive to a calling. Your first reaction is, you've got to be kidding, not me. I don't have the money, I don't have the talent, I don't have the experience. No, no, no! Listen, listen to the idea that comes to you. It may not be an idea you develop, it may be something you share, may be a company you go to work for, but it all comes back to going to God first and listening[Start 32:34] [End 33:06]. I'm thinking of Noah, I'm thinking of Saul; the list goes on and on.
Robin: * Asks about programs at local community colleges across the country and how to determine the difference between which failures are to be lessons, and which ones highlight inspiration as actually human determination?
Mike: "The answer is always the same. Get yourself out of the way. You know, sometimes we're our own worst enemy. Father, what would you have me to do? That's the question. That really takes a sense of humility, a sense of receptivity, a sense of obedience, a sense of expectation, and when the humility is there the human will is gone. And when the fear is gone, it just opens up all sorts of things. You know what the definition of fear is: ingratitude in advance. You are already ungrateful for the bad you think is going to happen. And so, what is love? If perfect love casts out fear, then love must be gratitude in advance. You know, Jesus when he raised Lazarus, didn't say, 'Oh Lazarus, I hope you come forth, a lot of people are watching. It will be embarrassing if I don't pull this off.' And the first thing he said was, 'Father I thankthee.' He started off with gratitude, and I love that. When you're grateful and grateful for what you expect to happen, and know that will happen, then you're really approaching it from a spiritual standpoint ,a divine standpoint, and human will is never a part of that .[Start 35:30][End 37:26 ] So I hope that answers the question."
Robin: *Asks how to approach someone in your industry after being away from it for awhile
Mike: "It doesn't even matter if you've never been in the industry. When you recognize your own natural talents, when you're an artist or a musician, or you're into computers, or you are a graphic designer–whatever it is. When you know that's a passion of yours, (mine was cooking, it was food) when you know that's a passion, you go out and you meet everybody in that industry. You talk to them, you let them know about your passion and how much you like their company, and why you like their company. And I've told this to people over and over, offer to go to work for them for free. Say, let me sweep floors, I just want to learn. There's not a business owner out there that would not respect that kind of humility, that kind of honesty, that kind of work ethic, that kind of passion. And there's nothing wrong with going to work for a company and learning the industry from the ground up before you launch your venture. [Start 38:04] [End 38:59]There's nothing wrong with that."
Robin: *remarks that Mike's time at McDonald's must have been valuable as he moved through years of restaurant business
Mike: "Right, the stories I could tell you about Ray Kroc would keep us here all day, but you know I'll give you one quick story that's really fun. I'm 14 years old. I weigh about 100 pounds, a skinny kid, and Saturday morning comes, and Mr. Kroc comes in the back door and I hear, 'Mikey, how you doing?' So Mr. Kroc is here and I'm shaking, and he takes me by the ear–he couldn't do that today–he takes me by the ear and drags me into the parking lot and shows me weeds in the garden between the parking stalls and wants to know why I didn't pull them. I say, 'It's not my job.' He replied, 'Never say it's not your job. You see it, you fix it.' Then he had me take off my paper hat, my apron, my McDonald's shirt. Here I am with my white t-shirt, my black pants,–and skinny little kid–he has me open up the trash can. You know, the fiberglass trash can out in the parking lot, and pull out a lot of the papers, the bags, and the cups. He says, 'I want you to go up and down the street and I want you to throw them along the street, along the gutter. Don't let anyone see you. So, ok, all right.' I begin to do that. I come back and he says 'Now, get dressed, put on your new shirt and apron, here's a lobby pan, a little toy broom, and little bobby pins. I want you to very boldly and in front of everybody go up and down the street and pick up that paper.' See, he wanted everyone to know how busy McDonald's was and then he wanted everyone to know what good citizens McDonald's was. Well, that's how you did some gorilla marketing in those days when you didn't have any money for advertising. That's innovation. That's entrepreneurial spirit. He never knew any limits, and he always found a way to get the job done.
Robin: * Asks about age-related issues in dealing with senior executives, entrepreneurs.
Mike: "Yeah, story of my life. You know when you start with age, it's the same as starting with unemployment or lack or fear. You're starting with a problem. Mrs. Eddy founded The Monitor when she was 90 or 88, or something like that. Yeah, the idea doesn't know how old you are, doesn't know your gender, doesn't know your educational background, doesn't know your bank account balance. And you know, Ray Kroc, when he started McDonald's, already had a career behind them, so it doesn't have anything to do with any of that. [Start 42:05] [End 42:50] Although there are places like SCORE for senior citizens to help share their talents with younger people coming up, there's opportunities in business to go to a company and say to young management, you'd like to be a consultant and help train and give some wisdom to the younger managers coming up. You don't have any aspirations of advancement, you just want to contribute. There are so many opportunities for seniors. People I know that are retired, their schedule is busier than ever because they've learned that they have so much to give and they want to give. And boy when you want to give, there are always takers. So that's got to be the mode of giving, not starting with the limitation of I'm too old."
Robin: *Asks where to start, how to turn around a company with a huge debt and find motivation"
Mike: "Boy, there was plenty of bad press about it, too. We were publicly held and everybody in Koo Koo Roo stock was flying high, and the Wall Street Journal was calling it Color Me Blind and gosh it was just horrific. But I knew this idea of communal bonding and individual expression had a need for 'mommy and me,' and that was so strong that I was able to convey that vision with the funders, and the funders had an equal understanding of it, and they agreed. And I saw Color Me Mine strictly as a vehicle, not as a concept that I could make money off of, but a vehicle for this idea. Purpose-driven profitability. And as long as I stayed with the purpose we would be fine. [Start 44:50] [End 45:31] And I had a background in franchising all those years in the restaurant business. I basically ran a publicly held company and we were franchising and we were trying to run these Color Me Mines ourselves. And I saw it being a more community intimate concept that needed an owner on the premises, so the other idea that came to me was franchise."
Robin: * Asks how to promote franchising and find prospects*
Mike: "No I never advertised one day for a franchise. I went to the stores, redesigned them, focused around mom, and a hundred percent of our franchisees over the next 30 years were customers that fell in love with what we were providing. And the applications started coming in on their own because they saw the vision with me. They knew I was filling a need they never even thought about. And when that clicked, it was like a light switch going on, and it wasn't the case of paying down a 3 million dollar debt, the franchising was going to shrink those losses and did so. And it was through franchising that it happened, but I never had to prospect. I never had to do that. I did have to take the first couple of them and virtually give the franchises away to prove the concept. I had to have proof of concept, and I needed a couple of successful franchisees to do that. I mentioned that in my talk that proof of concept is one of the human footsteps you have to take before you lay out a lot of cash and commit yourself to leases and other things like that. You need to prove your vision works and then you're off to the races. Then it's going to be hard to stay up with the vision. It will be dragging you along."[Start 47:31] [End 47:51]
Robin: * Asks if he faced resistance about his changes to business*
Mike: "No, I mean if I did from an employee, or anyone else, I just politely told them they were working for the wrong company. You have to stay so strictly to the mission and not allow any distraction or anyone to pull you off of what you know to be the reason you're there. You can't deviate at all. And, well you look at the growth of Christian Science in the early days and Mrs. Eddy's strict adherence. When she said that's the way it was, look at the opposition she had to having the words Christian Science in the Monitor head, you know, The Christian Science Monitor. Everyone tried to talk her out of it. Everyone. Right down to Calvin Frye and Adam Dickey. They all tried to talk her out of it. And one last try, the head of the publishing society walked into her office, and the meeting lasted about three minutes. When he came out all the rest of the directors were in the hallway waiting for the answer and his answer was, 'the name of the paper shall be The Christian Science Monitor.' You know she just wouldn't tolerate anything that deviated from what her vision was with the revelation that came to her. And that's an example that's relevant for all of us. Stick to your guns." [Start 48:14] [End 49:36].
Robin: *Asks how to juggle the new workload with existing workload*
Mike: "Oh there's always time. There's no limit there. The way I always ran my companies was something that you guys teach in Albert Baker, and that's servant leadership. And you want to pull out the best in the team you've surrounded yourself with, and so you learn to delegate trust. Support and make other people successful by aligning their thought with that same vision. Like-minded purpose, that's always the answer and that doesn't take time, that takes love. When you're around someone who genuinely cares for you, you'll do anything for that person. [Start 50:04] [End 50:45]
END
Tags: Business Leadership, Business Management, Business Owner, career success, christian science practice, entrepreneurship, Has Transcript