Today we warmly welcome Dr. Joseph Ritter as The Albert Baker Fund's (ABF) new Chief Executive Officer. Dr Ritter begins work immediately with us from his home office in Bemidji, Minnesota. He'll be relocating with his family to Northern California as soon as current travel restrictions allow.
In the meantime, Dr. Ritter is already well-oriented to ABF and its day-to-day operations. For the past several months he has attended weekly staff meetings, participated in project planning and budgeting, attended our April Quarterly Board meeting, and met individually with each member of our team.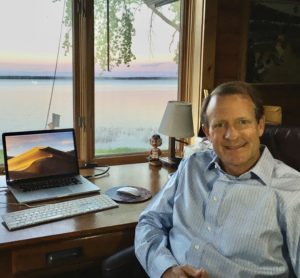 You can get to know more about Dr. Ritter this Friday, June 5, at 3 pm, when he shares his thoughts on the future of higher education as part of ABF's Net Effect Career Conversations series.
Dr. Ritter is an accomplished college educator and administrator with extensive experience developing innovative programs and services for students. He is well-known to the Christian Science community through his 23-year career at Principia College, where he held a variety of positions, from Professor of Chemistry to Provost, and Dean of Academics. Most recently Dr. Ritter was Founding Dean of the College of Individual and Community Health at Bemidji State University (BSU) in northern Minnesota. There he lead a team of faculty from eight separate academic departments in designing and building a new college that prepares students for careers such as community health, criminal justice, elementary education, psychology, and social work.
"I am excited to serve as Chief Executive Officer of The Albert Baker Fund," Ritter says. "I am drawn to the vision and mission of The Albert Baker Fund, which includes realizing 'unlimited possibilities' and serving 'the Cause of Christian Science and humanity.' Having seen the benefits others experienced as a result of the generosity of The Albert Baker Fund, including my own children, I cherish the opportunity to have a significant positive impact on the worldwide, inclusive Christian Science movement by supporting education and career objectives."
Dr. Ritter earned a B.S. in Chemical Engineering from the University of Illinois, Urbana-Champaign; an M.S. in Computer Science from the University of Delaware; and a Ph.D. in Chemical Engineering from the University of Delaware. He began his professional career as a Research Engineer and Senior Process Control Engineer with Amoco Oil Company Whiting Refinery in Whiting, Indiana, before moving to academia.
"With the addition of Dr. Ritter as our new CEO, we are well poised for future inspired growth. Joe brings a wealth of experience, and a depth of understanding of the needs of students of all generations.  He has a proven track record of innovation, collaboration, and positive results. We are excited to officially welcome him to The Albert Baker Fund today," said Daniel Herbert, Chair of the Albert Baker Fund Board of Trustees.
Dr. Ritter and his wife, Janice, have five children, the two youngest about to enter college at the University of Minnesota.