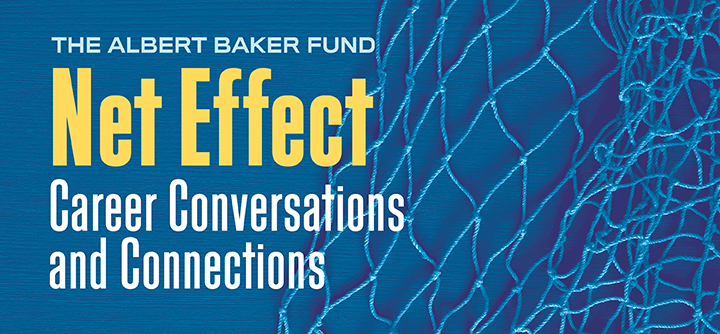 Several times a year The Albert Baker Fund is bringing you conversations with valued members of our community. In each session, guests share impactful events from their own education and careers, and how they are in turn making a positive impact in the world. Through Net Effect conversations our guests offer insights that you can apply to your career right now. Scroll down to learn about our September 23rd guest, Dan LaBar, innovative educator and community-builder.
Conversations are broadcast live on scheduled Fridays at 3 p.m. PT, through Zoom, and available for replay in our Net Effect archive after that.
Once you register, you're registered for all future episodes and replays.
We are excited to bring these conversations straight to you, to keep you inspired and driven. Since launching the Net Effect in April 2020, we've sat down with artists, activists, educators, philanthropists, entrepreneurs, executives, coaches, authors, and more.

Join us live for Net Effect Episode 51 on Friday, September 23 at 3 pm PT.
Topic:  What will schools of the future look like?
About our Guest
Dan LaBar is an experienced educator who has spent his entire career creating and leading innovative schools that meet the varied learning needs of students at all grade levels. He knows what works!
He has led K-12 personalized-learning charter schools, an award-winning college-prep high school, a K-8 Waldorf school, and a traditional district middle school. During his 23-year career Dan has served over 9,000 students and 400 teachers spanning 22 California counties.
Dan's view of all schools is that they are vital hubs of their communities. During the aftermath of the 2018 Camp Fire that burned 240 square miles in Butte County, California, he collaborated with fellow educators to create the Voices Strong United Choir that brought together students from 5 local high schools. The choir performed songs of hope, healing, and resilience that supported displaced students through their recovery process. Performances were shared locally and globally. The choir was invited to perform at the music industry's largest global trade show and was featured in the International Voices of America media outlet which is translated into 47 languages.
Currently, Dan is principal of a public charter school serving four rural Northern California counties that offers an accredited personalized-learning program for students who thrive in a non-traditional setting.
In his spare time, Dan serves as a University Supervisor at California State University, Chico, coaching graduate students to become future teachers. He is the founder of a local Education Foundation, has served on a local school board, and mentors new school administrators.
Dan has a BA degree in History from Cal State University, Chico and three education credentials from the State of California. He anticipates completing his Master's Degree in Curriculum and Instruction from Grand Canyon University in the Spring of 2023.