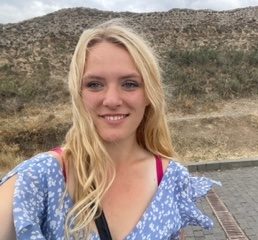 The Albert Baker Fund (ABF) Board of Trustees is delighted to announce the Daniel Herbert Leadership Scholarship to recognize his 18-years of inspired service to our Board and the ABF community.
"This special scholarship in Dan's name is a fitting tribute to his deep commitment to our students and ABF's mission to serve Christian Scientists," said Adam Messer, Chair of the Board. "We are excited to name Julia Stevermer, a junior at The University of Richmond, in Virginia,
as the recipient. Julia is a dedicated Christian Scientist, an accomplished student, and plans a career of international service, an aspiration that means so much to Dan." 
Julia is pursuing her Bachelor's Degree, with a double major in Political Science and Russian Studies, and is preparing for a career as a Foreign Service Officer in the U.S. Department of State. This summer she conducted research on the 1932 famine in Soviet Ukraine and presented her findings at a university research symposium. Next summer she will participate in an internship that focuses on addressing security threats in Europe and Asia.
Julia looks to her understanding of God as omnipotent and omnipresent to give her the "clear sense and calm trust" (from Science & Health, p. 495) she feels is needed to work successfully to de-escalate international conflicts and mitigate world crises. "I believe that my study of Christian Science will allow me to serve God and mankind by helping me to manifest peace, harmony, and safety, domestically and overseas."
Dan added, "Congratulations, Julia! This scholarship is well-deserved and I'm sure you will do great things for mankind." 
If you would like to consider funding a special scholarship for Christian Scientists, please contact Janee Shaw, Chief Development Officer, at janee.shaw@albertbakerfund.org.