Watch the interview here:
"When I've been blessed with so much, it's my responsibility to give back."
About Our Guest in this episode:
Dan LaBar is an experienced educator who has spent his entire career creating and leading innovative schools that meet the varied learning needs of students at all grade levels. He knows what works!
He has led K-12 personalized-learning charter schools, an award-winning college-prep high school, a K-8 Waldorf school, and a traditional district middle school. During his 23-year career Dan has served over 9,000 students and 400 teachers spanning 22 California counties.
Dan's view of all schools is that they are vital hubs of their communities. During the aftermath of the 2018 Camp Fire that burned 240 square miles in Butte County, California, he collaborated with fellow educators to create the Voices Strong United Choir that brought together students from 5 local high schools. The choir performed songs of hope, healing, and resilience that supported displaced students through their recovery process. Performances were shared locally and globally. The choir was invited to perform at the music industry's largest global trade show and was featured in the International Voices of America media outlet which is translated into 47 languages.
Currently, Dan is principal of a public charter school serving four rural Northern California counties that offers an accredited personalized-learning program for students who thrive in a non-traditional setting.
In his spare time, Dan serves as a University Supervisor at California State University, Chico, coaching graduate students to become future teachers. He is the founder of a local Education Foundation, has served on a local school board, and mentors new school administrators.
Dan has a BA degree in History from Cal State University, Chico and three education credentials from the State of California. He anticipates completing his Master's Degree in Curriculum and Instruction from Grand Canyon University in the Spring of 2023.
Part of our Net Effect Conversations series:
https://www.albertbakerfund.org/category/net-effect/
Subscribe to our YouTube channel here
---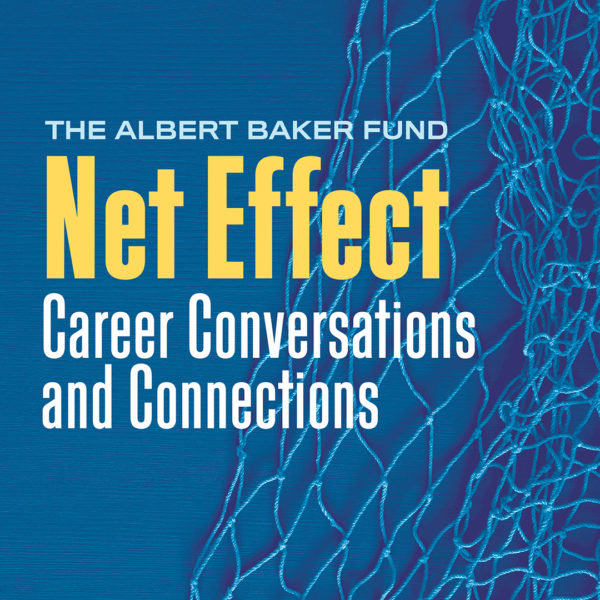 The replay of our September career conversation with Dan LaBar, innovative educator and community-builder, is now available in video, podcast, and transcript. Click "Watch Net Effect Replays" below!
Podcast: Play in new window | Download
---
Transcript of Episode:
Robin Jones: This is the Net Effect. I'm Robin Jones, your host with the Albert Baker Fund. Today we're gonna focus on casting our nets on the right side as Jesus challenges followers to do in the chapter of Luke, verse 5.
We have listeners in countries all over the world. Kenya, Uganda, United States, the Philippines, Great Britain, Germany, Texas. They think it's a state yes, in a country, but it really is a part of the United States. 
Thank you all for joining us today. We really appreciate that. Before we get started, I wanted you all to be sure that you know that the Net Effect is sponsored by the Albert Baker Fund, and its wonderful contributors and we have lots of programs that we offer, but our focus really is on post secondary education.
And helping students achieve their overall goals. And we provide financial assistance, needs-based assistance through scholarships, Albert Albert Fund Scholarship, and our Pass Your Blessings Forward Scholarship, which we'll talk about later. The way you can find out about the Albert Baker Fund is go to AlbertBakerFund.org and you'll find a page full of wonderful information and lovely links to take you to the places you need to go. 
If you're in North America, you can click on Apply. That's this page that's represented here. And the dropdowns will show the different programs that we offer from Christian Science Nurses Education to North American Education to Christian Science Military Chaplains program.
And if you're an international student, we offer programs in Europe, Asia, and Africa. So you can click on those buttons through the AlbertBakerFund.org. So if you have any questions, please go to the page and reach out to us at your convenience. 
Without further ado, I'd like to welcome our special guest today, Dan LaBar, who's a leader in education.
A principal, works with the local college up in Chico, Chico State. He's earned a degree in history from Cal State University, Chico. Has three educational credentials from the state of California, and he anticipates completing his master's degree in the spring of 2023. 
Dan, we are so excited to see you and have you here today. Thank you very, very much for joining us. 
Dan LaBar: Thank you, Robin. 
Robin Jones: We are so interested to learn how you cast your net out in this wonderful world of education that you are such a wonderful leader in. 
So let's just kinda kick it off and say why did you choose education as a career path?
Dan LaBar: That's a great question. When I think about that "why" I think I always ask future teachers and new teachers I do a lot of mentoring. I'm in the stage of my career where I'm, I'm giving back where I ask that same question and not about casting the net, but as far as giving back.
 It's a calling, right? Teaching and education is not a j o b. You are called to it because it is a service industry and when you are of service that is a calling. It is not just a career. 
Robin Jones: So was it a difficult choice for you to choose education?
Dan LaBar: Early on I started coaching as a very young man. I am from California and, and played volleyball. And we actually ended up starting a a boy's volleyball team when I was going through undergraduate school in Northern California. And started coaching. I was only a couple years older than my athletes I was coaching. So I showed up to the first day of practice with my backpack from college and I said, Hey, where's the coach?
Yeah, it's me. So I started coaching very early on and realized that coaching and teaching have a lot of similarities, and just followed that. 
At a certain point I was coaching and teaching for many years, and I had to make a choice. And a mentor of mine who was a coach in the NCAA said, Well, Dan, do you like your weekends?
So if you like your weekends, you probably don't wanna be a career coach. You probably wanna stay in education. So that was one kind of push pull factor. But again, that calling for helping students and especially young students, because going through schools, when you have a group of athletes, they're selecting to participate.
But working with students, you're working with all types and all kinds, coming from all walks of life. So that's always spoken to me too.
I feel like I've been blessed in my life and when I've been blessed with so much, it's my responsibility to give back.
Robin Jones: So did you map this journey out that you're on? How has it unfolded for you? 
Dan LaBar: I mentioned coaching. And that kind of came from some of the skills that I had. And then as I got into classroom teaching with history and social science, it was something I really enjoyed.
I ended up in alternative education environments with a lot of students that struggled with different levels of behavior and it was something that I found myself to be really skilled at. I was very patient with the kids. I really had a growth mindset model of waiting for these kids to grow and into themselves and trying to give them a safe space to do that.
I was doing classroom teaching, and then I applied for a job as an in-school suspension teacher. So I had students from third grade all the way through seniors in high school who in this school district, when they were suspended, they came to my classroom.
And so it was my job to receive them and give them a safe place to land and, help view them as the amazing people and students that they are, and get them back to their schools. 
From that experience, I had an assistant superintendent that mentored me into administration and then the budget crash of 2008 in California hit and I was without a job for over a year.
My wife was pregnant with our second child. We had three kids. So I was doing my best as a new dad to be Mr. Mom at home. She's also a teacher and she was teaching for a virtual school at home. And so we're all at home and, this was before all the pandemic locked us down.
This was years and years ago. I was without a job and the school year came and went and I couldn't find a job. I was frustrated. And that perfect timing wasn't at work because I finally let go. I was like a hamster in a wheel trying to find a job and trying to apply and apply and so I let go and I said, I've gotta focus on my family, focus on my son, and my future, my number two, right?
My second son was born and I was letting go and just focusing on my family. And at our first postpartum appointment, our midwife said, Oh, well there's a job in town for an assistant principal and you should apply. And I applied and a week later I got the job. And that's been my path in administration ever since.
And that really, spoke to that idea of perfect timing that and my human will that I was trying so hard to make happen because I was worried about my family and worried, my wife wanted to stop teaching completely after her second child. And and it all just unfolded.
Robin Jones: So the job boards and the applications and all the things that you're supposed to do, the job recommendation came from a completely different source that had nothing to do that didn't relate to any of that? 
Dan LaBar: Right. And ever since then, in my career, it's been that way because I've let go, I've let go of that human will of I need to be in a certain place.
That's not my decision. I'm called to serve. And when I'm called, it is crystal clear. 
Robin Jones: How do you let go? So often I hear that from people, from folks that are Christian Scientists particularly, they say, Hey, you gotta get to a point, you just let go. 
How do you find the inspiration? How do you find the strength, the courage to just go, Okay, let go. How do you do that? 
Dan LaBar: Well, it's the power of prayer, right? And the prayer, the very simple prayer I used is Thy will be done instead of my will be done. Right? So that was the difference maker because I had to recognize how willful I was trying to be, and that is what I had to let go, was my own will. 
Robin Jones: So you got into education. I know you're heavily involved with charter school education. Talk to us a little bit about that and did you know what that was or how did that come about? How did you get there and what did that look like to you at the time? 
Dan LaBar: That job that I mentioned was at a charter school. It is at a Waldorf school. So getting involved in Waldorf education, which is a beautiful model of arts infused education. And each charter school is very unique and different depending on its charter.
So getting involved in that, in my town where I live in Northern California, with the university here, there's a lot of educators and it's very educationally rich. So there's a Waldorf school and a Montessori school and an open structure school and, and many of them are charter schools. So that idea of choice is something that I believe is very American.
I believe it's something that is just a natural thing for parents and families to have. So I get excited about school choice. Because I think it's it's something that we should all find our fit and find our community. And, without those choices, sometimes we can feel stuck.
So I've worked hard to make sure that people, do have choices in our communities. 
Robin Jones: Many folks may have heard about the Paradise fire that took place in your backyard, which is just north of where I live. And this fire, just so you all know, was devastating.
It went through the town like a perfect fire storm and it just wiped people out and it killed people. It just took things out and really had a huge devastating impact on the state. You had that in your backyard, Dan.
How did you find your way to practice Christian Science in such a public way and find how to help people during that really, really difficult time when people had lost everything and the school was gone and, family, it touched everybody in the region in some way, some shape, fashion or form.
How did Christian Science enter into that world for you to help with that sort of thing?
Dan LaBar: Yeah, it was a tough time and it still brings back a lot of memories. We had 90 students that lost their homes that morning. Yeah. And I was with them in a classroom and having them call their families, because many of them are still in Paradise and, trying to get out and it was a difficult day.
To your question, what role did it play? It was a healing. There was the first responders, FEMA came, It was one of the largest disasters in the world most costly disasters in the world in 2018. And FEMA described some things in some of my conversations when we would have leadership meetings about school recovery, that they had never seen that level of victims helping victims.
First responders lost their homes and they were helping others who lost their homes as well. So just that outpouring of love for your neighbor was just enormous. And then the outpouring throughout the world, just the influx of love, attention and resources that came our way was overwhelming and people mobilizing all throughout the world to help our little corner of Northern California. It was touching.
When I thought about those first responders and I thought about the role of school a lot of the health of a community is measured by the status of its schools. There's research about that. So I thought of us being a second responder. How can we as schools come after the first response?
I was at a school that really valued the arts and as we all know, arts is that soul expression, it can be so healing. I called up a couple of music teachers that I knew. And they took that idea and they ran with it, and they brought together choirs and musicians and taught the kids songs.
And they went around to several of the makeshift schools that were popping up of students that were displaced. The high school students were singing to the middle school students, the elementary students, and even many teachers had lost their homes as well. The healing that came from that, especially with the adults that were trying to hold everything together.
It was palpable. That group was invited down to a large convention. They were able to sing there, so those kids were able to get recognized and many of those students who were singing had lost their home. So that idea, that healing can come in many forms and many ages because the students were ready to take action. They just needed a little bit of direction. 
Robin Jones: That's really neat. In your work today, we read about and hear so often, that Christianity is losing numbers and people going to church aren't, that's not happening as much and church is not that important.
Having, an affiliation with a religion is ostracized, and criticized and condemned. How do you find your practice of Christian Science? How do you embrace that? How do you do that in an environment that seems to be so secularized? 
Dan LaBar: Hmm. That's a good question.
I guess I just, attempt my best to live it. We're all inspired and called to be Christ-like. Right. In education we have a teacher. We have the way shower or we follow that work. We are in a service industry and I always say that service is actually the verb of love.
That's how we love. We are being of service. As a school leader, I fashion myself a servant leader. And I feel like that Christlike idea is built into service. It's baked into it. If you are in education, you are serving and if you're in public education, it's like that sign on the freeway that says your tax dollars at work. We are working for one another. 
And how does that play out with faith? It's trying to follow our way- shower, follow the Christ idea and show others and not to proselytize, not to teach those tenants, but to be that.
And those are universal truths. Especially in public schools, there's very much a lot of separation where those things cannot be explicitly taught in public schools. So how do you do that? You're just are a model and you're demonstrating.
Robin Jones: I read about families that have really been challenged over the last several years. And looking back at your own experience, what kind of things have you learned, let's say in the last five years that as you look forward those things are helping to shape and inform your path and inform decisions you're making? What kind of things have you learned that you could share with families to help them think about things as they're moving forward and facing some of the challenges they face?
Dan LaBar: I can think of three different things. So number one we've all been through something I like to call crisis schooling . 
Robin Jones: Okay. What does that mean? 
Dan LaBar: You shared the idea, you shared everything I went through up in my corner of the world. But then of course, we had this global pandemic and every student practically in the world went home.
Right, Right. And we all had this jarring shift of how education was delivered and it also opened up a lot of opportunities. Right. But I think it really showed families and parents when that intimacy of learning, literally came home about the challenge of learning. 
And how going to a place of learning can be very beneficial. So that crisis schooling idea, I think helped everyone, realize that service of education and the value of it. So that's number one is crisis schooling. 
I was talking with a fellow Christian Science school administrator.
There's not too many of us, but we are, I was gonna say, yeah, . And we were talking about the idea of proficiency versus growth in terms of, student learning. And I talk with my hands, as you may have noticed, and I was, kind of doing these level things. 
I never do that. 
So I was, I was leveling proficiency levels.
And, and he, he says, Dan, I need to stop you. And I was mid, mid level and he takes my hand and he says, we're unlimited.
And just that moment has helped guide my career since, and that was, a good seven, eight years ago. And that's something I would just reinforce with families is when we look at test scores or, grades on the report cards or all the rest, Proficiency does not always reflect growth. It does not always reflect learning.
It's the idea of we are, human beings versus human doings, right? And as parents, we can sometimes get real caught up in the doing. Right. And we have to remember we're unlimited and focus on the B, right? So that's probably the second thing. And then the third thing, which I think education really helps.
With is helping students discover and uncover or recover their gifts, that they need to be exposed to these ideas or that they maybe put something down when they're very young and they pick it back up later in their teens. And how to wrestle with those and how to explore them in healthy ways and in safe ways, you know?
So I, I think that would be number three. And that may be number four if I'd make sure, is there's a saying in education. You have to Maslow before you bloom, and it's it's referring to these two researchers. And Maslow's ideas, like, there's this whole hierarchy of safety. Here I go with levels again, right?
Is there's that you have to be safe and your needs need to be met before you can focused on learning, right? So I think that's a lot of the role of the family and school is to ensure, that, that safety, physical safety of course, but that spiritual safety especially in the home is solid and present and alive and well.
And that that helps students, grow and learn and thrive. 
Robin Jones: So thinking about college education, we help students with their college education as we talked about it in the introduction. What are your thoughts about where that goes and is it still valuable? Is it still important?
And where does it fit in this post crisis Covid, where does the education now fit in, when a family's thinking about, or students are thinking about, is this valuable? Is this worth it is it costs a lot of money and takes a lot of effort and energy to do all that.
What are your thoughts about that? 
Dan LaBar: When I think about life after high school, as I like to talk to my students, that's my big question for them as is what does that look like? And their answers don't always involve college or university. A lot of answers now are about, attaining a skill pursuing a certain industry or trade.
If they do want to go to college, they typically are going, they typically have a specific goal. College used to be exploratory, right? Where go try things, explore things, find things out. But like you mentioned with the rising costs over the years that's a very difficult endeavor and a pricely endeavor to explore.
So that's what I'm seeing with families lately. 
There's just many ways to attain those skills, right? Those career ready or they call future ready skills, right? Preparing for jobs that we don't know are even here yet, or maybe even exist. So the idea, I think, at least with in K12 schools, and I think that is becoming a little bit, trickling into college and universities, is that we're really skill focused.
We want you to learn the math. But you don't always have to know the algorithm, like the recipe of step one, step two, step three, step four. You need the quantitative reasoning, you need the math skills and the number sense to be able to do that. Some people aren't big fans of the common core math, but that's exactly what it's asking kids to do, is don't just follow the recipe, but do to the thinking, right?
Or language is the whole idea is it's a kind of a stair step of complexity as you get, further and further up the nuances of language. Or there's the next generation science standards and they're focused on modeling and all sorts of different things like patterns and systems and structure and function.
And it's not just about the content because nowadays kids can just Google it and find it. And the content is all there where the age of inform. They need the skill and the reasoning. And so I think that's where schools are going is that we're teaching students not what to think and what to learn, but how to think and how to learn.
Robin Jones: I wonder what your thoughts are on spiritual education, and the importance of that. So many churches had to close down during Covid and Sunday School kind of went away because there was no open church. And the impact from that has been a decline in the number of students attending Sunday School.
How do you see the importance of a spiritual education. And how do you find it? How do you get it, and why is it important in this day and age?
Dan LaBar: It is important, the wisdom that we have, to pass to one another, it's invaluable. And if those stories in that wisdom isn't shared it's a missed opportunity.
I've seen it myself. There's not a whole lot of other children in our Sunday School where I am. My kids go to camp and all the kids come from many different areas. And that's when you see it, alive with within one another.
I've seen a shift. And my children value that because they want to share with one another. They want to learn from other children as well, not just the adults. So I think that's important. So if that's the way we need to do things, then the summertime it is, right? 
But the daily practice, in each and every one of our homes is equally, if not more important, those are the habits. Those are the daily habits of how do we wake up and start our day, and how do we end our day? And those are the first thoughts and prayers that we start and end with. 
Because how we will think and pray is how we will live our lives.
I think what needs to happen is the students or children just need to be taught those habits and it's up to them to practice it. With the declining enrollment I mean, my answer is to be that lighthouse, shine your light and put it out there and, and folks will come.
You have to shine right? 
Robin Jones: So many students when they get into college, they got a lot of things going on. What are some ideas that you might have to share with them? To encourage them to embrace thinking about walking through the door of a church or, having that time in dedicated prayerful study to help support that spiritual education when they've got all these different things, trying to say, Well, you gotta go to this.
And what about that meeting and what about that thing and this party and that football game. What about those kinds of things? What kind of thoughts can you share about maybe, thinking about taking some time as a college student to reflect and pray?
Dan LaBar: Well, it's not a new idea, but it's a story I tell my students when they're prioritizing.
Like you mentioned that the way you put it, Robin, taking time, right? It's almost like if you take that time to go to church, you're taking it from somewhere else. Right. But that whole idea, it's a story. You can find it told by others, but it's about the big rocks and the whole teacher gets in front of class and has a big jar and fills it up with rocks, big rocks and says, Is the jar full?
The students all say, yes, it. And so he takes out pebbles and pours them in, and they come in between the rocks and it fills up to the top. And is the jar full? Some say yes and some are wise to it and say, Oh, maybe not. So the teacher takes out some sand and pours it in. Okay, now we're onto you. No, it's not full.
Okay. Okay. Water takes some water. Okay. Now it's full. What's the point of the exercise? And the first student raises their hand. There's always room for more. No, no, no, no, no. That's not the idea. The idea is if you didn't put the big rocks in first, they would've never gotten in. Right. So our day will fill up, our time will fill up.
We will be human doings, right? But if we don't put it in those big rocks first then they won't be valued. They won't be prioritized. So you, I've had students do this. They write what their three or four big rocks are and those need to fill up their life first. And this one, this is not a big rock, right?
This is the sand and the water and the pebbles, right? It can very easily fill up our day, especially our young people. So I guess that analogy has always helped me convey that idea of prioritization. And that if church is not a priority, it will never get put in. So it has to be made one.
Robin Jones: The time has flown by really fast and I wanted to give you an opportunity before we jump into our final questions in Q and A. Anything that you'd like to share that we didn't really cover that I didn't ask about that you kind of think might be important? 
Dan LaBar: Hmm. I guess one thing I've found in my career with students and really with all of us, cuz I'm working with adults and teachers and, community members and everyone just something that's driven me in my career.
Worthiness is a big idea. And we wanna feel like we're part of a worthy group and that we are a worthwhile member of that group. That's something that's always driven me. So trying to see one another in that light and create, worthwhile endeavors.
And kinda goes back to your question about how do you do that in education, right? When you live through those tenants that we have it creates that worthiness.
Robin Jones: That's wonderful, thanks for that. 
Will education go backwards? Or will education adapt to the modern era? What are your thoughts about that? 
Dan LaBar: Well, I don't know if there's any looking back and, when I think of time, I don't think of it as that linear expression of time.
John Dewey was the father of progressive education. Maria Montessori is the mother of Montessori education. Rudolph Steiner is the father of Waldorf education. A lot of those ideas are still present moving forward, but very different from what their founders envisioned.
The constant I would see would be change, right? So going backwards, I guess that the way that the standards based education has kind of been the new way of public education, but with the common core standards and the next generation science standards, they're still called standards, but they're not just content standards.
Now there's content and skills. Here I go with my hands again. And so, that idea of skills is kind of hearkening back to apprenticeships and, journeymen and trade schools. Because we need to learn those skills. But I think the difference is with the advance of technology as rapid as it's been, we just don't know what trades we're preparing students for anymore.
Robin Jones: Do you think that the new technologies that have come up, like Zoom and some of the ways that education has had to adapt and embrace, do you think those will continue? Has it created kind of an affinity for that? Are there people now in education that are really embracing technology or new ways of thinking about things as we move forward?
Dan LaBar: Well, with the age of the free flow of information, I think that it's hard that it wouldn't do that. Because the proliferation of information students learn from YouTube and TikTok now that they learn in these small chunks and bites and the visual ways that information is presented.
It's very difficult for a classroom to emulate or even compete with some of the ways that these high level production can present information. And that's not bad. They call it the sage on the stage or the guide on the side. The sage on the stage version of education with the teacher at the front and the kids in rows is yes, definitely quickly becoming an antiquated idea.
So the idea now is the guide on the side, that teachers are facilitating the learning experience. And in many ways that experience is becoming more and more authentic and solving real world problems. Sometimes when students are even very young, For example I had students years ago, a science teacher did this amazing project where they found the substance and these underwater creatures that would glow.
They said, How could we design a real world product that could use that substance? And students designed a product and did the chemistry and the biology and all the rest. And it was like a, a nose spray of if someone might be infected with something that their nose would glow. It's called nasal glow.
But that idea of the information is out there. The teacher didn't teach them what to do. She set the project, here's the direction, here's the criteria, and go. And that idea of project based learning is alive and well and working in teams. And those are the skills that all industries are looking for. Team based learning and cooperation.
Robin Jones: Thank you for that. 
How is your school handling the growing number of disability labels that are being placed on children?
Dan LaBar: That's a great question. And that I've seen in my career has increased. Parents are increasingly seeking answers and they're, as all parents are doing, doing their best to be resourceful. And that is definitely one way parents are pursuing answers, is to do a, an evaluation for special education assessment with individual special needs.
How are the schools handling it? And my current school, I'm in a personalized learning school, so it's really set up for that anyway, because we have individual plans, which each student and I see a lot of schools moving in those directions of more personalized plans, sometimes even individualized.
I see that as a trend for sure that not all students are the same and nor should they be seen that way. The idea with the labels or the stigma or even the trend towards medicating even very young children is concerning because it's that idea of how do we see our children.
There's definitely a lot of research that says our, especially our young men are struggling with the idea of school. There are much more young women college going. Some of our young men are struggling with the way that school is set up with the, the old idea of the Carnegie unit of instruction.
And even the, the military model of, of some of our high schools of, here's the bell, dang, go to the next departmentalized instruction. Those are definitely antiquated ideas. When I went through high school, some of the same requirements are for my high school students. Some of those things haven't changed and I think some of those requirements need to be updated with our legislators throughout, at least the United States.
Those need to be taken a look at because if we are really truly shifting to skills based education, because the content can be gained in other ways. We need to look at what these requirements are and how we are preparing students. So I think starting looking at those requirements will be a good first step because I see parents jumping towards a label of a disability, a learning disability, when that student is actually learning differently.
And it's not necessarily a disability, it is just an ability in another area that may not be valued in traditional academia. 
Robin Jones: Is it also a preference for the student? Do you think sometimes they just, when they start to get to a certain age and they have a preference to how they want to learn and how they want to pursue their interest.
Is that part of it as well? 
Dan LaBar: Sure. And it's about the habits as well. Right? So you, we were talking earlier about that habit of waking up. Our thoughts and our prayers and how we start our day and end our day. This is the way that many students are starting and ending their days. And so those are the things that have happened very rapidly.
My oldest son is 14, and he is as old as the smartphone. So he has never grown up in a world without it. 
Robin Jones: It's pretty remarkable, isn't it, when you think about that. There's a lot of truth in what you're saying as it relates to they start with it and they end with it and, throughout their day.
And that piece of the technology that we know is there. Going to that question of, are, are we incorporating that? So that we can have an impact. It's in a positive way to help guide and see some positive results from those kinds of things. But I did have a question.
Are the conversations going in the direction that you just mentioned, are we moving in a direction we're actually affecting positive change? 
Dan LaBar: I would say yes and no. It's really about leadership 
Robin Jones: How can people in their communities help with that and encourage that. What does that look like?
Dan LaBar: We have seen a lot of that in terms of school boards.
The United States does have a unique structure of local control when it comes to public schools and parents are being much more active with saying, these are things we want, these are things we don't want. And so I'd say that direct type of action is a way to influence and give oversight and also be of service back to the schools.
So we've seen a lot of that increase. Unfortunately some of it has been prescriptive or directive and, telling the educators what to do especially in terms of the pandemic and the response, that's been challenging. But I don't think that engagement is necessarily a bad thing.
I think that continued engagement with families and schools, it's important. We need to listen to each other.
Robin Jones: Thank you. You have been extremely generous with your time and this content is so rich and rewarding. We're so blessed that you're willing to spend your time with us this afternoon.
If you have any questions or we can help in any way, or if you know someone that has children who are in that post secondary college vocational age and needs help financially, please reach out to the Albert Baker Fund and go to our website and we'll be glad to help you and assist you in any way that we can. 
We've started a new pilot program for our students and it's a mentoring program. Dan is actually one of our first mentors and we appreciate his support in that, in that nature. Along those lines and we're, we also would encourage you to invest in the education of our young Christian Scientists who are out there working and sharing the leaven of truth. 
We are offering two scholarships presently. Albert Baker Fund Scholarship, and the Pass Your Blessings Forward scholarship.
We really would love to continue those and continue to support our youth. We would appreciate any and all gifts that you might have to help our youth in their pursuit of education. 
If you're interested in connecting with Dan, you can reach out to me, robin@albertbakerfund.org and I will be happy to help connect you.
We also invite you to follow us on Facebook, Twitter, Instagram, and LinkedIn. And we hope that we've inspired you today to think about casting your net on the right side. Dan, what great ideas and thoughts you shared with us today. And again, thank you so very much for being with us.
Dan LaBar: Thank you, Robin. 
Robin Jones: And remember, it's not just about working hard. It's about casting that net in the right way. So thank you all for being with us, and we look forward to seeing you again on the next Net Effect.
Tags: biofuel, career success, environment, renewable energy